How To Make Berry Compote In The Microwave?
Berry Compote is a delicious berry sauce that can be made under 5 mins in the Microwave. Vegan. GF. Microwave Recipes.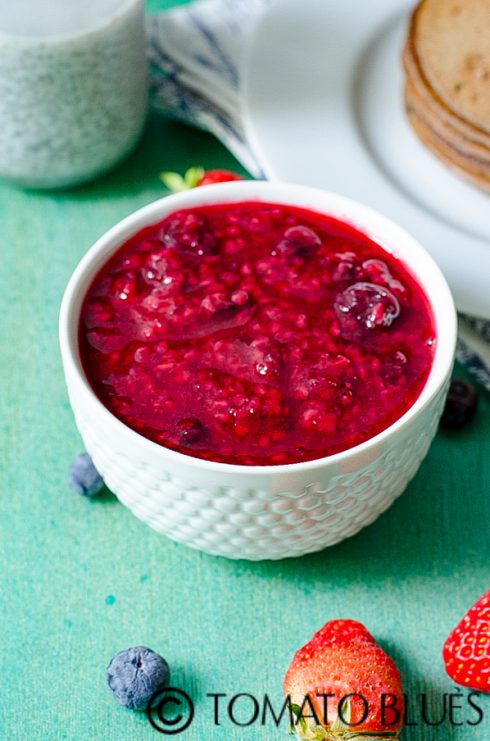 Berry compote is nothing but berries cooked to a sauce consistency along with sugar and lemon juice. This  compote can either be made on stove top like this strawberry compote or in the microwave in less than 5 mins. I made this mixed berry compote in the microwave a few weeks back using just five ingredients. This berry compote keeps well in the fridge for up to 10 days and tastes great with pancakes or on ice cream as a topping. When i posted the strawberry compote almost a year back, i had mentioned that i will post a microwave version. I used a mixture of strawberries, raspberries and blueberries to make this compote. You can also use any one single berry to make this microwave compote. This is a vegan and gluten free compote recipe that you can even use as a sauce to dress up your oatmeal or porridge. Shall we now check out how to make mixed berry compote in the microwave?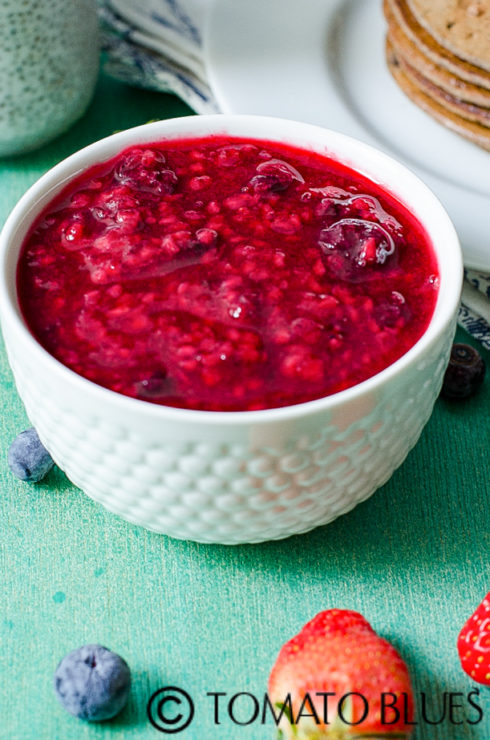 Recipe For Mixed Berry Compote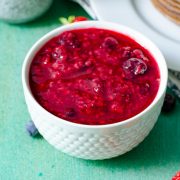 Print Recipe
Berry Compote Recipe
Mixed Berry Compote made in the microwave is a delicious berry sauce that can be used as a topping or a condiment. Keeps well for 10 days in the fridge.
Ingredients
Strawberries 15 hulled

Blueberries 1/2 cup

Raspberries 1/2 cup

Icing sugar 2 tbsp

Lemon juice 1 tbsp
Instructions
Wash the berries and drain completely.

Let them air dry for a couple of minutes

Combine all the ingredients in a large microwave safe glass bowl.

Place in the microwave and cook on high for a minute.

After a min, remove and give the compote a stir.

Cook again on high in the microwave for 1 min or until sauce begins to bubble.

Remove and stir.

Return to the microwave and cook for another 45 secs on high.

Remove and let cool completely.

Transfer to an air tight container and refrigerate.

Use as required.
For Instant Pot & Air Fryer Recipes
Instant Pot timings may vary based on your geographic location. Air fryer settings and timings may vary based on the capacity and the model of the Air fryer.
Disclaimer
Nutrition values are provided here as a courtesy and are only a rough guide. Please consult a health care provider if you have any concerns.