MASHED POTATO CURRY
Mashed Potato curry is a simple vegan curry that used boiled potatoes.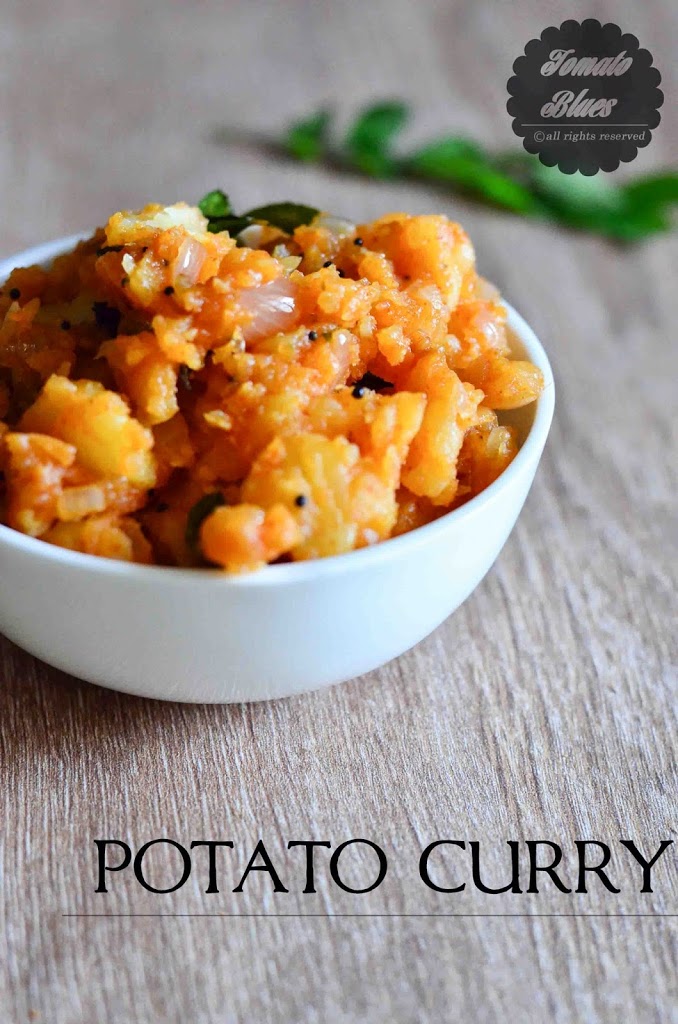 Often its simple food that wins hearts. Not expansive menus or dishes that cant be pronounced without rolling your tongue in so many million ways. This potato onion curry is testimony to that. While we are not great potato fans at home here, i make this curry just to cheer us up on a cold lousy day or when i really dont have the mood to whip up a huge spread for dinner.
Its easy, quick and can be enjoyed just as it is with some hot rice and ghee or with some rasam and rice. You can use up the leftovers next day to make a nice grilled sandwich or a wrap with some parathas and spiced yogurt.
I learnt this recipe from my mom in law and its such a break from the routine potato podimas or potato fry. Personally, i love this curry mixed into hot rice and a generous dollop of ghee ( wink wink). Besides, its the perfect thing to be relished on a rainy night.
Potatoes for this Mashed Potatoes curry:
While all varieties of potatoes taste great in this curry, Russet potatoes and Granola work and give the best results. This curry will come together in a pinch if you have boiled potatoes ready in the fridge.
Vegan and Gluten Free Mashed Potato curry:
This curry is vegan. And can be used literally in hundreds of ways. If you want to make a vegan gluten free mashed potato curry, then skip the asafetida mentioned in the recipe card. Asafetida or hing or perungayam, a derivative of the fennel plant, is added to this curry to reduce gastritis, indigestion and flatulence. All these are common issues which people face when they eat potatoes.
If you are looking for more potato recipes, then check out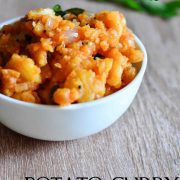 Print Recipe
Mashed Potato Curry
A simple and quick Vegan curry using Mashed potatoes. Comes together in a pinch if you have mashed potatoes ready in the fridge.
Ingredients
3

large

Potatoes 3 large quarteredOnion 1 large chopped finelyGrated ginger 2 tspCurry leaves a sprigRed chili powder ( Paprika powder) 1.5 tspOil 1 tbspMustard seeds 1 tspUrad dal 1 tspHing a small pinch (optional but recommended)Salt to taste.

3/4

c

finely chopped onions

2

tsp

grated ginger

1

sprig

curry leaves

1.5

tsp

Red chili powder

Can be substituted with Paprika

1

tbsp

Vegetable oil

1

tsp

mustard seeds

1

tsp

Urad dal

1/8

tsp

Hing

called as asafetida

2

tsp

salt

or to taste
Instructions
Pressure cook potatoes until mushy in enough water.

Once done, drain completely, peel and mash the potatoes and set aside.

In a pan, heat oil and pop the mustard.

Once done, throw in ginger, urad dal, curry leaves and hing.

When the dal begins to brown slightly, tip in the onion.

Fry till onion turns transparent.

Now,add mashed potatoes and salt and mix well.Cook on medium flame for 2 -3 mins.

Serve hot with rice or chapati or poori
For Instant Pot & Air Fryer Recipes
Instant Pot timings may vary based on your geographic location. Air fryer settings and timings may vary based on the capacity and the model of the Air fryer.
Disclaimer
Nutrition values are provided here as a courtesy and are only a rough guide. Please consult a health care provider if you have any concerns.