I live in Gujarat. The land of the foodies. The place where food is appreciated like no where else or so i believe. Although i m not a huge fan of the Gujarati cuisine, i love the fervor with which the Gujjus eat their food. After all, to quote Mr.P, one must be blessed to enjoy food so much. There are some things that i truly love about Gujarati food though. As much as i detest the deep fried Samosas and Fafdas, i m a huge fan of the dhoklas that they whip up. Its easy to make and light on the tummy. Plus its healthy because it s steamed. I have tried my hand at the ubiquitous
khaman dhoklas
and the scrumptious
methi theplas
. But this time i wanted to jazz up the regular khamans and i made some with maize flour and sweet corn kernels.And i must say they were delicious on a lazy Sunday morning.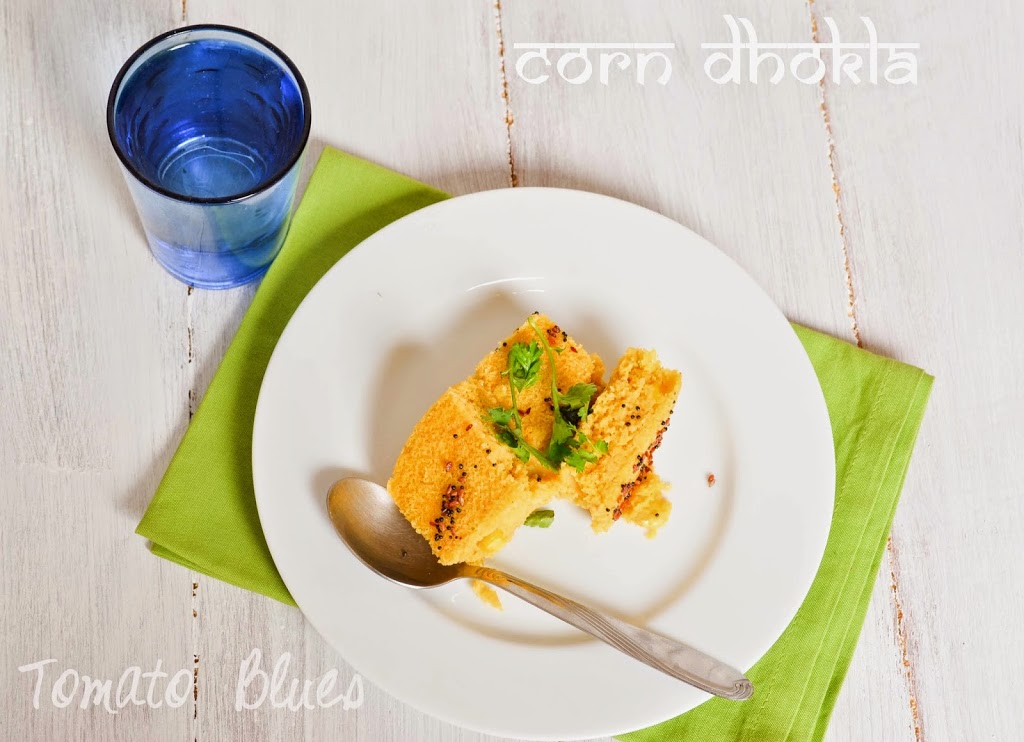 Recipe For Makai Dhokla
( Steamed maize flour dumplings tempered with indian spices)
Prep Time: 10 mins
30 mins resting time
Cook Time: 10 mins
Yields about 12 medium pieces
Ingredients
Maize flour 1 cup
Sour curds 1/2 cup whisked well
Sweet corn kernels fresh or frozen 1/3 cup minced lightly
Green chilies 4 to 5 minced finely
Ginger 1/2″ grated
Hing a large pinch
Lemon juice 1 tsp
Eno fruit salt 1 tsp
Salt to taste
Sugar 1.5 tsp
Warm water 1/2 cup
To Temper:
Oil 1 tbsp
Mustard seeds 1 tsp
Sesame seeds 1 tsp
Hing a large pinch
Cilantro leaves for garnish
Directions:
Combine maize flour, warm water and sour curds well along with salt and sugar and set aside for 30 mins. I used very sour curd for this recipe but i must say bland curds and fresh curds dont work well here. We need the tang.
After 30 mins, add the grated ginger, corn, green chilies and hing and mix well.
If you find that the batter is very thick, add a little more water. Maybe about 2 tbsp to 1/4 cup.
Grease a 6″ wide plate that is atleast 3″ deep with oil.
Now, add the eno to the batter and mix well.
Pour the batter onto the greased plate and tap it gently on the counter.
Once done, place the pan in your steamer and steam for 15 to 20 mins. I used my pressure cooker for this without the valve.
Once done, remove the pan and let it cool a bit.
Temper mustard seeds, sesame seeds and hing in oil and pour evenly over the dhoklas.
Squeeze the lemon juice into 2 tbsp water and pour over the dhoklas.
Garnish with coriander leaves and Serve with meetha chutney and mint chutney.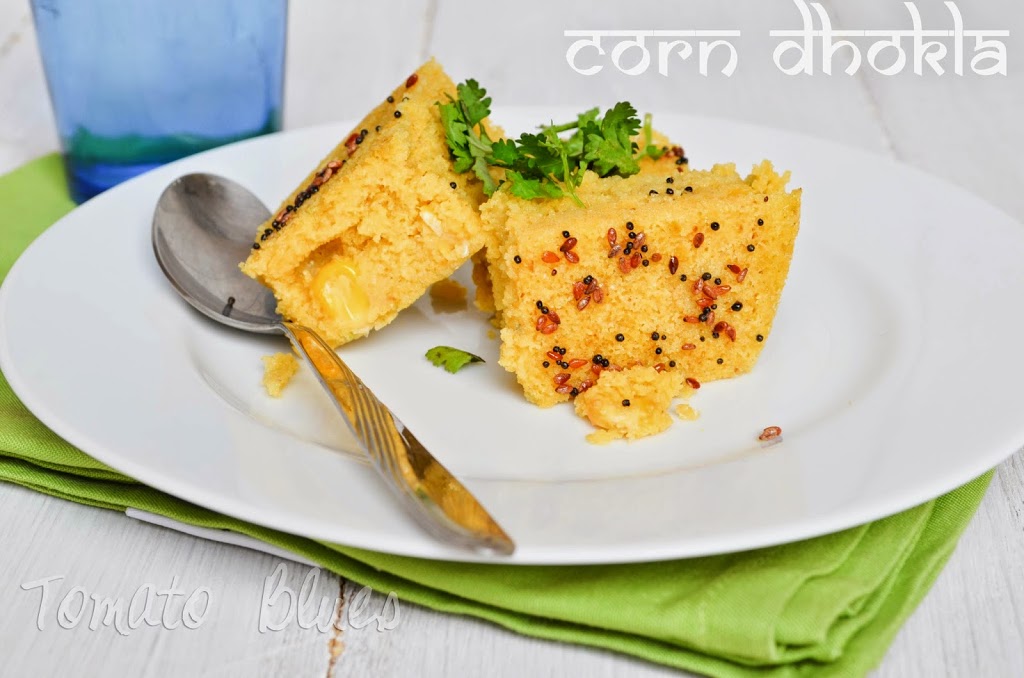 This is my entry to this week s Radhika, Jayanthi ,Kavi, Priya, Priya Mahadevan, Roshni and Veena for other mouth watering Gujarati delicacies on Avant Garde Cookies.