I ve never longed for summer before as i yearn for the sun now. This winter has been a killer literally. Its ten degrees mid afternoon. Imagine that. Biting cold. And i dont feel like doing much in this weather. Anything seems too work. But when you have a shopping list your arms length and a blog hop scheduled for, then i guess moods lift. That s what happened to me anyway. Its week 14 of the blog hop and i am paired with gayathri this week. I must say she compelled a very lazy pile of bones to get up and cook through her wonderful blog. Her space is a medley of healthy and yummy stuff.While her latest attempts on making a barbie cake for her daughter stumped me thoroughly, she hooked me onto her Brazilian coconut kiss and basboussa. But i told you all that it was a lazy pile of bones that day and so it had to be her layered sesame parathas this time.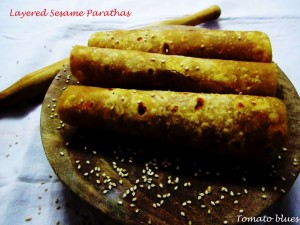 Recipe For Layered Sesame Parathas
( Learn how to make Layered sesame parathas using wheat flour)
Prep Time: Under 20 mins
Cook Time: Under 5 mins
Source: Gayathri
Yields 8 parathas
What you need?
Whole wheat flour 2 cups
Sesame seeds 2 tbsp
Olive oil 1 tbsp
Salt to taste
Water for kneading
Flour for dusting
Oil for cooking the parathas
How to make it?
In a large mixing bowl, place all the ingredients except water and combine well.
Now, start kneading the dough by adding water little at a time till you have gathered all the dough into one mass.
Knead for about 5 mins till you get a soft pliable dough.
Divide the dough into 8 equal parts and make small balls out of them.
Now start rolling out the balls into parathas like you roll normal parathas.
Now comes the layering technique.
This is the rolled out paratha that you have. I cant make perfectly round parathas but do you care??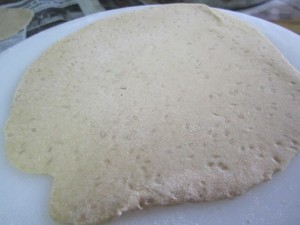 Now use a knife and make a small cut along the half of the paratha and stop midway just like in the picture.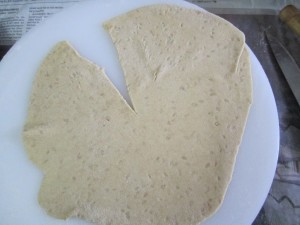 Now, start folding from one of the cut edges.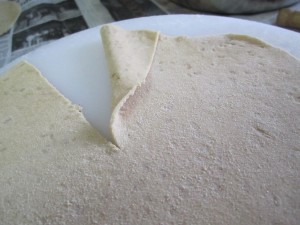 Until you have rolled the whole of the paratha.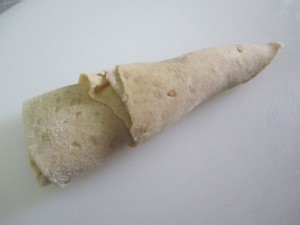 Now, make that rolled up cone like mass stand upright and give it a nice punch in the middle.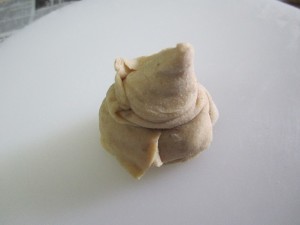 It will flatten down and you will have something like this.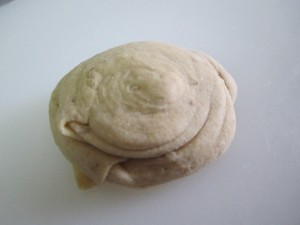 Now, coat with flour and start rolling out again into paratha rounds.
Cook on a tawa by drizzling some oil or ghee until you get golden spots on both the sides.
Serve hot with any subzi of your choice or eat it with jaggery and ghee. That s a very deadly combination.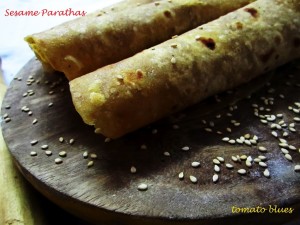 You get beautiful layers in the parathas as you eat but couldnt capture them cos there werent any left when i came back armed with a camera.
The next time when i make this, maybe i ll add some jaggery to the sesame and powder it and then knead the dough. Or why dont you add some and try this??
This is my entry to this weeks Blog hop wednesday and