Being a south indian, my perception of kichdi was different  until i came to Baroda. Kichdi, back at home, is a form of upma with some turmeric powder and cashews added to it. Some vermicelli at times. And lots of vegetables. But Kichdi, the northie style is a complete contrast. Can i say, that both the versions are like chalk and cheese. While kichadi back home is considered a breakfast option, here, the gooey medley loaded with oodles of ghee ( in most of the cases, that is ) is eaten as a light dinner meal or sometimes even for lunch. Like we did today. Nevertheless, the kichdi duos are my favorites and i can eat them anytime. While i devour  my south rendered kichdi with a bowl of yoghurt, i eat this rice and lentil melange with lots and lots of 
Kadhi
 and pickles.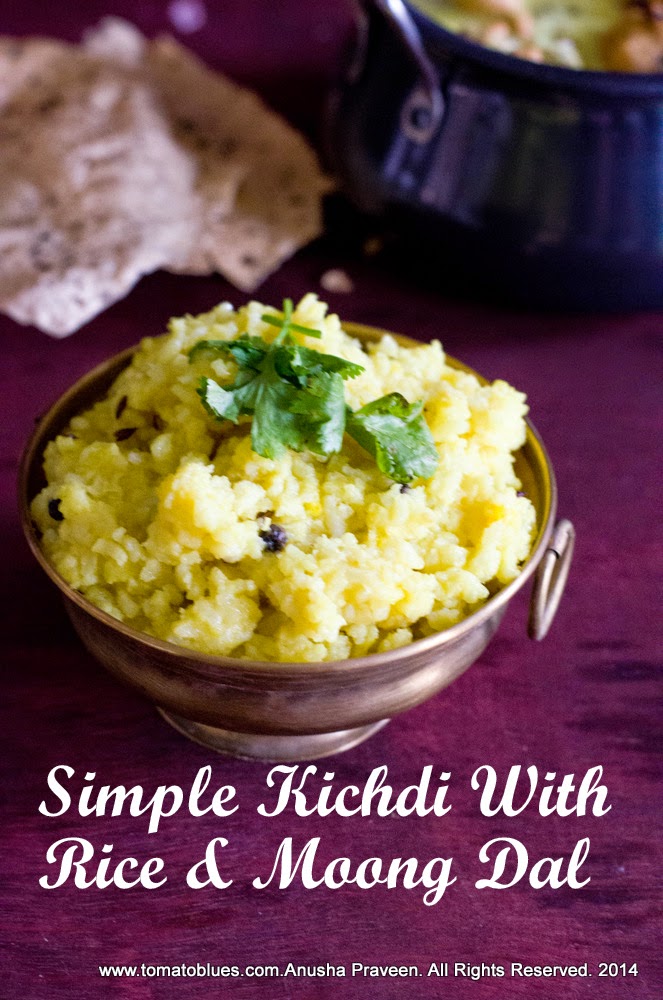 I first fell in love with this light as a feather delicacy in a famous food chain. The foodie that i am, i got tempted to have three helpings. The food chain offers unlimited food. Eat as much as you want and whatever you want. And yes, they are one of my favorite eat outs. I do not know whether its the oodles of ghee or the aromas that accompanied the kichdi or the sweet wait person who served us. But by the time i finished the kichdi, i was enchanted. And i m still enchanted whenever i eat kichdi. There is no other delicacy in the world which can give me that sense of calm but for this rice and dal duet.
Recipe For Moong Dal Khichdi
( Learn how to make Mung Dal Kichdi, a simple homestyle lentil and rice kedgeree)

Prep Time: 10 mins
Cook Time: 20 mins
Serves 2
Allergy Info: Vegetarian, Nut free, Soy free
Course: Main
Cuisine: Indian ( Gujarati)
Serving Suggestions: Punjabi Kadhi Pakodi and  papad

Ingredients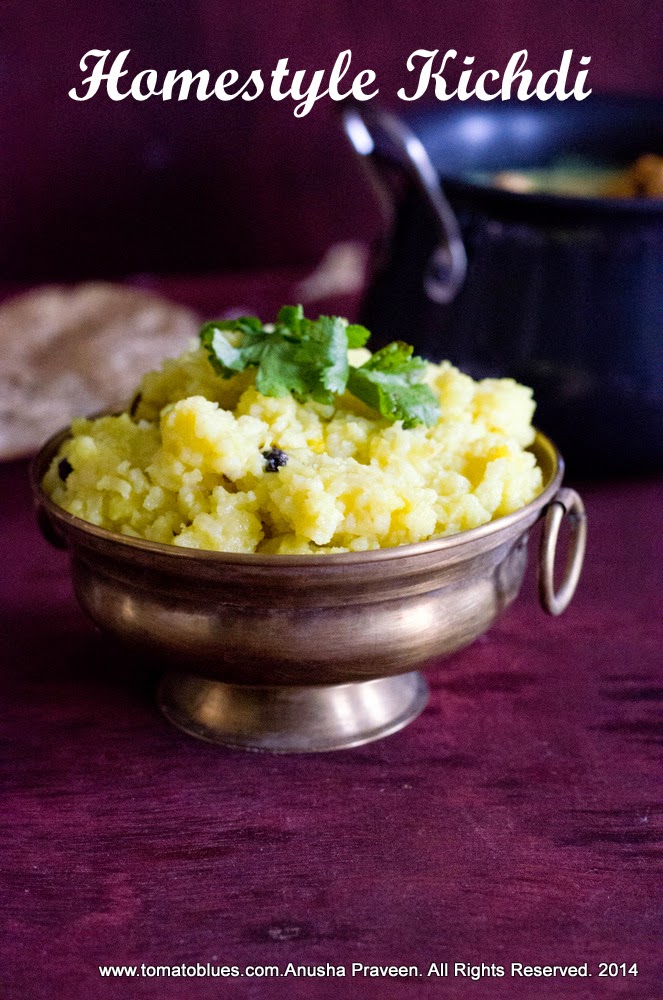 Rice 1/2 cup
Mung Dal 1/4 cup
Ginger grated 1 tsp
Turmeric powder 1/4 tsp
Salt to taste
For Tempering:
Ghee 2 tbsp
Pepper corns 1 tbsp
Cumin seeds 1 tsp
Hing a large pinch
Directions
Pick a vessel that is deep and that fits into a pressure cooker.
Clean the rice and dal well.
Add to the vessel along with turmeric powder, ginger and salt.
Add 4 cups of water and mix well.
Pressure cook for 6 to 7 whistles or until you get a loose, soft and gooey mixture. Remove from the cooker and set aside.
Heat a wok with the ghee.
Add the cumin seeds. Once they crackle, add the hing and then the pepper corns.
Be careful with the pepper corns as they tend to burst out. Yours truly got her palms blistered this morning. Thank you Pepper Corns. 🙂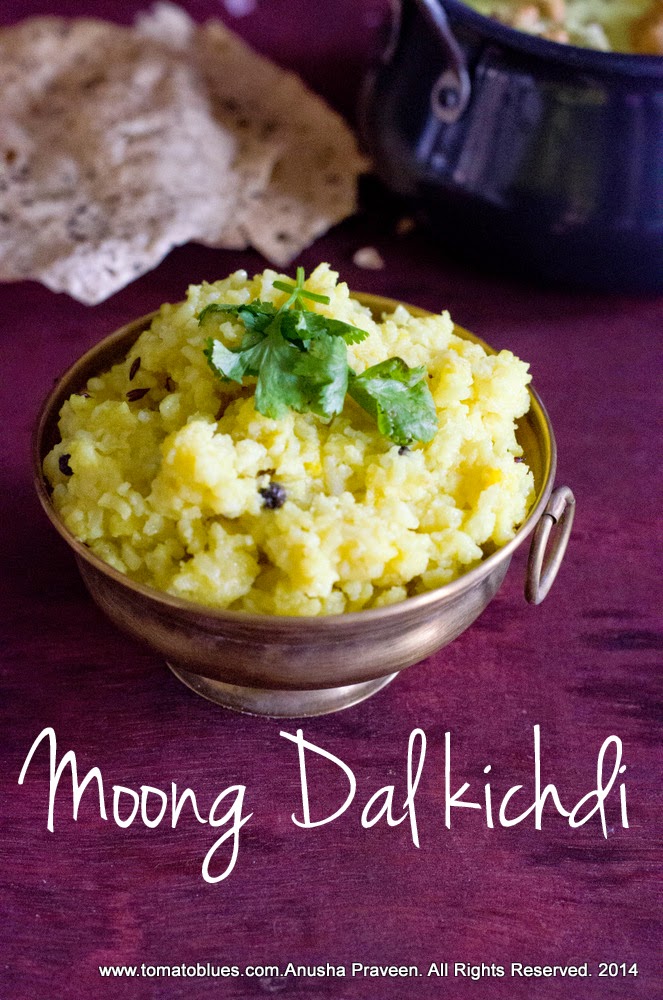 Now, add this to the rice and mix well.
Serve hot with suggested serving.