How To Make Keerai Masiyal With Garlic? Or How To Make Poondu Keerai Masiyal?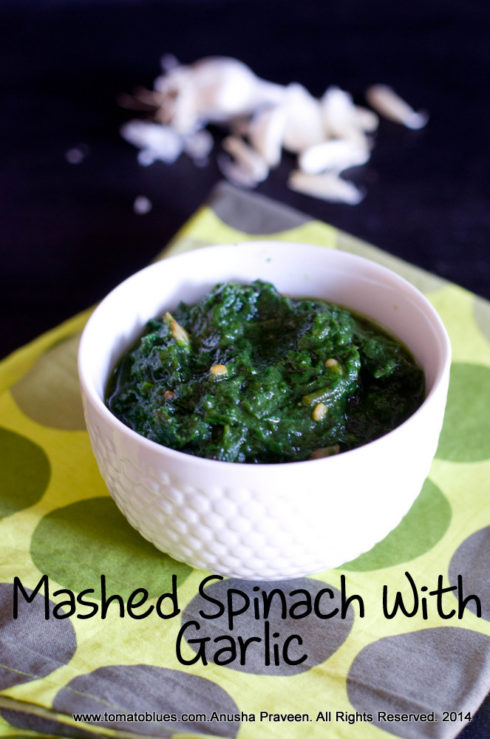 Keerai Masiyal with Garlic is a simple and flavor packed recipe that uses spinach and garlic as the primary ingredients. This keerai masiyal recipe with garlic calls for very few ingredients and yet packs a punch because of the garlic that is added. It is also very easy to make and can be made in a jiffy if you have the spinach cleaned up and ready. If you find that cleaning spinach is a trouble, you can use frozen spinach in this recipe and enjoy this keerai masiyal with garlic.
While i usually make keerai masiyal this way, i resort to making this keerai masiyal with garlic when i m short pressed for time. This keerai masiyal with garlic doesnt call for addition of any lentils and is also vegan and can easily be made gluten free by leaving out the asafoetida. This recipe is an inspiration from the north eastern indian cuisine in which greens are a part of their daily meal. But i have added a south indian touch to this keerai masiyal with garlic by using the south indian style of tadka. This masiyal can also be mixed into hot steamed rice and ghee and enjoyed as such with some poppadoms or chips.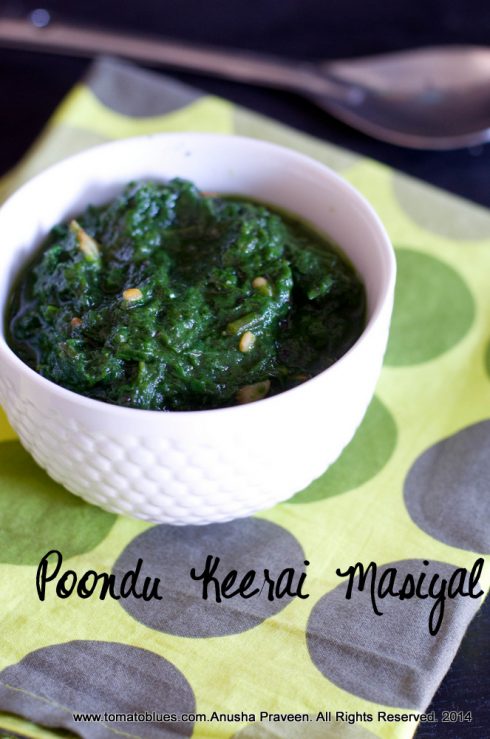 Keerai Masiyal With Garlic Recipe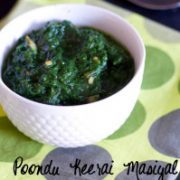 Print Recipe
Keerai Masiyal With Garlic| Poondu Keerai Masiyal
A simple mashed spinach recipe with garlic tempered with mild indian spices.
Ingredients
Spinach 2 bunches cleaned and chopped

Garlic cloves 10 sliced thinly

Oil 1 tbsp

Mustard seeds 1 tsp

Urad dal 1 tsp

Green chili 2 slit lengthwise

Salt to taste

Hing or Asafoetida a small pinch
Instructions
Bring a large pot with about 4 cups of water to a rolling boil.

Switch off the flame.

Immerse the chopped spinach and slit green chilies in the water and keep covered.

After 5 mins, open the lid and drain the water completely from the spinach.

Let the spinach cool.

Once cool, blend the spinach, green chilies and salt to a smooth paste without adding any water. I used my immersion blender for this but any normal blender will work too.

Once blended, heat a pan with oil.

Pop the mustard seeds and immediately add hing and urad dal.

Once the dal begins to brown, add the chopped garlic and wait for it to brown.

When the garlic turns golden brown, add the tempering to the mashed spinach and mix well.

Serve hot with rice.
For Instant Pot & Air Fryer Recipes
Instant Pot timings may vary based on your geographic location. Air fryer settings and timings may vary based on the capacity and the model of the Air fryer.
Disclaimer
Nutrition values are provided here as a courtesy and are only a rough guide. Please consult a health care provider if you have any concerns.