I have a thing for KanchipuramIdlies. As they are the only kind Mr.P enjoys. Wheni made this for the first time, little didi expect him to enjoy them. Well, he did not. But the second time around,i guess that thing called " acquired taste" played the cards well. I have no idea what happened but a few days back, wheni made this for dinner, replete with peppercorns, cashews and all,i could not hear any complaints or arguably disgusting noises. So, that s it. One battle won. I m sure my MIL would do a happy dance ifi told her that her idly hating sonate these without a grumble.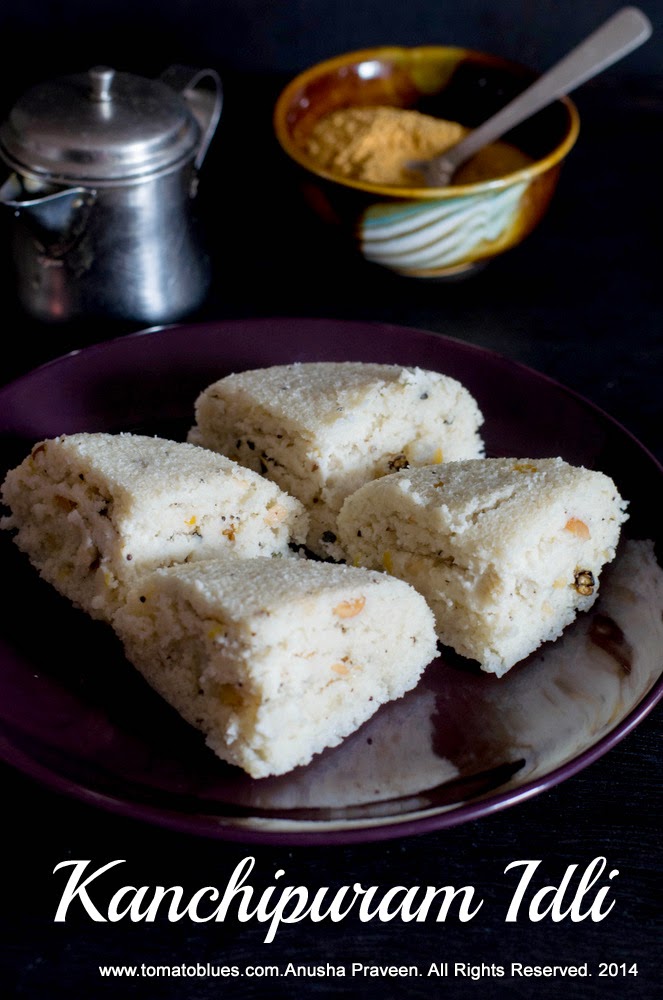 That story apart, Kanchipuram idlies themselves are like poetry in the world of Idlies just like Masala Dosas are in the Dosa world. Even though the building blocks for an ordinary idlies and this are almost similar, the beauty in a Kanchipuram Idly lies in the addition of various spices, particularly the fiery black pepper and the earthy cumin. Lets not forget the ginger. All this with the crunch of cashews does wonders to this humble recipe. The next time when you are bored of regular idlies, try making these Kanchipuram Idlies. You can also serve them with a good chutney by the side as a starter.
Recipe For Kanchipuram Idli
( Learn how to make Kanchipuram Idli Recipe, a kind of idli with peppercorns and cumin)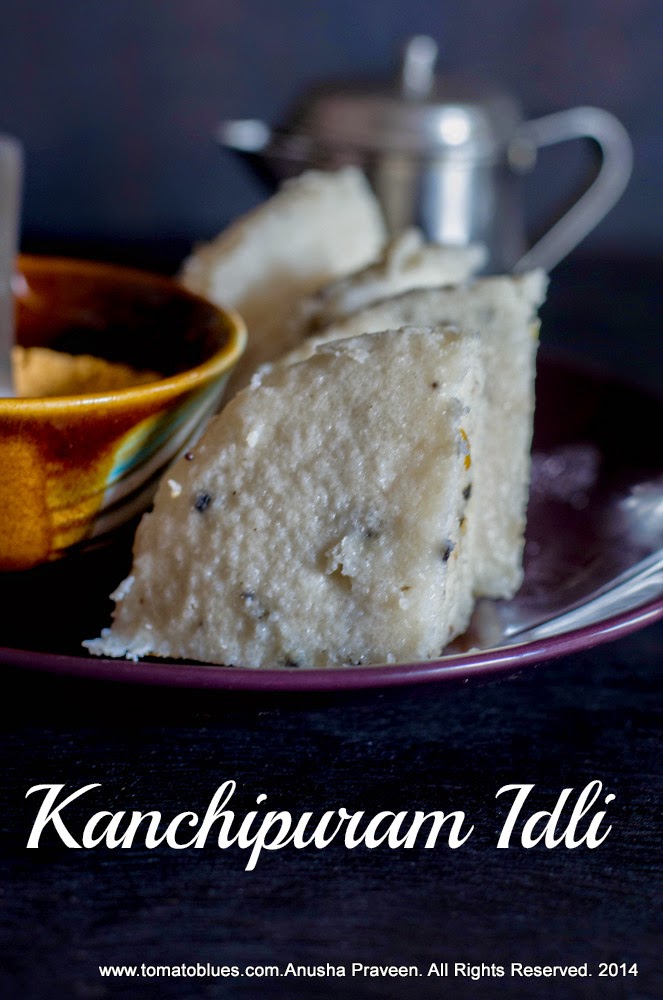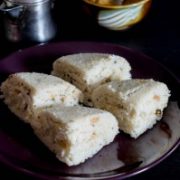 Print Recipe
Kanchipuram Idly Recipe
Steamed rice and lentil cakes with pepper corns and cumin. Makes a great breakfast when served with coconut chutney and sambar. Can be made vegan and gluten free.
Ingredients
Parboiled rice 3/4 c

Raw rice 3/4 c

Husked whole urad dal 3/4 c

Cumin seeds 2 tsp

Peppercorns 2 tsp

Ginger grated 1.5 tbsp

Curry leaves 2 sprigs

Cashews 3 tbsp broken

Ghee

refer notes 2 tbsp

Mustard seeds 1 tsp

Urad dal 2 tsp

Salt to taste
Instructions
Soak rice and dal together for about 6 hours.

Grind to a coarse paste adding enough water.

Add salt, mix well and let it ferment till sour. This can take anywhere between 12 to 18 hours depending on the weather.

Once fermented, mix well again with a whisk.

Heat a pan with ghee.

Add cashews and fry to a golden brown.

Drain and add to the batter.

Now, in the same pan, using the same ghee, pop the mustard and follow with the remaining ingredients.

Wait till the peppercorns begin to burst.

At that stage, add this mixture to the batter and mix well.

Grease idli moulds with oil or ghee.

Pour a ladle of batter in each cavity and steam in an idli cooker for 12 to 15 mins or until done.
Notes
The batter for this recipe must be coarse like that of semolina.
The batter must not be too thick or too runny. When you pour a ladle of batter, it must be free flowing.
You can also add coconut bits to the batter.
Skip the ghee and use vegetable oil for a vegan version.
Its very important for the batter to become sour or else the idlies wont taste good.
Traditionally, these idlies are cooked in a deep plate like vessel or in small cups. The picture shows idlies that i made in a small deep plate. But i found that the batter cooks quickly in a traditional idli mould. So feel free to make your choice.
For Instant Pot & Air Fryer Recipes
Instant Pot timings may vary based on your geographic location. Air fryer settings and timings may vary based on the capacity and the model of the Air fryer.
Disclaimer
Nutrition values are provided here as a courtesy and are only a rough guide. Please consult a health care provider if you have any concerns.