HOW TO MAKE KADALE BELE OBBATTU ( BOBATTALU)?
KADALE BELE OBBATTU- A TRADITIONAL CLASSIC RECIPE WITH CHANNA DAL AND JAGGERY FILLING.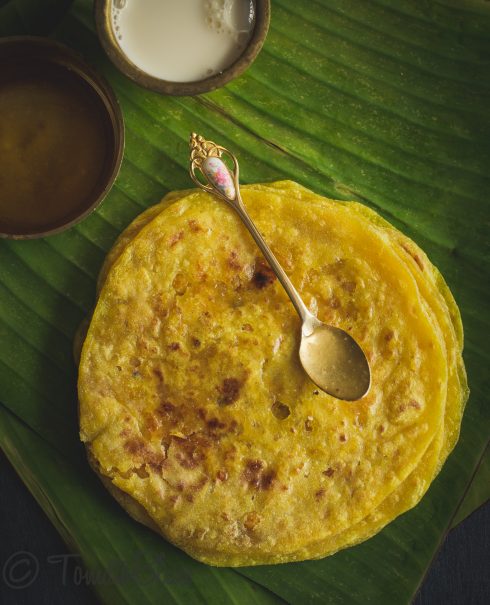 Kadale bele obbattu is a mandatory recipe for Ugadi, which is the new year day for Telugu and Kannada speaking people. This is also called as Puran poli in Maharashtra and paruppu boli (poli) in Tamil Nadu. Many people believe that making kadale bele obbattu is a tricky business.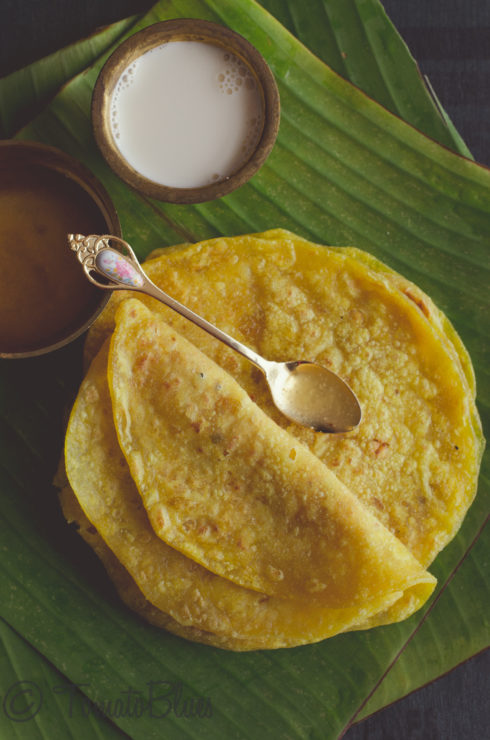 Well, this is partly true. The trick to getting those flaky layers lies in the dough. It is also important that you get the filling cooked to the right consistency. Between coconut poli and kadale bele obbattu, i would say that bele obbattu is easier to make than the first. Also, please remember to use the indian Maida flour for this recipe. All purpose flour may not work as well as maida in kadale bele obbattu.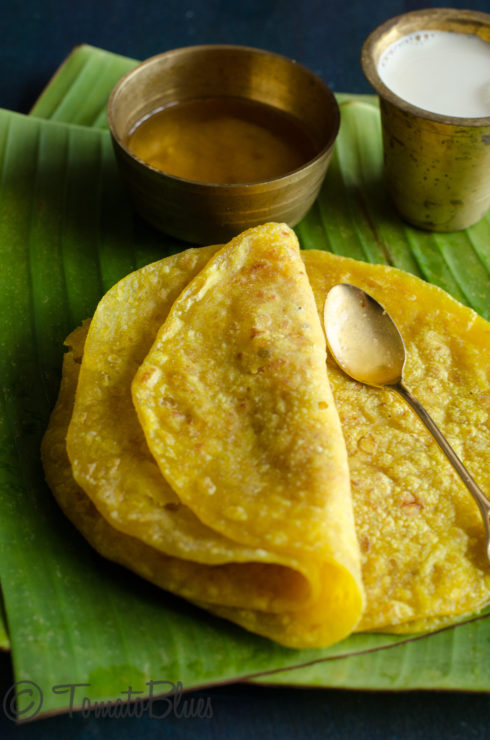 For a clear and detailed idea on how to make the perfect obbattu, please watch the video below.
Here s the video recipe for Kadale Bele Obbattu:
If you liked our videos and enjoy watching them, please subscribe to our YouTube Channel.
Recipe For Kadale Bele Obbattu: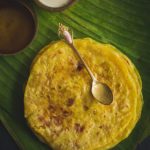 Print Recipe
Kadale Bele Obbattu Recipe - Ugadi Recipes
Kadale bele holige- a delicious,traditional ugadi recipe with channa dal and jaggery filling. Tastes best with ghee and milk.
Ingredients
For The Filling:

Channa dal 1 cup

Jaggery grated 1/2 cup

Cardamom powder 1 tsp

Turmeric powder 1/2 tsp

Ghee 2 tsp

For The Cover:

Maida 1 cup

Sesame oil 100 ml

Water 1/2 cup or less

Salt 1/2 tsp

Turmeric powder 1 tsp

For The Kadale Bele Obbattu:

Ghee for cooking 2 to 3 tbsp

Banana leaves 2

Rice flour for dusting

Oil for greasing.
Instructions
Make the outer cover first because it has to be rested for 6 to 8 hours.

To make the dough for the cover, combine maida, turmeric, salt in a wide bowl.

Whisk well.

Add water little by little and knead into a soft, smooth and sligthtly sticky dough.

Add 80 ml of oil to this and knead again until the dough absorbs all of the oil.

Pour the remaining oil over the dough, cover and let it rest for 6 to 8 hours.

When the dough has rested for the required time, make the filling.

Combine channa dal with 4 cups of water and 1/2 tsp turmeric powder.

Cook this until the channa dal has just cooked.

You should be able to mash it easily with your hands.

Once done, remove and drain thoroughly.

Now, combine the cooked dal, jaggery and turmeric powder in a blender.

Grind to a smooth paste without adding any water.

Once done, heat a pan with 2 tsp ghee.

Add the filling paste and mix well.

Cook on medium flame until all moisture leaves the paste and the paste comes together in a lump without sticking to the pan.

If you are able to roll the filling into a ball, that s when its done.

Once ready, let cool a bit.

Make small lemon size balls of the filling.

Now, take out the filling.

It will be very stretchy if you try to pinch off a portion.

Pinch off a lemon size ball of dough.

Grease your palm and gently press the dough ball into a flat disc on your palms.

Now, place a ball of filling in the center and cover with the dough by stretching the overhang over it. Watch video for clear steps of this.

Press the ball into a flat disc.

Dust with rice flour.

Now, grease a banana leaf and sprinkle some rice flour over it.

Place the dough ball over this and roll like how you would roll a chapati.

Once done, heat a tawa.

Transfer the rolled out obbatu on the tawa directly by placing the leaf, obbattu side down on the tawa.

Cook till golden spots begin to appear on the obbattu.

Drizzle ghee around the edges, flip over and cook until golden spots appear on both sides.

Place this on a plate, allow it to cool and then stack the obbattu one over the other.

This is done so that the obbattu do not stick to each other.

Repeat with the remaining dough and filling.

Serve hot with ghee and milk.
Video
For Instant Pot & Air Fryer Recipes
Instant Pot timings may vary based on your geographic location. Air fryer settings and timings may vary based on the capacity and the model of the Air fryer.
Disclaimer
Nutrition values are provided here as a courtesy and are only a rough guide. Please consult a health care provider if you have any concerns.