How To Make Kadale Bele Kosambari, A Raw Vegan Salad Using Chickpea Lentils?
Kadale Bele Kosambari or Channa Dal Kosambari is a traditional Madhwa recipe. Vegan. Ram Navami Recipes.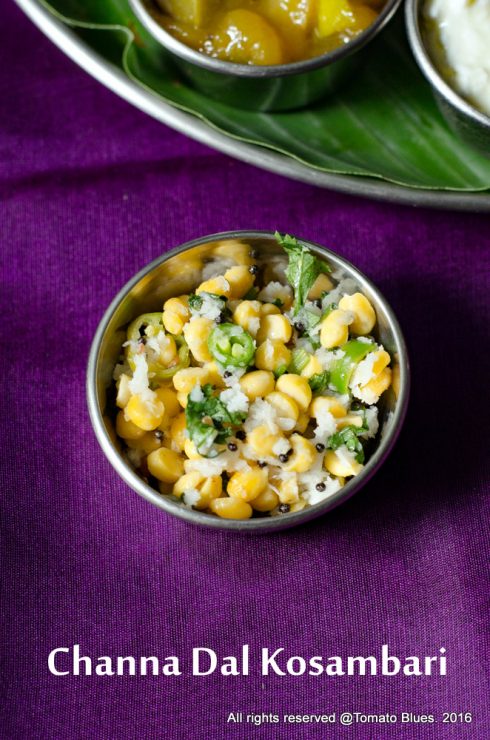 Kadale Bele kosambari is a light salad that uses chickpea lentils, green chilies and coconut. Many people add cucumber to this but i like adding cucumber only to my hesarubele kosambari. I love eating kosambari. For the uninitiated, kosambari is a combination of soaked lentils, coconut and a vegetable which is usually a carrot or cucumber. This is then seasoned with salt, green chilies and lemon juice and tempered with mustard seeds. The Madhwa cuisine is very specific when it comes to food. We have a separate set of dishes for each occasion. For instance, we do not make urad dal vada on festive occasions. Instead, we make paruppu vadai or ambode or aama vadai as you all know it. Similarly, cooked moong dal is not used in any dishes that is served on festivals. But soaked moong dal in kosambari is accepted. It is because of these traditions that i do not make dishes like suhiyan or adhirasam at home. That my parents indulged me in adhirasams that were bought from outside is a different story altogether. Anyway, coming back to the kadale bele kosambari, the dish itself is a protein packed recipe that uses all things good provided by Mother Nature. This kadale bele kosambari is something that we make on the occasion of Ram Navami apart from all other festive occasions including marriages. Usually the kadale bele kosambari occupies the third place starting from the top left on the upper portion of a plantain leaf. Yes, we have specific place settings for each dish, too. This is one of the reasons why i m proud of my heritage. And i guess that is where i have learnt the most important principle from – "A place for everything. Everything in its place." And so, with that said and done, let me share this ridiculously simple yet divine recipe for kadale bele kosambari.
Recipe For Kadale Bele Kosambari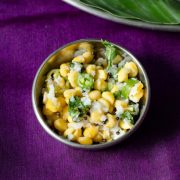 Print Recipe
Kadale Bele Kosambari | Channa Dal Kosambari
Kadale Bele Kosambari- A light salad made with chickpea lentils aka channa dal. Can be eaten as a snack or served as a part of a meal.
Ingredients
Channa dal/ Chickpea lentils/ Kadale Bele 1/4 c

Freshly grated coconut 1 tbsp

Green chilies 2 small chopped finely

Lemon juice 2 tsp

Salt to taste

Mustard seeds 1 tsp

Hing a small pinch

Oil 1 tsp
Instructions
Soak the dal in 3/4 cup of water for an hour.

Drain completely.

Add salt, lemon juice, green chilies and the coconut to the drained dal.

Heat a pan with oil and pop the mustard seeds and add the hing.

Add this to the dal mixture and mix well.

Mix well.

Serve cold or immediately.
For Instant Pot & Air Fryer Recipes
Instant Pot timings may vary based on your geographic location. Air fryer settings and timings may vary based on the capacity and the model of the Air fryer.
Disclaimer
Nutrition values are provided here as a courtesy and are only a rough guide. Please consult a health care provider if you have any concerns.