I dont know how many of them know mango ginger. Its called maainji in tamil. And when i think of mango ginger, i can only remember the earthly aroma and the nice pungent flavour. Wonderful with curd rice or sambhar sadam. I eat it just like that. By the way, it is an aphrodisiac and also an antipyretic apart from the fact that it is an excellent appetiser. When i found it in the markets of baroda, i was on cloud 9. You see, i am addicted. My mom makes this instant pickle. Well, the original recipe is borrowed from a family cook who used to work at my grandparents'.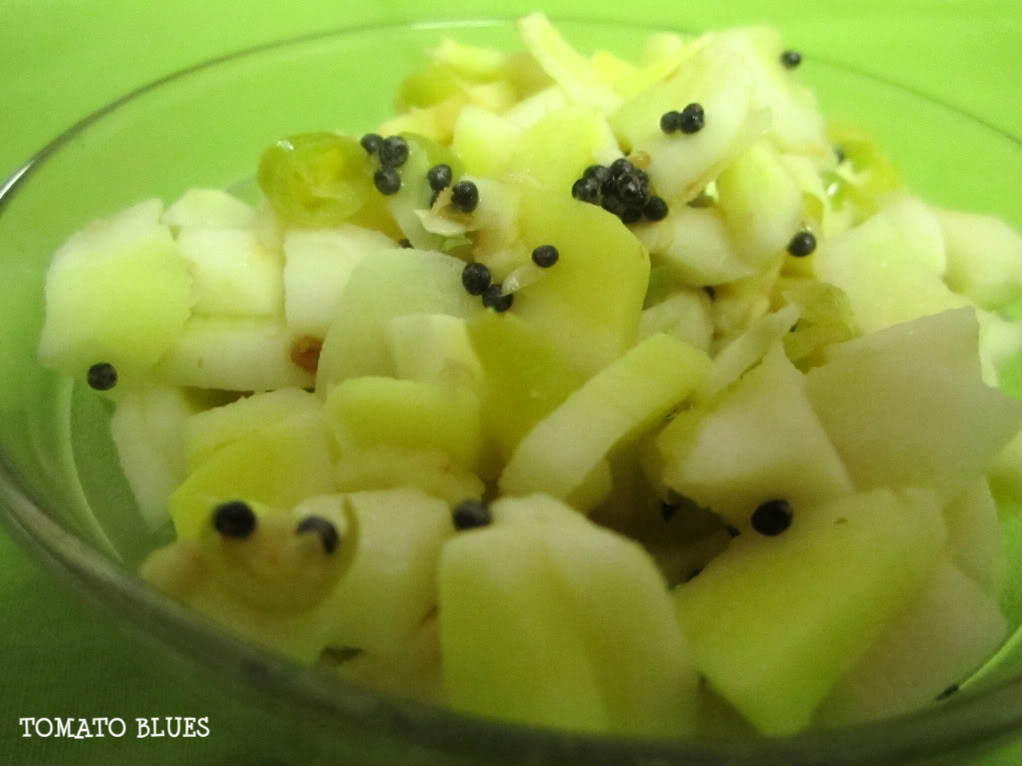 Recipe For Instant Maa Inji Urugai
( Learn how to make Maa inji urugai, an instant pickle with mango ginger)
Prep Time: Under 15 mins
Cook Time: Nil
Marinating Time: 30 mins
Stays fresh for a week 


What you need?
Mango ginger 100 g
Green chillies 5 chopped finely
Lemon juice 3 tbsp
Salt as needed
For Tempering:
Mustard seeds 1 tsp
Hing a large pinch
Oil 1 tsp
How to make it?
Make up your mind to peel and peel and peel. This needs a considerable amount of peeling so get that peeler of yours and start working. Peel the gingers completely and chop it into tiny pieces.
In a mixing bowl, place the chopped ginger and add the salt,green chillies and lemon juice.
Combine well. Let it sit for 30 mins.
After marination, temper with mustard seeds and hing.
Now go on and indulge yourself with some of that pickle and a bowl of curd rice
This is my entry to Kavi s Event Healthy Cooking Challenge guest hosted by Smitha of My Tasty Curry