Each house in South India has its own version of Sambhar. While the less enterprising generation of ladies( read people like me) live on store bought powders and mommy made powders, there was a line of women not so long ago who painstakingly made these spice powders from the scratch at home.
In fact, i dont remember anything being bought at all when my granny used to rule the roost in the kitchen. Every week, she used to get out all the lentils and treasured stock of spices. Sun dry them for an hour or so and get to work. Of course, i dint have an inkling as to what she s doing back then.
But the day, someone said this is my kitchen, the full reality of all that grinding and roasting hit me on the face like a torpedo. I dint know the difference between a coriander seed and a fenugreek seed when i got married. I am an only kid, you know. The pampered sorts. Whose mom always feels that there is plenty of time to wield the ladle and 18 years was not enough time. She still feels that way. Uh…. moms!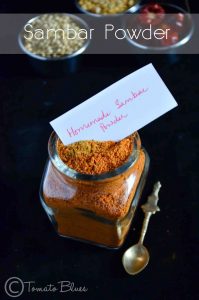 Anyway, the first few days of my marriage gave me nightmares. While i was this chic chick who had never stepped into the kitchen, my husband was like a walking kitchen encyclopedia to me. Atleast at that time. And imagine my horror when he said, make rasam and poriyal for lunch. That will do. As if, that was any merciful. I did make rasam. But with a teaspoon or two of sambhar powder. See? what i mean? Well, i cant accept the opposite sex acing me in some things.One of them happens to be English and the other is cooking. So i gave my husband a run for his money when i began cooking and the rest, you all know. And in the process, i picked up how to make sambhar powder from the scratch. This post is not a pretty pretty picture post. This is a utilitarian post and all the pics were clicked in my poorly lit mouse hole kitchen. But believe me, it s all worth it.
Recipe For Sambhar Powder
(Spice powder with lentils that can be used in sambhars)
Prep Time: 10 mins
Cook Time: 30 mins
Yields 1.5 cups
Ingredients
Coriander seeds or dhania 1 cup
Dried red chilies the round variety 1 cup
Kadala paruppu or chana dal or bengal gram 1/4 cup
Fenugreek seeds 2 tbsp
Turmeric 3/4 tsp
Oil 3/4 tbsp
Directions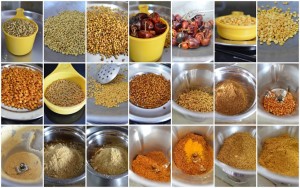 Heat a tsp of oil in a pan and roast the coriander seeds until aromatic and lightly browned.
Set aside to cool.
Again in the same pan, without adding extra oil, roast the dry red chilies until the color changes slightly.
Set aside.
Now, roast the fenugreek seeds until slightly pink in color and set aside.
Add the remaining oil and heat up.
Now, roast the chana dal until golden brown in color. Make sure you do it on a medium flame because we want even roasting and no burns here and there.
Once done, set aside to cool.
In a blender, add the coriander seeds and blend for about 30 secs to a minute.
Transfer to a moisture free plate.
Again, add the roasted chilies and the fenugreek and grind till you have a coarse powder.
Transfer to the plate of powdered coriander seeds.
Now, add the chana dala to the blender and grind to a coarse powder.
Transfer this to the plate.
On the plate, using a ladle, combine the blended powders gently. You need not be thorough.
Once done, add the mixture to the blender again along with the turmeric and blend until you have a slightly coarse powder.
Transfer to an airtight dry container and store in a cool place.
PS My mom adds dessicated coconut to this mixture. In case you want to, then you have to add 1/2 cup of dessicated coconut and increase the chilies accordingly. Say 1/4 cup more. And if you add dessicated coconut, make sure you store the powder in the fridge.