How To Make Gujarati Kadhi?
GUJARATI KADHI- A SWEET AND SPICY YOGURT SAUCE TEMPERED WITH WHOLE SPICES.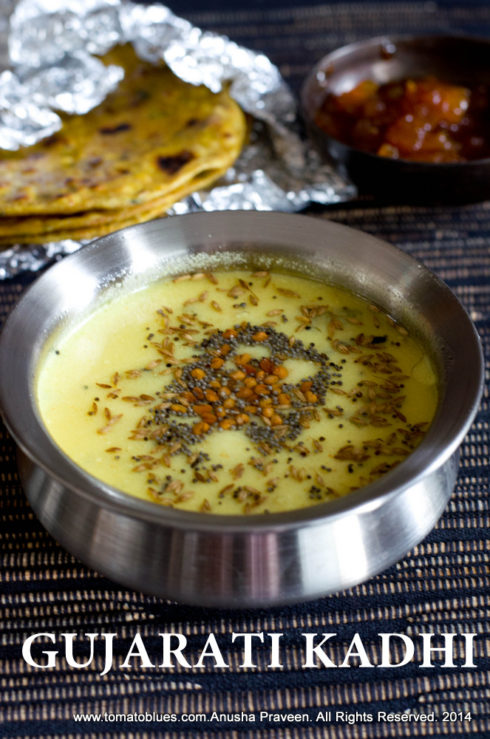 Gujarati Kadhi is something that i began to love after moving to Singapore. Strange, isn't it? I never quite liked this sweetish Gujarati Kadhi while i lived in Vadodara. I still remember bickering with my short term cook over adding sugar to kadhi. She always used to ask me how i ate my kadhi without the hint of sugar. And i always gave her a stare.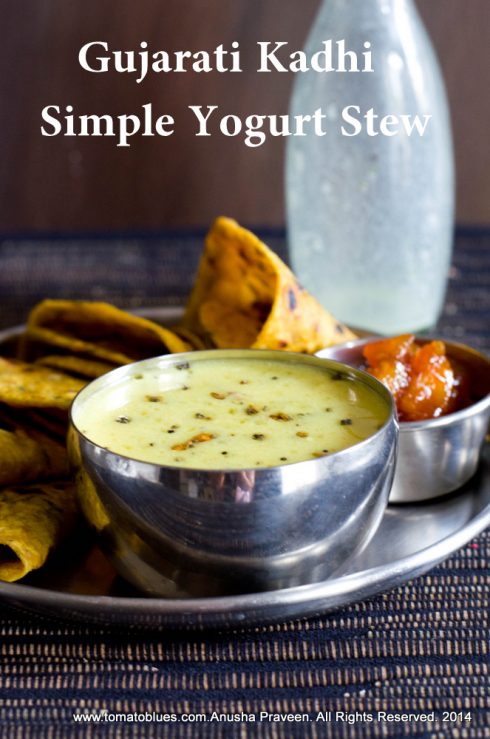 But some how, i began missing the Kadhi once i left the place. I even miss my cook. I must admit that i learned this recipe from her. And i rely on kadhi whenever i am short of time. And whenever i make methi theplas, there has to be some sweetish gujarati kadhi to mop them off with. Addition of sugar to your kadhi is optional but highly recommended, especially if you are eating it with theplas and such. I remember this small roadside eatery that served samosa with kadhi. I found this combination very strange yet oh so delicious!. I have never eaten such delicious samosas ever. How i miss Vadodara.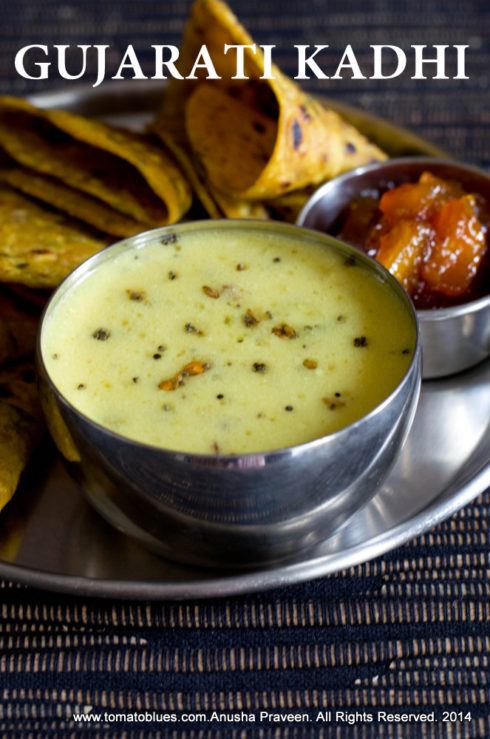 Recipe For Gujarati Kadhi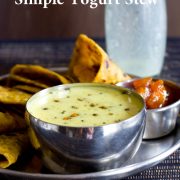 Print Recipe
Gujarati Kadhi Recipe
Gujarati Kadhi- A sugar laced yogurt stew tempered with whole spices. Best eaten with theplas or rotlas.
Ingredients
Besan

chickpea flour 2 tbsp

Water 3 tbsp

Thick sour yogurt 1/2 c

Sugar 2 tsp

Green chili 4

Ginger 1/2" peeled and chopped

Cumin seeds 1 tsp

Fenugreek seeds 1 tsp

Mustard seeds 1 tsp

Curry leaves 10

Hing a small pinch

Oil 1 tbsp

Salt to taste
Instructions
Make a coarse paste out of green chili and ginger using your mortar and pestle.

Combine besan and water and make a smooth paste.

Whisk the yogurt into this making sure there are no lumps.

Heat a pan with 1/2 tbsp oil.

Add the green chili ginger paste along with hing and curry leaves.

Saute for 1 min on medium flame.

Now, add the yogurt besan mixture to the pan along with salt and sugar and whisk well

Simmer this mixture for 5 to 7 mins .

Once done, switch off flame.

Heat another pan with the remaining oil.

Pop the mustard seeds and n=add cumin and fenugreek.

Once the fenugreek turns a light pink, pour this over the kadhi and mix well.

Serve hot.
For Instant Pot & Air Fryer Recipes
Instant Pot timings may vary based on your geographic location. Air fryer settings and timings may vary based on the capacity and the model of the Air fryer.
Disclaimer
Nutrition values are provided here as a courtesy and are only a rough guide. Please consult a health care provider if you have any concerns.