Okay. I m going to be very honest here and divulge some information about me. But you have to promise me that you will absolutely, absolutely not breathe a word about it to anyone. Errr.. your best friend is understandable but no one beyond that. Ok? Ok.
I loathe fusion food. I rate or rather i used to rate people who made fusion food as people who dint know what real food was. That was until yesterday. Yesterday, a whole lot changed for me in the food perspective of life. As a south indian, chutney always meant coconut chutney or tomato chuntey or if you ask me to quote a gutsier one, i shall say ginger chutney.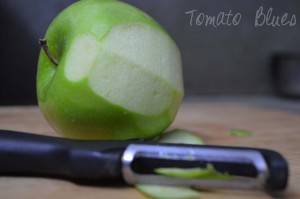 It was not until a year ago that i even realised that people other than South indians who live in this planet also consumed chutneys and they obviously dint make it with coconut and tomato. And they dint call it much of a chutney either. For them, chutney was also a relish and they had so many varieties that my head started spinning when i began my research into the realm of chutneys. Anyway. That was a year ago. But mind you. It took me a year to come out of that stupid box of my life and actually try my hand at fusion cooking. Now this chutney is a magnificent embodiment of fusion cooking. I ve followed no particular recipe. I just went about with what thoughts and ideas i had cached up in my memory and went by my instinct. And the chutney was a runaway success. So here s the recipe. Now if you ask me why the chutney is in brown when the apple is green, you will have to make it to find out for yourself.
Recipe For Green Apple Chutney
( Green apples and mango ginger ground together with spices)
Prep Time: 10 mins
Cook Time 5 mins
Makes 3/4 cup
Ingredients
Green apple 1 large ( Granny Smith preferably) peeled and cubed
Mango ginger aka white turmeric 1″ piece peeled and sliced
Channa dal 1 tbsp
Urad dal 1 tbsp
Dry red chilies 2 to 3
Tamarind a small marble size
Salt to taste
Oil 1 tbsp
Mustard seeds 1 tsp
Curry leaves a sprig
Oil 1 tsp to temper
Hing a small pinch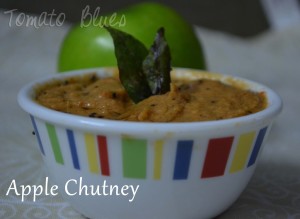 How To Make It?
Heat 1 tbsp of oil in a kadai. Add the dals and saute them till light brown in color.
Now, add the ginger and dry red chilies along with the tamarind and saute till the ginger slightly changes color.
At this stage, add in the apples and saute till apples turn a light brown.
Cool, add salt and blend to a smooth paste in a blender adding little water as necessary. This is because the apple already has water.
Now, temper the chutney with mustard seeds, curry leaves and hing in a tsp of heated oil.
Serve with dosas or eat with curd rice. Yummm…..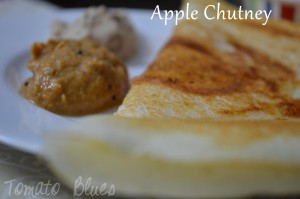 P.S This chutney tastes good only with green apples, the Granny Smith varieties which are available in super markets.