How To Make Gluten Free Vegan Buckwheat Pancakes?
GLUTEN FREE VEGAN BUCKWHEAT PANCAKES- DELICIOUS PANCAKES LOADED WITH CINNAMON FLAVORS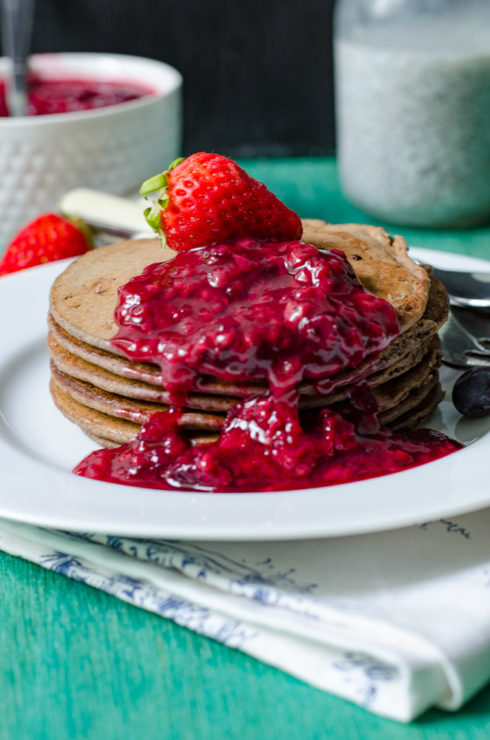 Before i begin my post on these uber delicious gluten free vegan buckwheat flour pancakes, let's discuss this buckwheat thingy, ok? Okay. Buckwheat is called as kuttu in hindi and Papparai in Tamil. Even though it reads buckWHEAT, it is no way related to wheat. It is a gluten free and is a psuedocereal like amaranth and quinoa seeds. Technically, the buckwheat that is used in the west is different from that which is used in the eastern side even though they belong to the same family.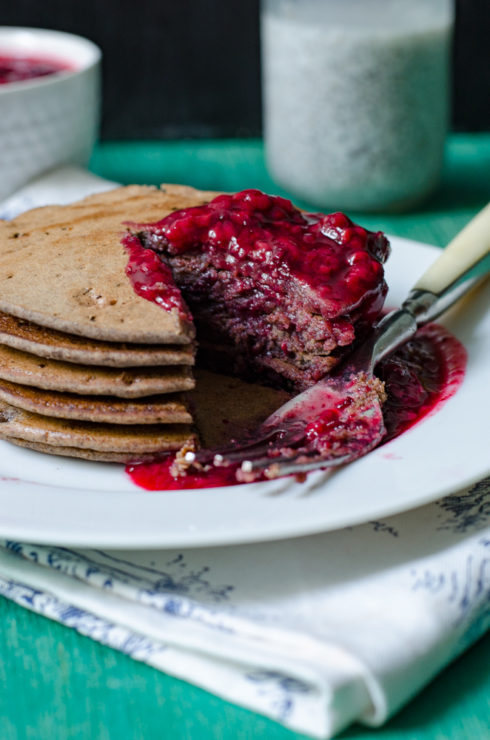 Buckwheat is a celiac- friendly food that can easily be used to substitute wheat based recipes. The kuttu ki poori is a popular dish in the northern and central India. This is a deep fried flat bread made with buckwheat flour and potatoes. I recently bought a packet of buckwheat flour to experiment with a couple of recipes other than that kuttu ki poori. I whipped up these delicious pancakes one morning for breakfast and served it up with some mixed berry compote. The result was a very happy Lil A and needless to say, a happy mom.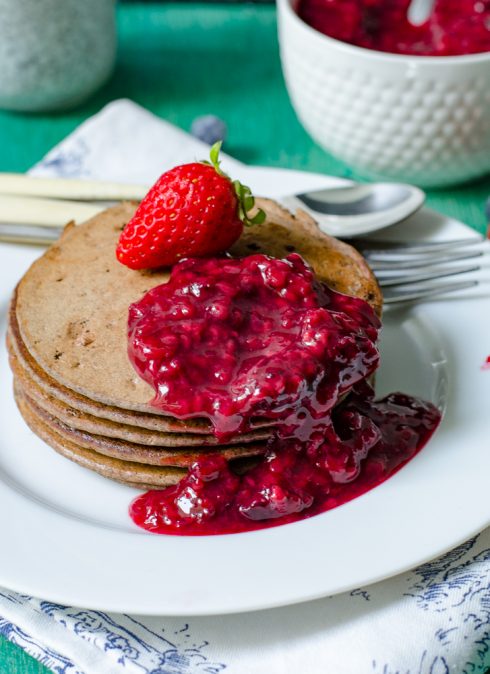 These gluten free vegan buckwheat pancakes use almond milk, banana puree and a generous amount of cinnamon for the flavor. You can experiment with flavors of your choice. I replaced the egg with flax egg and this added a rustic chewy feel to these pancakes.
Recipe For Gluten Free Vegan Buckwheat Pancakes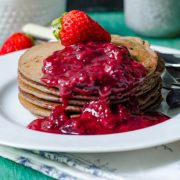 Print Recipe
Gluten Free Vegan Buckwheat Pancakes Recipe
Gluten Free Vegan Buckwheat Pancakes- Delicious pancaked made with buckwheat flour, cinnamon and banana. Can be frozen
Ingredients
Buckwheat flour 1 cup

Baking soda 1 tsp

Almond milk 1 cup

Vanilla extract 2 tsp

Cinnamon powder 1 tsp

Banana puree 1/4 cup

Coconut sugar or any sweetener of your choice 1/2 cup

Flax meal 1 tbsp

Salt a pinch

Vegetable oil 2 tbsp

Oil for grilling the pancakes
Instructions
In a large mixing bowl, combine flax meal, coconut sugar, vegetable oil, banana puree, cinnamon powder, almond milk, salt and vanilla.

Whisk thoroughly.

Add baking soda to this and mix well.

Immediately tip in the buckwheat flour and mix well using whisk.

Heat a non stick skillet.

Pour 1/4 cup of the batter on the pan, reduce flame to medium and cook till small bubbles appear in the middle,

Drizzle oil around the edges and flip and cook for another 2 mins.

Remove and serve hot.

Repeat with remaining batter.

Alternatively, you can make the pancakes and freeze them after letting them cool completely.

To freeze the pancakes, separate each pancake by inserting a sheet of parchment in between.

Place in ziploc bags and freeze.
For Instant Pot & Air Fryer Recipes
Instant Pot timings may vary based on your geographic location. Air fryer settings and timings may vary based on the capacity and the model of the Air fryer.
Disclaimer
Nutrition values are provided here as a courtesy and are only a rough guide. Please consult a health care provider if you have any concerns.