Well it s the last day of the BM. It has been a swell of an experience and heck i managed to cook all the seven days albeit the fact that i did bore Mr. P a lil with my constant prolix accounts of who s doing what. That part of the conversation s never enjoyed or appreciated by anyone until i say the magic words, " i am going to make dash dash recipe tomorrow" and then i can see that those words almost cast a spell. Wondering why i m using so many fantasy words, well i ve been on a Harry Potter high the last few hours. I m a complete HP addict who knows her spells and curses by heart. Why, if i need to swear, dont be surprised if i say cruciatus under my breath and you hear it by mistake. It s a dog of a habit and its quite hard to overcome. I love HP and every bit of it. Period. Having said that i must tell you that JK s take on british food in Hogwarts will almost make every foodie worth her name drool. So what s the connection between HP and todays recipe? Nothing. Yes you heard me right. I just felt like talking about HP without being interrupted or boohed at and so i just went on… Well i better come back to the recipe. I am a true south indian body, flesh and soul. No changing that. Having said that, i love my yoghurt, rice and pickle. Lets just say, i cook a three course meal and everything but only yoghurt and mind you only yoghurt and nothing else can complete my meal. As a kid, i remember amma packing this for lunch for me during the beginning of summers when we used to slog it off for our finals. It does make you sleepy but who cares as long as it s good old curd rice.Most kids are simply not willing to have curd rice. See its easy to make a kid eat a sandwich why even greens but not curd rice. So its in us to make it a lil interesting for them. This recipe is a lil tweaked to fit into the accepted by kids stamp. Read on.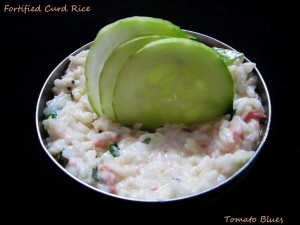 Prep Time: Under 20 mins

Cook Time: Under 10 mins


Serves 2
What you need?
Cooked rice cooled and mashed well 1 cup
Fresh curds 3/4 cup
Butter 2 tsp softened and at room temperature
Milk 2 tbsp
Salt to taste
The Veggies and Fruits:
Carrot grated 1/4 cup
Pomegranate seeds 4 tbsp
Green grapes or black grapes a handful
Apple peeled and cubed 4 tbsp
Cucumber grated 3 tbsp
Raisins 2 tbsp
Cashews broken 2 tbsp
The Tempering:
Green chili or curd chili 1 ( optional)
Mustard seeds 1 tsp
Cumin seeds 1 tsp
Curry leaves a sprig
Ghee 3 tsp
The Garnish:
Grated ginger 1 tsp
Cilantro chopped finely 3 tbsp
How to make it?
In a large mixing bowl, place the rice and the curd and mix well.
In another bowl, combine the milk and butter well and add this to the rice.
Now, add all the fruits and veggies and combine well.
Add salt and mix again.
Heat a kadai with ghee and roast the cashews till light brown. Remove.
Now, saute the raisins till they just fluff up and remove.
Add all the tempering ingredients one by one beginning with mustard and add to the rice along with the cashews and raisins.
Mix well.
Garnish with coriander leaves and grated ginger.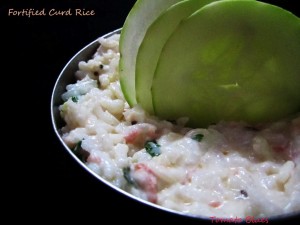 Give it a nice mix before packing away for lunch or serving.Go on to the Blogging Marathon page for the other Blogging Marathoners doing BM#12
Note: You can also add mango ginger instead of the ginger. And if you find raw mangoes, do add them to the rice as they give a nice zing to the dish.