HOW TO MAKE ELLU SADAM?
Ellu Sadam- Ellodharai is a very easy rice-based dish made with sesame seeds based spice powder.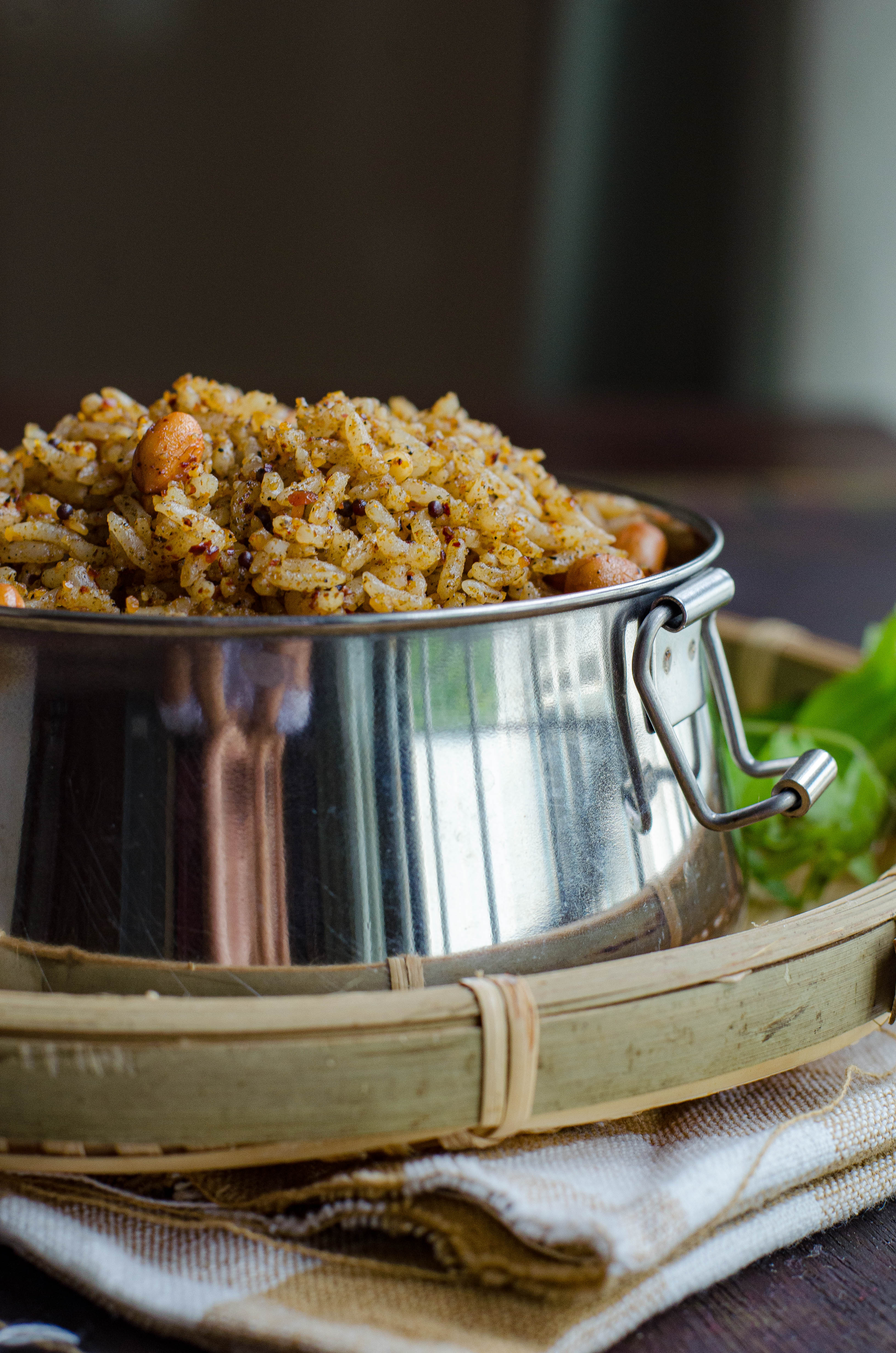 What is Ellu Sadam?
Ellu in Tamil means sesame seeds and Sadam in Tamil means rice. Roughly translated, Ellu Sadam is a quick rice-based dish made with freshly ground spice powder.
Ellodharai
Some people call this Ellu Sadam, Ellodharai too. Ellu+ Odharai makes Ellodharai. Generally, Kalandha sadam names are very commonly suffixed with 'Odharai'.
That s why we have Puliodharai, Milagoharai/ Milagodharai.
Ellu Sadam as Neivedyam 
The Navratri Golu in South India is a very popular festival. Golu is a display of dolls. In the Southern states of India, it is a common practice to exhibit dolls during the Navratri.
This custom is practised widely in Tamil Nadu, Karnataka and Andhra. Some people in Andhra keep Golu even during Sankranti festival.
Poojas, reciting hymns and festive clothes are all synonymous with Golu. While Sundal is the most common Neivedyam offered to the Devi, rice-based dishes like this sesame seeds rice and easy sweets are also a part of the customary Prasadam ritual.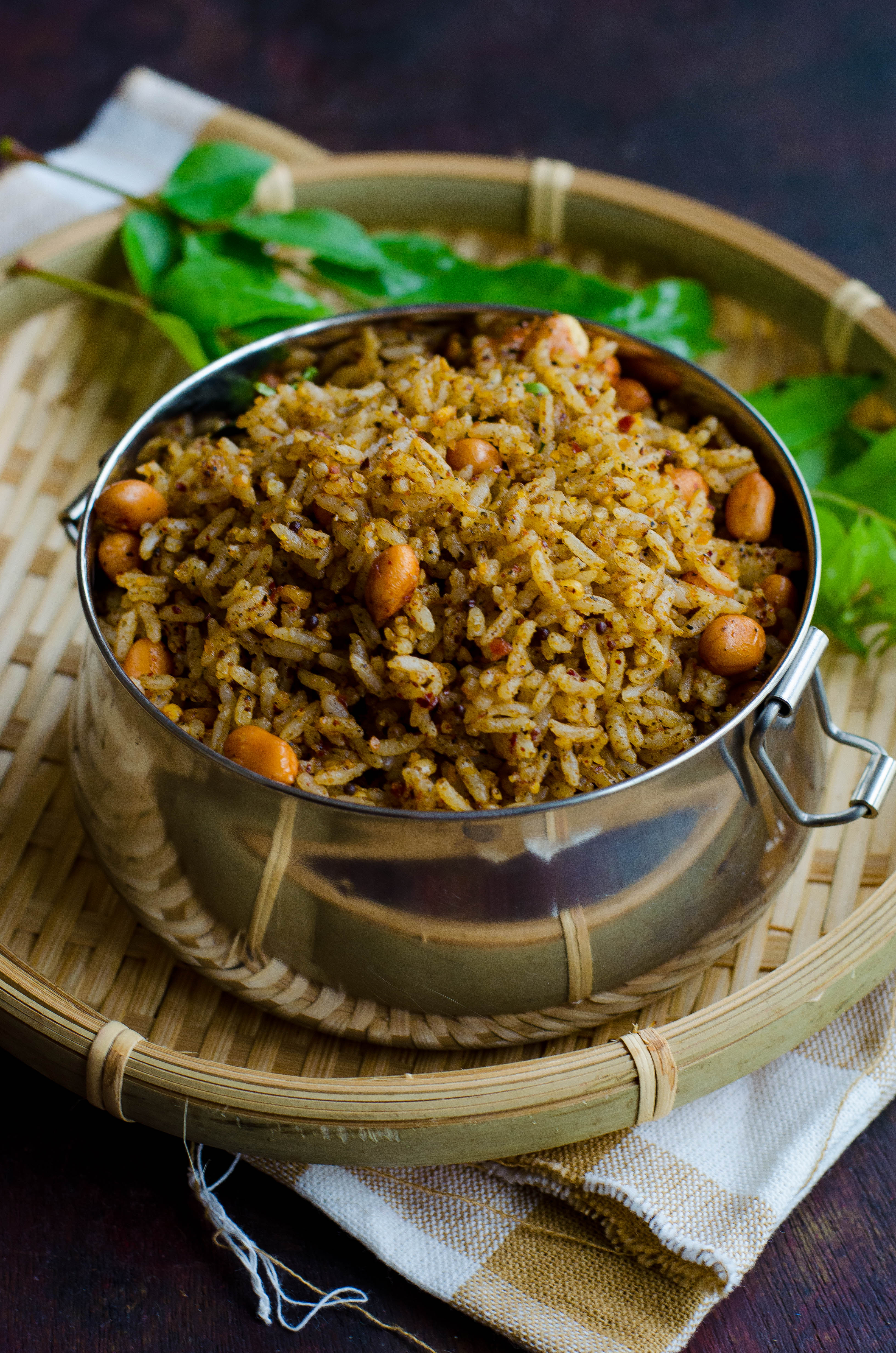 Best time to enjoy Ellu Sadam
Ellu or sesame seeds is believed to increase body heat in Ayurveda. So it s better to eat this delicious dish during winters.
Also, sesame seeds are a plant-based calcium-rich source that can be added to curries to give a nutrition boost and flavor boost.
Ellu Sadam- Kanu Pongal Idea too!
You can also make this delicious and quick sesame seeds rice for the Kanu Pongal or the Kaanum Pongal platter too.
Recipe at a glance:
With simple ingredients available right in your pantry, this recipe becomes such an easy Prasadam or Neivedyam idea.
Spice Powder
We are going to be using a combination of dals/ lentils along with sesame seeds to make our spice powder. We ll also be using dry red chili for heat.
You can use this spice powder just like how you use Idli Podi too. 
Store leftover Ellu Podi in a clean and dry air tight glass container. This powder stays fresh for up to 10 days. You can also add this powder in any of your dry vegetable curries for added flavor.
Rice
Traditionally, we make this with cooked and cooled short-grained rice. But if you are unable to source these varieties, you can use long-grained rice like Basmati too.
I have used short-grain Sona Masoori variety to make my Ellu Sadam today. You can also use other short-grain variety rice like Ponni or Jeera Samba to make this.
Oil
For best flavors and taste, please cook this sesame seeds based rice in cold-pressed peanut oil. In case you are unable to source peanut oil, sesame oil or Nallennai or Til ka Tel is a good substitute.
Please note that sesame oil may give a slight overpowering sesame taste and a subtle hint of bitterness in the recipe. This is because we are using sesame seeds too and these have some bitter taste in them.
Let us now see how to make Ellu Sadam step by step
Time needed: 20 minutes
A stepwise walk through for making Ellodharai-
Making the spice powder

The first step in making Ellu Sadam is dry roasting the ingredients. We are going to add channa dal, urad dal and the sesame seeds to a cast iron pan and dry roast them on low flame.
When the dals are halfway roasted and the sesame seeds begin to pop, we ll be adding the dry red chilis and quickly roasting them for 30 to 40 secs.
Once the ingredients are roasted, transfer them to a blender and allow them to cool.


Prepping the rice.

Our next step will be cooking the rice. Wash the rice well under running water till water runs clear. Now add 1.75 c water and pressure cook this for 3 whistles. Once done, switch off flame. Let pressure release naturally.
When the pressure releases, open the cooker and spread the cooked rice on a plate. Drizzle 1.5 tsp peanut oil or vegetable over the rice and gently fluff with a fork.
Let the rice cool completely.
While the rice cools down, let s grind the spice powder.
Add salt to the roasted spices and grind to a slightly coarse powder. Your powder should resemble the texture of Idli Podi.
Once done, set aside.


Tempering

Let s heat a pan with peanut oil. Add raw peanuts to the pan when the oil is hot. Saute the peanuts till they begin to turn a light brown. This takes 1 to 2 mins.
Now add the mustard seeds and when they pop, add the channa dal and urad dal along with the curry leaves.
Fry the dals till they turn golden.
When the dals are golden, add the cooked rice and the ground spice powder.



Mixing the Ellu sadam

Mix the rice, tempering and spice powder evenly.
While mixing, keep the flame at the lowest possible. Mix gently and slowly, making sure not to break the rice grains.

Frequently Asked Questions on Ellodharai:
Can i use either white or black sesame seeds ?
Yes. If you don't have both black and white sesame seeds, then please use either one- black or white to make Ellu Sadam.
Black sesame seeds have a slightly pronounced bitter taste. So kindly use 1 tsp lesser than the quantity of white sesame seeds mentioned.
For eg, if you are substituting 1 tbsp white sesame seeds with black sesame seeds, then please use only 2 tsp instead of 1 tbsp.
Can we make Ellu Sadam with Basmati rice?
Yes, Basmati rice works well too.
How long can the Ellu Sadam Podi/ Ellu Podi be stored for? Can this be made in advance?
You can make this podi in advance and store it up to ten days.
Why have both white and black sesame seeds been used in this Ellu Sadam recipe?
White sesame seeds are less bitter in taste and have a nuttier flavor.
Black sesame seeds are more nutrient dense, have a pronounced Sesame flavor and slighly more bitter. They also add a nice color to the dish.
I have used both varieties to bring a balance of flavors and a beautiful deep golden brown color in this Ellu Sadam.
Some things to remember:
Roasting the sesame seeds– It s very important to roast the sesame seeds until they begin to pop. This helps reduce bitterness.
Cooled rice-Always make sure that you use only completely cooled rice. Hot or warm rice tends to clump up and break easily.
Pressure cooking rice-While pressure cooking rice, do not cook for more than three whistles. Also, wait for pressure to release naturally. Do not be tempted to release the pressure manually. This way, you can definitely get fluffy rice.
Oil on rice-Do not skip the step of drizzling some oil over the rice and fluffing it gently. This step helps to keep the grains separate.
Frying peanuts-Adding the peanuts to the oil before adding other ingredients for tempering makes sure that the peanuts are roasted evenly and crunchy.
Tempering-If you add the peanuts after adding the tempering, the channa dal and urad dal may become too brown and burnt in appearance because peanuts take longer to fry ( roast)
If you are looking for more Kalandha Sadam or Variety rice ideas, then check out our
Follow me on Instagram or Facebook for regular cooking updates and short videos. Follow me on Pinterest for delicious content. Tried our Ellu Sadam? Loved it? Then please rate this recipe and leave a comment.
In case you have any questions regarding this recipe, leave a comment and I'll respond at the earliest possible. If you tried this recipe and enjoyed it, click a picture and share it on Instagram by tagging us @tomatoblues.
Recipe for Ellodharai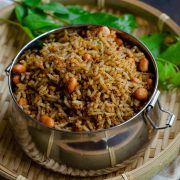 Print Recipe
Ellu Sadam
Ellu Sadam, also called as Ellodharai, is a vegan South Indian dish. Made with the goodness of Sesame seeds. Makes a great dish for Prasadam or Neivedyam during Navratri Golu and other Poojas.
Equipment
Pressure cooker

Frying Pan

Blender
Ingredients
For The Spice Powder
1

tbsp

Channa dal

1.5

tbsp

Whole white urad dal

1.5

tbsp

White sesame seeds

1

tbsp

Black sesame seeds

4 to 6

dry red chili

I used Byadagi variety here.

2

tsp

Salt

or to taste
For The Rice
1/2

c

Sona Masoori raw rice

refer post for more details

1

c

water

2

tsp

Peanut oil or vegetable oil
For Ellu Sadam
1.5

tbsp

Cold pressed peanut oil

4

tbsp

Raw Peanuts

1

tsp

Mustard seeds

1

tsp

Urad dal

10

curry leaves

3 to 4

tbsp

Freshly ground Ellu Podi

2 to 2.25

c

Cooked and cooled rice.
Instructions
Making the Ellu Podi( Sesame seeds spice powder)
Add the dals and sesame seeds.

Keep the flame at the lowest.

Now, begin dry roasting the dals and sesame seeds until dal begins to brown. Keep stirring to avoid burning.

After 1 to 2 mins, the sesame seeds will start popping. At this stage, tear the chili and add them to the pan.

Now roast all this together for about 30 to 45 secs or until chilis begin to appear puffy. Takes roughly 30 to 40 secs.

Transfer all the roasted ingredients to a blender.

Now, grind to a coarse powder. The powder should not be too smooth.

Our Ellu Podi is now ready.
Cooking the rice
Wash the rice thoroughly in running water till water runs clear.

Add 1 c water to this and pressure cook for 3 whistles.

Switch off flame once done and let pressure release naturally.

When the rice is ready, transfer it to a wide plate.

Drizzle 2 tsp oil over it and fluff it with a fork. Let the rice cool completely.
Making Ellu Sadam
Heat a pan with cold-pressed peanut oil.

Add the raw peanuts ( groundnuts) and fry for a min or two.

When the peanuts begin to change color, add the mustard seeds.

When the mustard seeds begin to pop, add the urad dal and channa dal along with the curry leaves.

Now add cooked rice, the ellu podi and mix well but gently.

Our Ellu Sadam is now ready to be served.
For Instant Pot & Air Fryer Recipes
Instant Pot timings may vary based on your geographic location. Air fryer settings and timings may vary based on the capacity and the model of the Air fryer.
Disclaimer
Nutrition values are provided here as a courtesy and are only a rough guide. Please consult a health care provider if you have any concerns.