Its the second month of the Gourmet Seven. And i must say i was excited as hell about this month. Reason? Because we made salads for this month. This month s edition ends with me. I am so happy that it is ending with me. No.. no.. its not like i am not enjoying this. It s because things never end with me. I pity those people whose names begin with an A. I pity them the most when there s an exam or worse yet, when its that time of the year where you are going to get grilled mercilessly by the lecturer all in the name of Viva Voce.Sweet sweet Viva. How many of us have gone through those torturous sessions of questioning. Some of those nightmarish moments of college. Thus ends the Viva chronicles of an ex law student. Sigh!!… Coming back to the salad, i must agree that i m a gargantuan salad person. Now i dont know if that adjective s right. But i couldnt find any other word that describes me that well. Everytime, i go out for a meal, i make it a point to load my plate with veggies, all kinds root, greens and juicy, all colours, red, green, orange and yellow. I sort of devour salads as my main course. Why.. i remember a few times when i ve just had salad having enjoyed them immensely, i skipped main course and plunged head on into dessert. Lets talk dessert some other time. But now, i really want to talk about my Money s Worth strategy that i used back in Mauritius where we honeymooned. Below are some clicks from the scenic and pristine Mauritian islands.
Sunset on a beach in Mauritius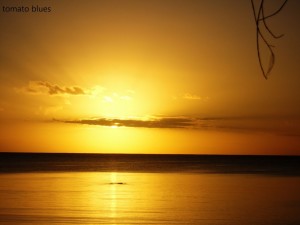 Bags made out of palm leaves all colorful and utility I bought 2 of them 🙂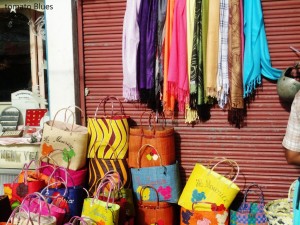 A view from Chamarel- seven colored earth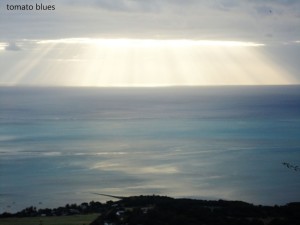 Yours truly sports a hat made of palm leaves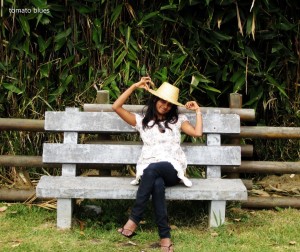 The breakfast and dinner at the hotel where we stayed was a huge affair. When i say huge, i mean really huge with about 30 to 40 dishes all at one spread. And somehow, every single morning i used to wake up as hungry as a big fat sow. I used to shower quickly, dress and race down to the dining hall. Then began my action.
Take plate.
Look around.
Load plate with veggies.
Go back and eat it.
Go again, load plate with some more veggies and some fruits. And a banana or maybe two but no doing anything without banana.
Sit and polish the plate.
Go back, get a piece of toast and smear all the possible flavors of jello and marmalade on the toast.
Devour the toast and wipe your mouth with the back of your hand.
And flash a toasty smile for your husband.
Anyone would have figured out by now, what a scare i would have given my then very new husband. And the poor guy went through all of this again in the night but with some six or seven desserts that i had along with my dinner. To this day, my husband very strongly tells anyone he meets that his entire trip was worth all the money he spent and one big reason is me devouring all the food. Oh! by the way, all Mr.P managed to eat was some rubbery chapathis and a passable dal and subzi. I m doubly sure by now, that all of you would have understood the reason behind my choice of adjective. So this month s Gourmet Seven choice was glee in all glory for me. We chose salads and all i could do was get excited. 101 cookbooks by Heidi Swanson is a foodie s treasure trove. And the choice of salads at her space are awe inspiring. I picked a very simple salad, Cucumber Peanut Salad. My choice was more out of curiosity than anything else. I was curious about how a non Indian goes about her indian choice of food. And Heidi s post made me believe that Indian food s loved by everyone but for the chilies. The salad was just right for our palate and Mr. P who normally is of the opinion that salads are for goats ate not one not two but three servings. And it s a summer salad. Cool cucumbers tossed with coconut and peanuts are simply amazing. Make this at home when you feel you want that light meal to put your tummy to sleep.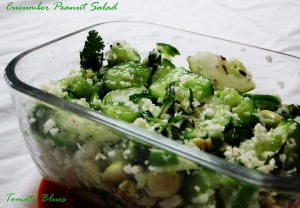 Prep Time: Under 20 mins


Cook Time: Under 10 mins


Serves 2


What you need?
Cucumbers 2 medium cubed
Fresh grated coconut 1/3 cup
Peanuts a handful roasted
Green chili 1 minced
Salt to taste
For Tempering:
Mustard seeds 1 tsp
Cumin seeds 1 tsp
Olive oil 2 to 3 tsp
For Tossing:
Juice of half a lemon
Cilantro chopped finely 2 tbsp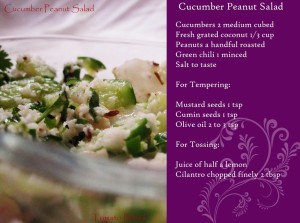 ( This might seem a normal salad but what makes it different is the crunch of the peanuts. I squeezed a lemon as an afterthought but nonetheless, the result was simply amazing. We loved the slightly sour, crunchy and refreshing combination of flavours. I may experiment with this salad by maybe adding a few flax seeds or even toasted sesame for the extra nutty flavors. If you do, let me know. Add the peanuts at the end just before serving. They become soggy otherwise. Heidi s version calls for toasted coconut or toasted dry coconut. But because i felt that the coconut flavor may be overpowering, i stuck to fresh coconut. Again no disappointments. Leave the peel of the cucumber on. Gives a nice colour and crunch to the salad.)
How to make it?
Roast the peanuts in a microwave for about 1 min to 1.5 mins. Let it cool. Remove the skin and set aside.
Place the cucumbers and coconut in a mixing bowl.
Add salt and minced chili and combine well.
Temper with mustard and cumin seeds.
Add cilantro and lemon juice to the cucumber and coconut.
Throw in the peanuts, toss well and serve cool.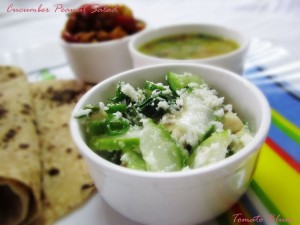 That s it.. Really ready in a jiffy.
This is my pick for this month s Gourmet Seven. Have a look at the other Gourmets too.
Meet ya all next time with another gourmet recipe in april.