I told you all about this amazing thing called 
labneh
, a while back. Like how its actually a cheese and its so easy to make. I also promised a recipe that uses labneh. Well, as promised. Here i am. With a ridiculously easy recipe that you can make for
breakfast
. It s healthy, delish and can be put together in a matter of minutes. Plus, it uses fresh veggies. And i consider anything that has fresh veggies is a brilliant breakfast. Its also light and works very well for all those people who are counting their calories.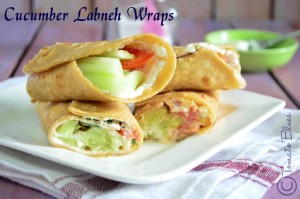 Recipe For Cucumber Labneh Wrap
( Easy wrap made with whole wheat tortillas and labneh spread)

Prep Time: 10 mins
Cook Time: Nil 
Level: Easy
Allergy Info: Nut free
Ingredients
Chapathis or any whole wheat flatbread of your choice 2
Persian cucumber 1 peeled and cut lengthwise into strips
Tomato 1 large chopped into 8 wedges
Paprika 1 tsp
Mint leaves 4 to 5 chopped finely
Labneh ½ c
Salt to taste
Directions
Mix the paprika with the labneh lightly.
On a chapathi, spread ¼ cup of the labneh evenly.
Sprinkle ½ of the mint leaves evenly.
Now, place 4 strips of the cucumber and 4 wedges of the cucumber on one end of the chapathi.
Sprinkle some salt over this.
Roll up from the end tightly to make a roll.
Repeat the same thing for the remaining chapathi and other ingredients.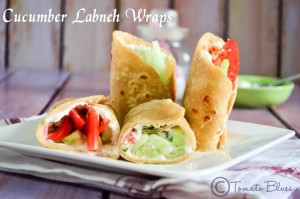 Eat immediately.