Oh the bliss of eating steaming hot rice, a generous dollop of ghee and some spicy thugayal is simply indescribable. It can only be experienced. And once one experiences it, its difficult to continue life as before. Now, what i really love about thugayal is that it not only tastes great with rice but also serves well as an accompaniment for flat breads, dosas and sometimes double up as spreads for sandwiches.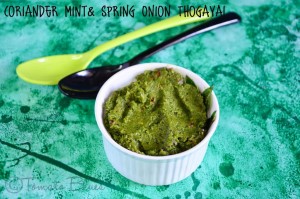 The reason why this blog doesnt have many thugayal recipes is that i dont consider them photogenic. Bah! there i said it. I mean, i know its not a reason- not photogenic. But still, yes that s why i dont share thugayal recipes here. But i must overcome my thought. There s no such thing as not photogenic when it comes to food. Anything can be made appetizing in a photo with the right props and shooting in the right angle. This thugayal is a start in that aspect for me. Plus i love this thugayal for its flavors. Its an unusual combination of sorts but works beautifully once everything comes together. You can enjoy this with hot rice or some crispy dosas. Either way, it works like a charm.
Recipe For Coriander And Spring Onion Thugayal
(Dip made with coriander and spring onions)

Prep Time: 10 mins
Cook Time: 2 mins
Serves 2 generously
Allergy Info: Vegan

Ingredients
Coriander leaves 1 c chopped finely
Spring onions 2 stalks green and white parts chopped finely
Mint leaves 10
Urad dal 2 tbsp
Tamarind pulp 1 tsp
Dry red chilies 3 to 4
Green chilies 2 chopped finely
Oil 2 tsp
Salt to taste
To Temper:
Oil 1 tsp
Mustard seeds 1 tsp
Hing a small pinch
Curry leaves a sprig
Directions
In a pan, heat 1 tsp of oil and fry urad dal and dry red chilies till dal turns golden.
Set aside.
Heat 1 tsp of oil in the same pan and add spring onions and green chilies.
Fry till wilted slightly.
Now add coriander and mint leaves and fry till wilted.
Let cool.
Once cool, add the roasted urad dal, red chilies, mint, coriander, spring onions and green chilies to a blender.
Now, add salt and tamarind.
Grind to a coarse paste using little or no water.
Transfer to a clean dry bowl or container.
Heat a pan with 1 tsp.
Pop the mustard and add hing and curry leaves.
Add this to the ground paste.
Mix well.
Thugayal is ready to be served.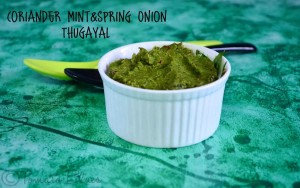 We had it with hot rice, ghee and some tomato raita.
You may also want to try my
Ridge gourd thugayal
Paruppu thugayal
Coriander coconut thugayal