HOW TO MAKE CORIANDER DIAMOND CUTS?
Coriander Diamond Cuts- Namakpare flavored with fresh cilantro.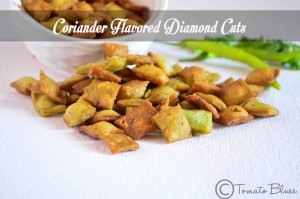 Diamond cuts were not a thing of my life until the year i started blogging. In our house, Diwali meant murukku, cheedai and mixture with an assortment of sweets that always included wheat halwa.
The year i began blogging was also the year of diamond cuts in the blogging circuit. Not being a diamond cuts person, i was not intrigued. But when diamond cuts continued to rein for 2 years after, i decided i must give it a shot.
Its one helluva beginner snack to try when you are just newly married and you have a husband to impress. But i wanted my version to be a little different than the regular diamond cuts.
When i came across this recipe in a cookbook that i have, i decided to give it a shot. And half the batch was gone by the time i finished making them. Thank god! i saved some for the pictures.
These coriander flavored diamond cuts are a twist to the classic diamond cuts recipe. The coriander, chilies and cumin create a flavor burst when you bite into the crunchiness. I plan to experiment with some other flavors the next time.
Maybe some fusion cooking- diamond cuts with basil or parsley?? For now, i m content munching on these diamond cuts and typing away the recipe.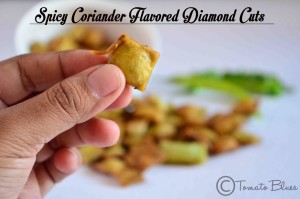 Recipe for Coriander Diamond Cuts- Dhaniawale Namakpare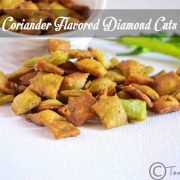 Print Recipe
Coriander Diamond Cuts
Easy Diwali Namkeen recipe with flour and cilantro.
Ingredients
Maida 1 c

Salt 3/4 tsp

Cumin seeds 1 tsp

Ghee 1.5 tbsp

sub with shortening or vanaspati for vegan version

Coriander leaves a small bunch picked and cleaned

Green chilies 6

Hing 1/4 tsp

Water to knead

Oil to deep fry
Instructions
In a blender, place coriander, salt, hing and green chilies and blend to a paste adding about 1 tbsp water.

In a mixing bowl, place maida and cumin and combine.

Make a well in the middle of the flour and add ghee.

Now add the coriander puree and combine well until the mixture resembles bread crumbs.

Sprinkle water little by little and knead into a dough that s like chapathi dough.

Make sure you dont add too much water or you wont get crunchy diamonds.

Once done, divide the dough into 5 parts and shape each part into a ball.

Heat oil for deep frying.

Take a ball of dough and roll into a thin chapathi. Probably as thin as you can get.

Make sure you have greased the rolling surface a wee bit before you do this.

Once you have rolled the ball, using a pizza cutter, make cuts horizontally and vertically across the chapathi, leaving even spaces between the strips.

I use a ruler and a pizza cutter to do this. You can also use a sharp knife.

Once done, check if the oil is hot. To do this, put a small ball of dough into the oil. If it rises up immediately, we are done.

At this stage, drop the small diamonds into the oil, a few at a time. Turn the flame to the lowest and fry for 2 to 3 mins until sizzling sound subsides.

Drain from oil once the diamonds are a golden brown.

Drain on a kitchen towel.

Let cool completely.

Store in an airtight container.
For Instant Pot & Air Fryer Recipes
Instant Pot timings may vary based on your geographic location. Air fryer settings and timings may vary based on the capacity and the model of the Air fryer.
Disclaimer
Nutrition values are provided here as a courtesy and are only a rough guide. Please consult a health care provider if you have any concerns.