How To Make Chilled Cantaloupe Soup?
Summer Recipes. Chilled Cantaloupe Soup With Orange And Spices.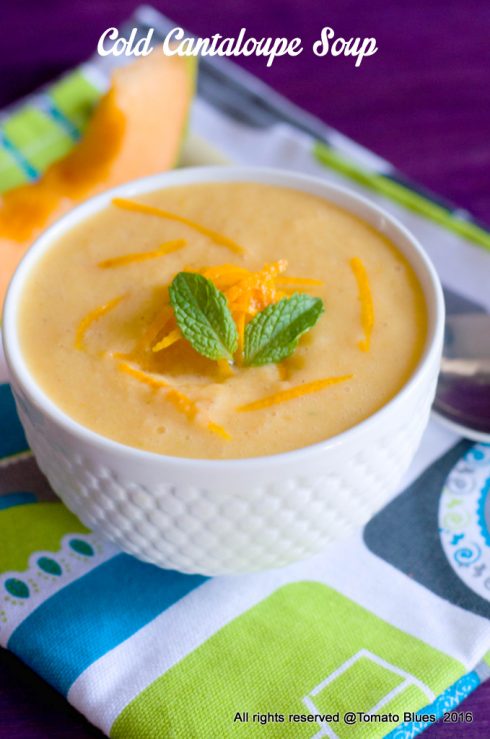 Chilled Cantaloupe Soup is a refreshing and flavorful soup made with muskmelon and orange. Cold soups are unusual in India. When someone mentions soup in India, it is assumed that it is always served hot. So, when i first came across Cucumber Gazpacho, i was amazed. And the gazpacho opened up a whole new world of soups to me. While tomato gazpacho and watermelon gazpacho have become very popular now. But the thought of using cantaloupe in a cold soup struck me one fine day when i had nothing else to do but make soup. And because it was in the middle of summer that i wanted to make soup, i decided that it had to be a chilled cantaloupe soup.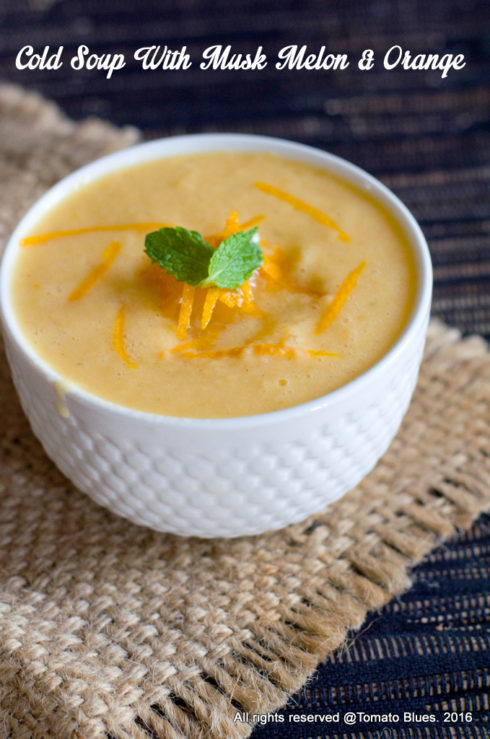 If i have to describe this soup in not so many words, then i would say the beauty of this chilled cantaloupe soup lies in the myriad of unusual flavors from the melon, orange and spices that come together like symphony in your mouth. The melon lends body to this mild chilled cantaloupe soup while the orange juice and zest packs a punch in terms of flavor. The yogurt accentuates the tang in the soup and the ginger makes it zesty and refreshing. And above everything else, this chilled cantaloupe soup is a no cook, no onion no garlic soup that you can enjoy any time of the year. And it is also a very good way to use up those cantaloupes that are not really sweet. This chilled cantaloupe soup is also a great recipe for people who are keen on weight loss. This soup also makes a great breakfast on hot summer mornings.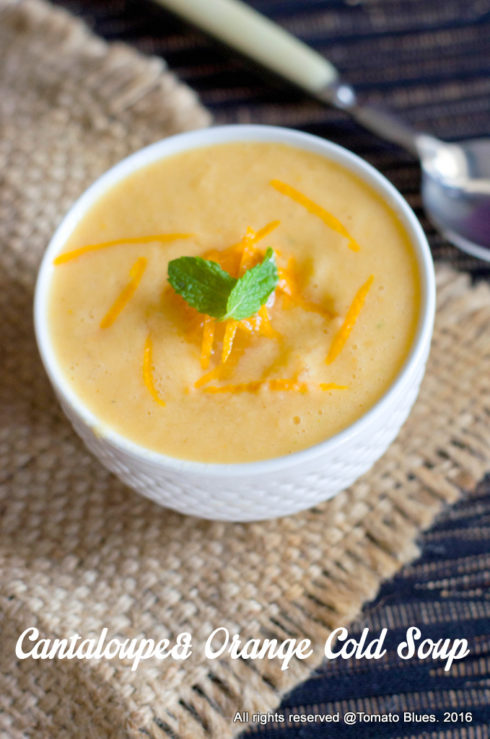 Recipe For Chilled Cantaloupe Soup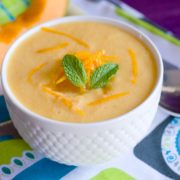 Print Recipe
Chilled Cantaloupe Soup
Chilled cantaloupe soup is a delicious and refreshing soup made with cantaloupes and orange. Makes a filling meal on its own on a hot summer's afternoon or works well as a starter too.
Ingredients
Cantaloupe 1 medium peeled

seeds removed and cubed ( should amount to 1.5 cups)

Orange juice 1/2 cup

Orange zest 1 tbsp

Mint leaves 3 to 4

Freshly grated ginger 1 tbsp

Green chili 1 small mincely finely

Pink salt 1 tsp

Fresh low fat yogurt 2 tbsp

Cinnamon powder 1/2 tsp

Lime juice 1 tbsp

Olive oil 1 tbsp

Few Mint leaves for garnish

Orange zest 1 tbsp for garnish
Instructions
Place all the ingredients except those meant for garnishing in a blender and process until smooth and creamy.

Chill in the fridge until ready to serve.

Garnish with mint leaves and orange zest.

Serve cold.
Notes
1. You may omit the yogurt in case your orange is sour.
2. The olive oil gives a nice flavor and is highly recommended. If you are conscious about calories, you may leave this out.
For Instant Pot & Air Fryer Recipes
Instant Pot timings may vary based on your geographic location. Air fryer settings and timings may vary based on the capacity and the model of the Air fryer.
Disclaimer
Nutrition values are provided here as a courtesy and are only a rough guide. Please consult a health care provider if you have any concerns.