Its been a while since i posted lunchbox recipes. Its been snack recipes for those after school times when the kids come like a whirlwind and attack your fridge and the kitchen and sometimes you. So i thought why not a lunch box recipe for today? Something quick. And something healthy plus tasty. I mean, those are the three mantras for a good lunchbox treat, right? Or have the rules changed?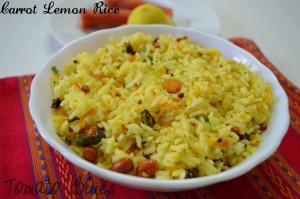 Now, the moment someone says lunchbox, i m reminded indubitably of my aunt who deplores the very task of putting together something for her daughters' lunchboxes. Both of them being fussy eaters, she has a difficult time and i pity her because almost always, i find her neck deep in the lunchbox menu crisis. For people like her and for moms who enjoy putting together a good lunch, here s a scrumptious recipe. Just like i said in the beginning, easy, quick, healthy and yummy.
Recipe for Carrot And Lemon Rice
( Cooked rice sauteed with carrots and flavored with lemon)
Prep Time: Under 15 mins
Cook Time: Under 20 mins
Serves 2 to 3
What You Need?
Cooked rice 2 cups ( I used the short grain variety)
Carrot 1 large grated
Cashews broken 10 to 12
Grated ginger 2 tsp
Peanuts 3 tbsp
Green chilies 3 to 4 slit lengthwise
Curry leaves a sprig
Mustard seeds 1 tsp
Urad dal 1 tsp
Channa dal 1 tsp
Oil 1.5 tbsp
Salt to taste
Lemon juice 2 tbsp
Coriander leaves 2 tbsp chopped finely
How To Make It?
Heat oil in a pan.
Pop the mustard.
Add the dals, curry leaves, peanuts, green chilies and grated ginger next and saute till the dals turn a light brown.
Now, add the cashews and saute till they turn a golden brown. By this time, the peanuts, dal and the cashews would have roasted evenly.
Add the grated carrot next and saute till they wilt slightly.
Once done, add salt and mix well. Remember you are adding salt for the rice too. Let this mixture become warm or let it completely cool.
Now squeeze the lemon juice. The reason why the mixture is cooled is because sometimes the lemon juice will make it bitter.
Now, add the cooked rice and mix well.
Garnish with coriander leaves.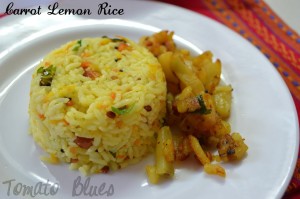 Serve with potato chips or enjoy with potato curry like we did.
Recipe for simple potato curry coming soon.