The diet regimen struck my kitchen just like it does every year. I knew that it shall perish as soon as it began. Or atleast, i expected that it will. But then, things took a different course this time. The regimen is still in action and its proving to be challenging to whip up something that s yummy and yet at the same time,low on calories. Not to mention, Mr.P s eddying desires to eat everything sugarless and uncooked.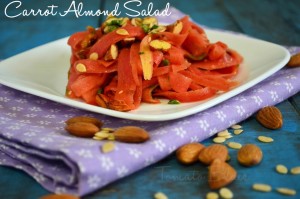 Keeping in tune with Mr.P s sudden deep penchant to healthy eating, i ve been making salads every week. Sometimes, i m inspired to put together a really mean salad with a bean or two dressed up with mayo. But otherwise, when i feel subdued after all that calorie counting, i put together a simple salad that s scrumptious with some nuts. That s just what i did yesterday. Made this lovely salad that can keep your 4 o clock hunger pangs at bay. I ate it for lunch, though and thoroughly enjoyed it too!
Recipe for Carrot Almond Salad
( Vegan salad with carrots and assorted nuts)
Prep Time: 10 mins
Cook Time: Nil
Level: Easy
Serves 2 minimally
Ingredients
Carrots 2 large peeled and shaved into ribbons
Almonds 1/8 cup toasted and slivered
Sunflower seeds 1 tbsp toasted
Sesame seeds 1 tbsp toasted
Cilantro 1 tbsp chopped finely
Dressing
Olive oil 1 tbsp
Lemon juice 1 tbsp
Honey 1 tbsp
Sugar 1 tsp
White pepper 1 tsp
Salt to taste
Directions
Use a peeler and make ribbons out of the carrots.
In a mixing bowl, combine all the ingredients for dressing and mix well. I mean really well.
Now, place the carrot ribbons, nuts and cilantro in the bowl along with the dressing and toss well.
Serve garnished with a drizzle of honey and a few leaves of cilantro. You must note that i totally forgot this step!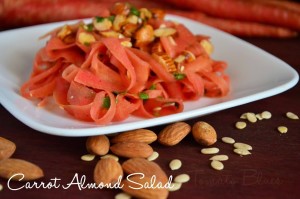 Enjoy your salad as a whole meal by itself or as a 4 o clock snack