Calzones
became all the rage a few years back when a pizza chain introduced it. Technically, its nothing but leftover pizza dough that s filled with a filling that includes meat or veggies or a combination of both, a sauce and some cheese. Its then baked just like any other bread. It makes a wonderful meal as a breakfast or as an after school snack. They have been on my baking bucket list for a long time now.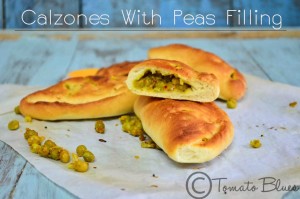 When Avant Garde Cookies chose novel Navratri as the theme for this month s first week, i considered many options. I thought of making some rice crispie bars that are very similar to our pori urundai. But finally, i settled on these calzones. Unlike the usual calzones, this has no sauce. But its got cheese. Yes, a calzone cant not have cheese.
The dough used for these calzones can be used to make a pizza or a stromboli too. It freezes well and can be made a day ahead. Plus it doesnt require all that resting that s usually involved in a pizza dough recipe. I chose my filling as a sundal. A sundal is nothing but beans or legumes stir fried. I made some changes to a basic sundal recipe and adapted it to suit this recipe. It worked very well, i must say. Give it a shot.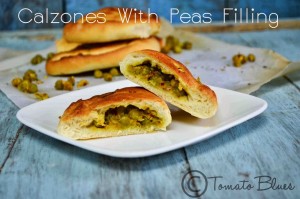 Recipe For Calzones with Peas Filling
( Calzones from the scratch with a peas filling)

Prep Time: 8 hours for soaking the peas
1 hour for the first rise of the dough
30 mins for the second rise
10 mins for the rest
Cook Time: 30 mins for the filling
30 mins for the calzones
Makes 4 medium size calzones
Allergy Info: Egg free
Ingredients

For The Calzone Dough:
All purpose flour 192 g (1.5 c)
Olive oil 2tbsp
Instant yeast 2 tsp
Sugar 1 tsp
Salt 1 tsp
Warm water 1/2 c
For The Filling:
Dried green peas 1.5 c
Any curry powder of your choice 1.5 tsp
Mustard seeds 1 tsp
Urad dal 1 tsp
Oil 1 tbsp
Salt a small pinch
Feta cheese 3 tbsp crumbled
Coriander leaves 2 tbsp chopped finely
Milk for brushing the dough 2 tbsp
Directions
Soak the peas overnight. The next day, pressure cook for 3 whistles adding 3 cups of water.
Once done, drain the water completely.
Heat a pan with oil.
Pop the mustard and add urad dal.
Once the dal browns, add the peas, curry powder and salt and cook for a minute.
Set aside.
Now, lets make the dough.
In a bowl, combine yeast, sugar and warm water.
Mix well.
Let sit until frothy.
In a big mixing bowl, add 1 c flour and salt and mix well.
Now make a well in the middle and add olive oil and yeast mixture.
Mix until everything just comes together.
You will have a shaggy mass of dough now.
Add the remaining flour and start kneading.
You may need more flour or less depending on the dough.
You must have a tacky smooth dough that s slightly sticky.
Once done, let it rise until double in volume.
Once double, punch the dough down.
Divide the dough into four pieces.
Take the filling and add the crumbled feta cheese and coriander leaves.
Mix well.
Take a piece of dough and shape into a ball.
Transfer to a slightly floured surface and roll into a 9″ circle.
Place 1/4th of the filling on one half of the circle.
Now, close the other half over the filling .
Bring together the edges and seal the calzone.
Repeat with the remaining pieces of dough.
Cover with a clean moist cloth and let rise until almost double in volume.
Towards the end of the second rise, preheat oven to 220 C.
Once the calzones are almost risen, brush with milk generously.
Bake in the oven for 30 mins or until golden brown.
Remove and let cool for 20 mins.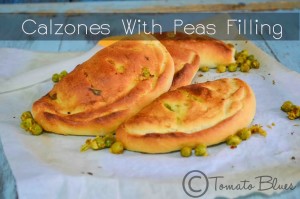 Once cool, tuck in.
P.S. I plan to use a tomato chutney as a sauce the next time i make this. In case you try it that way, let me know.
You can alternately make calzones with some pizza sauce and pizza toppings too.