Now, dont raise your eyebrows after you read the title. I usually sit with a cookbook whenever i wait. May it be in a queue or the railway station or at my doctor's. I carry a cookbook with me and browse in leisure heartily. I also bookmark a few recipes while i m doing that. This dish is one such bookmarked beauty. Yesterday, when i dint have a tomato or a potato or any vegetable other than okra for that matter, i decided to make this stuffed okra side that pairs beautifully with some rotis and kichdi. Mr.P, who usually detests okra loved it to bits. Ah!! my battle won. It s really simple, doesnt involve any chopping or grinding and delicious without all the sliminess.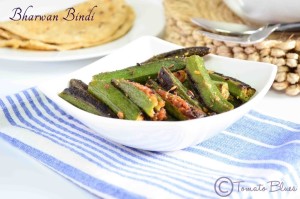 Recipe For Bindi Besan
( A stuffed okra dry curry with gram flour and spice filling)

Prep Time: 15 mins
Cook Time: 20 mins
Serves 2 generously
Allergy Info: Vegan, gluten free and Nut free

Ingredients
Okra 25 medium ones
Oil 2 tbsp
Cumin seeds 1 tsp
For The Filling
Gram flour ( Besan) 1/3 cup
Red chili powder 1.5 tsp
Coriander powder 1 tsp
Salt to taste
To Serve
Lemon juice 1 tsp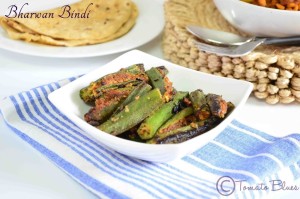 Directions
Heat a pan and roast the gram flour until slightly brown and aromatic. Takes about 3 to 4 mins on medium low flame. Dont crank up the heat or you will have dark brown besan.
Once done, immediately transfer to a bowl. Let it cool a bit.
In the meanwhile, remove the stalks in the okra and make a vertical slit on one side making sure not to slice it through completely. Set aside.
Now, combine coriander powder, chili powder, salt and gram flour.
Add about a tbsp of water and mix to make a slightly crumbly mixture. Dont be tempted to add more than 1.5 tbsp of water.
Once the mixture is ready, stuff a little of it into each okra. Make sure you dont overstuff them or they wont cook well.
Heat a pan with oil and crackle the cumin once the okra is stuffed.
Now, drop the stuffed okra into the pan. Dont overcrowd the pan at this point.
Now, bring down the heat to the lowest and close the pan with a little gap to allow the steam out.
Keep turning the okra now and then.
Once the okra has slightly browned and is fork tender, crank up the heat and cook for 30 secs.
Once done, remove from heat.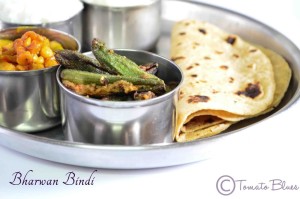 Let cool a wee bit, drizzle some lemon juice and serve hot with rotis.