How To Make Besan Ladoo?
BESAN LADOO- A SIMPLE SWEET THAT CAN BE MADE IN MINUTES FOR NAVRATRI. GF.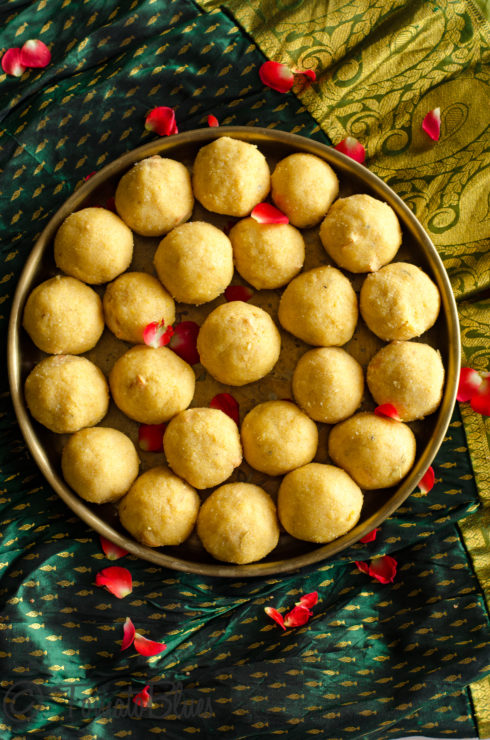 Besan Ladoo is bliss in all ways. It is that perfect protein rich winter recipe that ticks all boxes if you plan to hibernate. Just kidding  😆  Tomorrow is the first day of the Navratri golu. And while golu itself means sundal, why does it have to be so limited? Why cant we make some besan ladoo too to enjoy the festivities in full?
Not all days are Sundal days. You do need back ups in case you forget to soak your channa or you run short of coconut. That is exactly when Besan ladoo makes an entry. This is easy, quick and simple. It calls for very few ingredients and can easily be made into large quantities.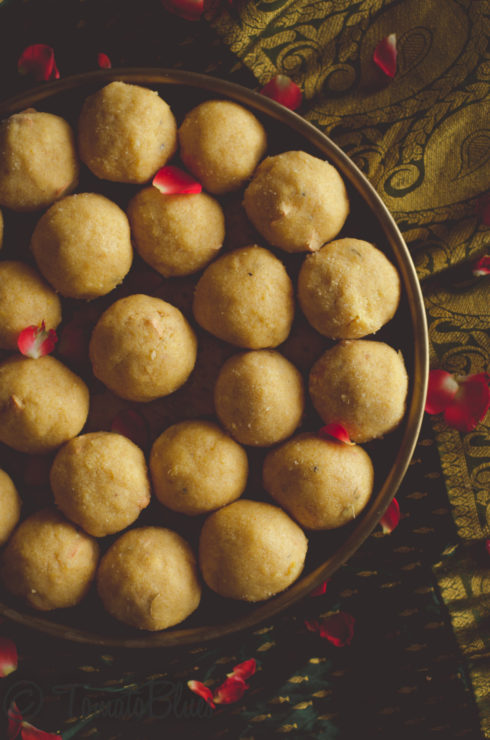 Now, before you begin making besan ladoo, there are some key points to remember. You have to roast the besan slowly over low flame till turns a golden brown and gives out a nutty aroma. This is the step that can make or break your besan ladoo.
Do not rush this process and do not be tempted to roast the flour on high flame. Doing so will burn your besan and under roasting your flour will leave a raw smell in the ladoo. And add just the amount of ghee mentioned. Your ladoos will fall flat after shaping them if you add too much ghee.
I m including a video tutorial on making besan ladoo. This was posted on my Instagram feed a couple of days back.
https://www.instagram.com/p/BnYvhhHBtIc/?utm_source=ig_web_button_share_sheet
If you are looking for more recipes for Navratri, then check out links for  mixed beans sundal, chickpea sundal, aata ladoo, moong dal laoo and channa dal sundal recipes.
Recipe For Besan Ladoo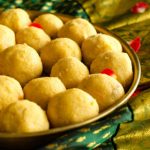 Print Recipe
Besan Ladoo Recipe| Navratri Recipes
Besan ladoo is a simple yet delicious sweet that can be prepared at a moment's notice. This is an ideal dessert for beginners and is rich in protein.
Ingredients
Besan

chickpea flour/ kadala maavu sieved 1 c

Sugar 3/4 to 1 c

Cardamom pods 2 to 3

Ghee 1/2 c melted

Cashews broken 2 to 3 tbsp
Instructions
Sieve the besan to get rid of any lumps.

This sieved besan must measure a cup.

Heat a pan.

Add a drop of ghee.

Reduce flame to low.

Now add the besan to this, stir well and roast the besan till it changes to a golden brown color and gives a nutty aroma.

Takes anywhere between 7 to 8 mins. Never leave the besan unattended.

Keep stirring as you roast the besan to ensure even roasting.

Once done, transfer to a mixing bowl.

Add sugar and cardamom pods to a blender.

Powder it smoothly.

Add this to the besan and mix well using a whisk.

Add ghee to the same pan in which you roasted the besan.

Heat the ghee and add the broken cashews.

Once they turn golden brown, add this to the besan and sugar mixture.

Mix well using a wooden spoon

Make ladoos once they are warm enough to handle.

Keeps well for a week.
Notes
Please note that i have mentioned 1 and 1/2 c of sugar in the video link but only 3/4 c to 1 c sugar here in the recipe. This is because i used a different brand for my first batch and felt it was less sweet. So i had to use more.
3/4 c of sugar is ideal if you are using coarse grain white sugar. Feel free to adjust sweetness.
For Instant Pot & Air Fryer Recipes
Instant Pot timings may vary based on your geographic location. Air fryer settings and timings may vary based on the capacity and the model of the Air fryer.
Disclaimer
Nutrition values are provided here as a courtesy and are only a rough guide. Please consult a health care provider if you have any concerns.