HOW TO MAKE BENDAKAYA PALLI VEPUDU?
Bendakaya Palli Vepudu- Andhra style Okra and peanut fry. Pairs well with rice.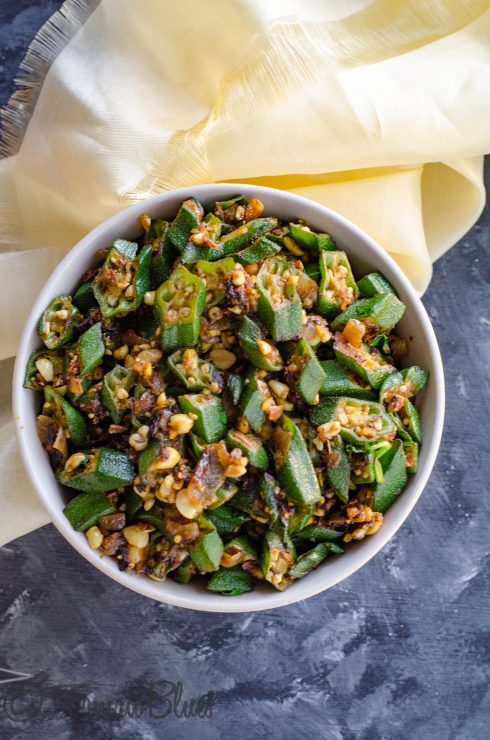 Bendakaya Palli Vepudu in Telugu simply translates to Okra Peanut fry in English. Vepudu in Telugu means fry. Now, whoever thought of adding some roasted peanuts to fried okra is nothing short of a culinary genius.
The fat and the crunch of the peanuts balance the texture of the soft slimy okra in Bendakaya Palli Vepudu. This makes it just perfect to mix into some hot rice and ghee. Yes. In our house, we have the habit of mixing our poriyal or thoran or fry with rice and ghee for the first course of the meal.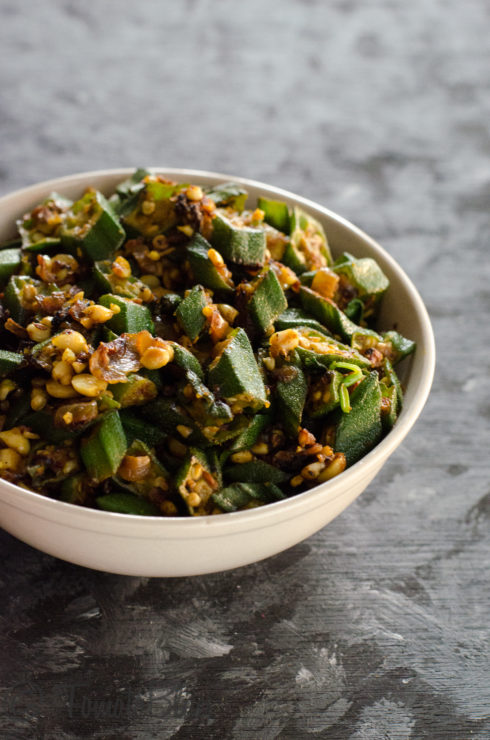 And this crunchy okra vepudu is also a great side for dishes like raw mango dal and Dosakaya pappu.
Also, for more such recipes, follow me on instagram by clicking  here
Some tips to make non slimy and non sticky Okra:
Wash, wipe and dry the okra well before slicing.
Never cook okra covered. The steam traps moisture which in turn makes okra stickier.
Always, add salt to any okra based dish only after it s thoroughly cooked and you can see no more slime.
Adding a tsp of yogurt, tamarind extract or lemon juice reduces the slimy texture.
In a tomato based okra dish like bindi do pyasa, fry the okra separately first and then add to the gravy later.
Here s a small video tutorial on making Bendakaya Palli Vepudu:
https://www.instagram.com/p/BgEJaR4FzFR/
Recipe for Bendakaya Palli Vepudu: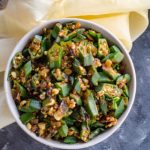 Print Recipe
Bendakaya Palli Vepudu Recipe| Okra Peanut Fry
Bendakaya Palli Vepudu is a simple Andhra style Okra (Lady's finger) and peanut fry. This pairs well with rice.
Ingredients
Bhindi 250g sliced thinly.

Onion 2 small chopped finely.

Garlic cloves 2 minced.

Roasted peanuts 2 tbsp crushed coarsely.

Oil 1. 5 tbsp.

Cumin seeds 1 tsp.

Hing a large pinch.

Turmeric powder 1/2 tsp.

Red chili powder 1 tsp.

Coriander cumin powder 1 tsp.

Salt to taste.

Coriander leaves for garnish.
Instructions
Dry Roast the peanuts in a microwave or oven. I had roasted peanuts ready in my case.

Heat oil in a pan. Crackle the cumin seeds, add hing and garlic.

Once garlic turns light brown, add onions and fry till translucent.

Turn the flame down and add turmeric, red chili powder, coriander cumin powder mix well.

Cook for a min.

Add sliced okra and mix well. Cook till okra begins to brown around the edges and becomes limp. Now add salt and mix well.

Make sure all the slime is gone before you add salt.

This takes around 5 to 6 mins on medium flame.

Once done add crushed peanuts and mix well. Garnish with coriander leaves.
For Instant Pot & Air Fryer Recipes
Instant Pot timings may vary based on your geographic location. Air fryer settings and timings may vary based on the capacity and the model of the Air fryer.
Disclaimer
Nutrition values are provided here as a courtesy and are only a rough guide. Please consult a health care provider if you have any concerns.