If you all think i m sort of off beat here with all that going pink for October because October is at its fag end, i must explain. I may be late in going pink. But then,this concept is close to my heart. I know so many women who have succumbed to breast cancer sometime or the other in their life. I know a few who are fighting like a lioness against the demon who has reared her head at a totally unexpected point in their lives. I know a few more whose lives had been picture perfect before the venture of this very ugly demon. Breast cancer has at some point changed women s lives. And it s always been for the worst. It s not going to stop devastating people. But i think as women, we must all transform into lionesses when the time comes and give the cancer one big kick in its ass. ( Pardon the language.) For we may all be women who are soft handed and delicate. We may all be people who love our stilettos and cherish our first dates. But beneath all the vulnerability, we have our guts and spirit. We are the people who hold our homes together. We are the people who make people happy in so many ways than anyone else put together. So we cant let cancer deter us. And men must learn to live with the fact that women are also susceptible and just like women rise up amidst a gush of strong waves, they must also rise up to the occassion.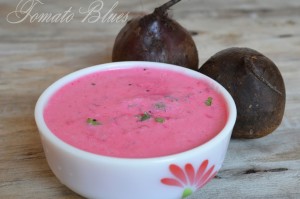 With that said and done, i m going pink this month. I am not making anything fancy pansy. I m not here to celebrate something. I m here to convey a message. A message for all us women to eat healthy and stay healthy. And so my recipe is also along those lines.This is a simple colorful raitha that you can eat with some biriyani or dunk your parathas in. Above all, its beetroot and it improves your blood. So here you go, beetroot raitha for Pink October.
Recipe for Beetroot Raitha
( Yogurt sauce with beets and coconut)
Prep Time: Under 10 mins
Cook Time: Nil
Serves 3
What You Need?
Beetroot 1 medium peeled and grated
Thick yogurt 3/4 cup
Salt to taste
To grind to a paste:
Grated coconut 4 tbsp
Green chilies 3 to 4
To Temper:
Mustard seeds 1 tsp
Hing a small pinch
Oil 1/2 tsp
To Garnish:
Cilantro leaves chopped finely 1 tbsp
How To Make It:
In a bowl, whisk the curds well and add the salt and grated beet to it. Combine well and set aside.
Grind the coconut and chilies to a fine paste using about 2 tbsp water.
Add the ground paste to the curds.
Temper the curd mixture with mustard seeds and hing.
Mix well.
Garnish with cilantro leaves.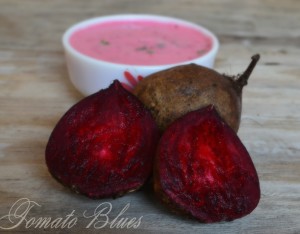 Serve cold or as it is with mixed veg stuffed parathas or tomato rice