The moment some one says Azhagar Kovil, all i can think of is fragrant jasmines, fluffy idlies and traditionally dressed beautiful women. Which are all synonymous to Madurai. I have yet another thing to add to that list of awesomeness. And that s this
Azhagar Kovil Dosai.
Now, i dint know that such a dosa even existed a while back. When we decided to have a
dosa
palooza
, this month, i set about searching high and low for the fourth dosa that i would post. I had already zeroed in on my first three which were
spring roll dosa,
quick
tomato dosa
and
ragi dosa.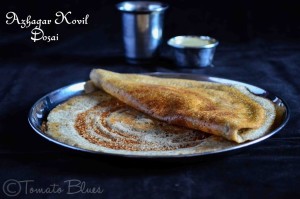 That s when i chanced upon this Azhagar Kovil dosa. It was love at first sight because it had my favorite spice- black pepper. And husked urad dal. And ginger. And curry leaves. More and more reasons for me to love. And it was a super hit with Mr.P too. I mean, all dosas are a super hit with him but he really relished his Azhagar Kovil dosa. Which makes me one super happy girl!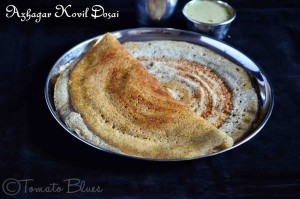 Recipe For Azhagar Kovil Dosa
( Crepes with rice, lentils and spices)

Prep Time: Overnight soaking time
20 mins for grinding
4 hours to ferment
Cook Time: 2 to 3 mins for dosa
Allergy Info: Vegan, Nut Free
Yields 12 dosas.
Ingredients
Par boiled rice 1 c
Husked whole black gram dal (karuppu ulundhu) 1/2 c
Ginger 1″
Pepper corns 1 tbsp
Cumin seeds 1 tsp
Curry leaves a sprig
Salt to taste
Oil to cook the dosa
Directions
Soak rice and dal separately overnight.
The next day, wash thoroughly the rice and dal.
I dint clean the husk in the dal completely.
In a blender, place dal, ginger, peppercorns, cumin and curry leaves and grind to a smooth fluffy paste. Make sure you rest your blender in between.
Remove and transfer to a bowl.
Grind rice to a slightly coarse paste in the blender. Again rest your blender in between and add water as required. I added about 1/3 c of water.
Now, mix both the rice and dal batter together, add salt and let sit for 4 to 5 hours.
This is to ferment the batter. And it will take longer or shorter depending on the weather in your location.
Once the batter has fermented, heat a tawa.
Pour a ladle of batter on the tawa and spread it into a circle that s slightly thicker than the regular dosa.
Drizzle oil along the sides.
Cook till no raw batter is seen on the top.
Flip again and cook for 45 secs more.
Remove from flame.
Repeat with remaining batter.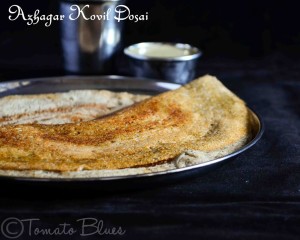 Serve hot with any chutney of your choice.