Apple And Cucumber Salad In A Honey Mustard Vinaigrette
Apple And Cucumber Salad With A Delicious Mustard Based Vinaigrette.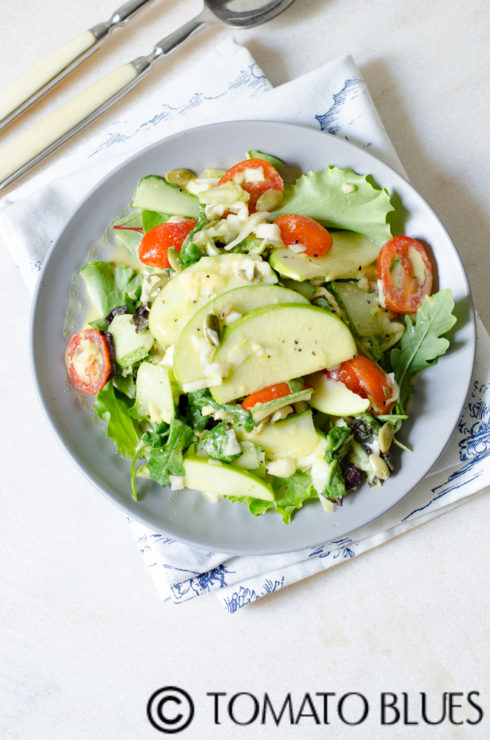 This apple and cucumber salad done up with a delicious mustard and honey vinaigrette is all you need if you are counting your calories or if you are on a low carb diet. I happened to grab a few granny smith apples a while back. I prefer them in my ABC juice because they lend a nice tart taste to the juice. But the moment i bought them, my daughter caught on a cold.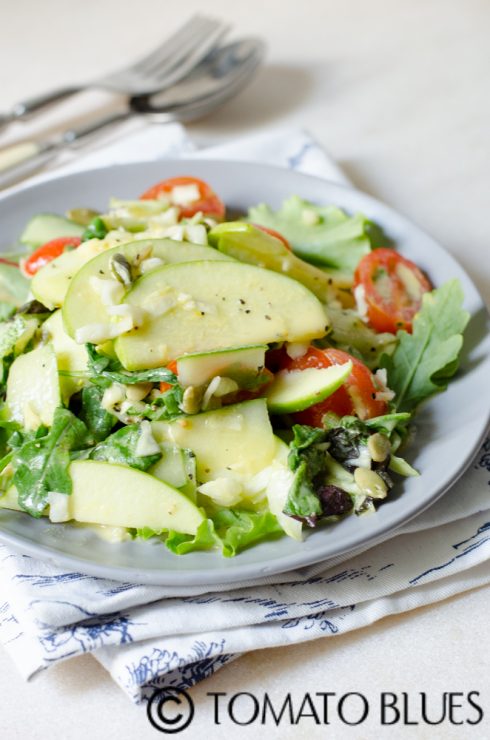 As a result, i couldn't do my regular juicing. I did manage to consume one of those apples in the form of this lip smacking chutney. But i was still left with 2 more of them. They were too tart to be eaten on their own and that s when this apple and cucumber salad came to my rescue.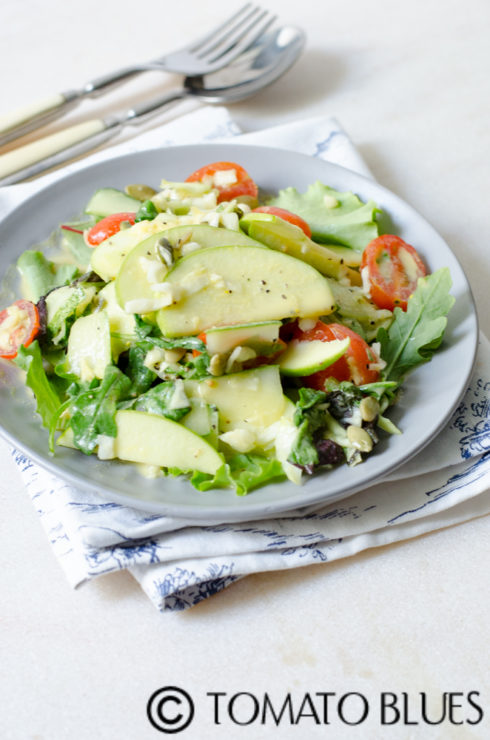 I also had a bag of mixed salad greens, some cherry tomatoes and some butter lettuce that i threw in to this salad to make it crunchy. The vinaigrette happened on a whim as always. I just mixed up some good old dijon mustard, honey, white pepper, salt and white wine vinegar to balance out the flavors and i must admit, it came as one hell of a dressing. Shall we now check out the recipe for this crunchy apple and cucumber salad?
Recipe For Apple And Cucumber Salad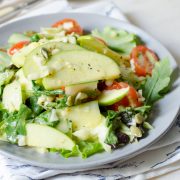 Print Recipe
Apple And Cucumber Salad In A Honey Mustard Vinaigrette
Apple And Cucumber Salad in a mustard honey vinaigrette- Simple and fresh ingredients including rocket leaves and lettuce tossed together in a sweetish pungent dressing
Ingredients
Granny smith apples 2 cored and sliced thinly

Cherry tomatoes 10 halved

Japanese cucumber 1 medium sliced thinly

Beijing cabbage 1/4 c shredded

Pumpkin seeds

pepita 1 tbsp

Raisins 2 tbsp

Rocket leaves 10

Butter lettuce 1/4 c shredded

For The Dressing:

Dijon mustard 1 tbsp

Honey 1 tbsp

White wine vinegar 2 tsp

White pepper powder 1 tsp

Olive oil 1 tbsp

Salt to taste
Instructions
In a bowl, place the mustard, honey, vinegar, olive oil, pepper powder and salt and whisk thoroughly.

Add the apples, cucumbers, cabbage, pumpkin seeds, raisins, rocket, tomatoes and lettuce to this bowl and mix gently or toss lightly.

Serve immediately
For Instant Pot & Air Fryer Recipes
Instant Pot timings may vary based on your geographic location. Air fryer settings and timings may vary based on the capacity and the model of the Air fryer.
Disclaimer
Nutrition values are provided here as a courtesy and are only a rough guide. Please consult a health care provider if you have any concerns.