How To Make Almond Cashew Kheer?
ALMOND CASHEW KHEER-  AN EASY DELICIOUS DESSERT WITH CASHEWS AND ALMONDS.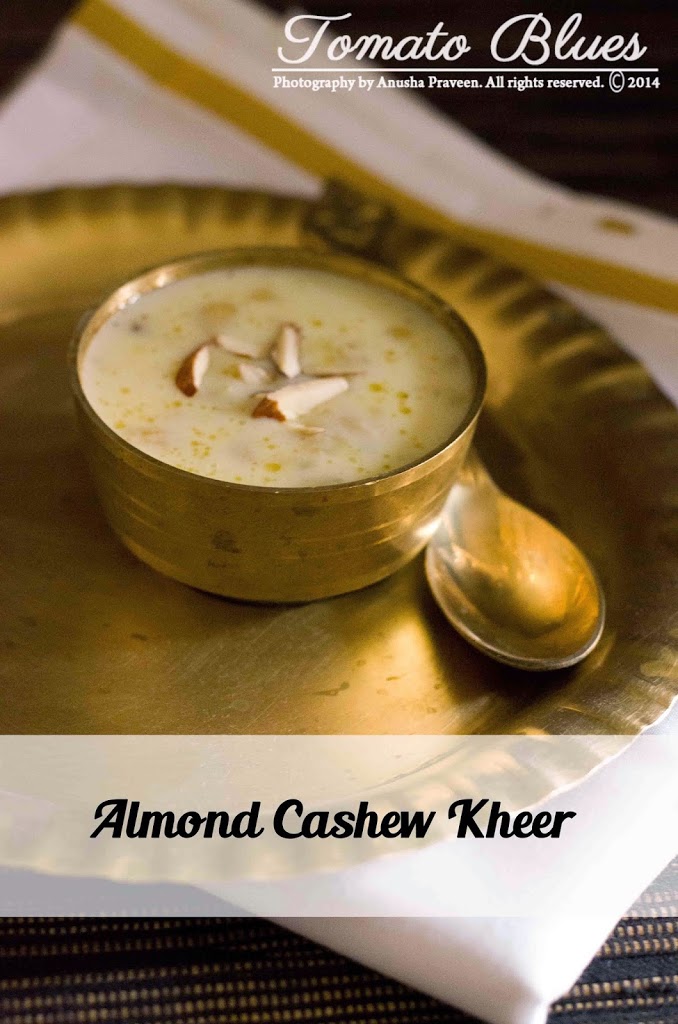 Its birthday week here at Tomato Blues. I just wont say whose birthday it is, okay? Lets just say its celebration time here and to bring on the festive mood, i decided to share this ridiculously easy kheer recipe. For once, i actually decided to let go of the new vegan gluten free fad that i have stuck to in the recent past. After all, a little dessert with lots of ghee is plenty of indulgence if done once in a while.
Because its birthday time and because little A is here, i will share the recipe first and then go on to the giveaway. This recipe is a no brainer dessert recipe that can be eaten hot, warm or cold. Its the onset of winter in most places in the world. So where ever you live, make some almond cashew kheer and enjoy it warm if the weather has that nip in the air. Or if you happen to live in a mundane city ( do cities get called mundane? i m not sure. But anyways, for lack of a better word) like me, then chill this in the fridge and eat it as many times as you want. Only make sure your husband doesnt catch you eating his share. ( That s what happened in the Praveen household, by the way)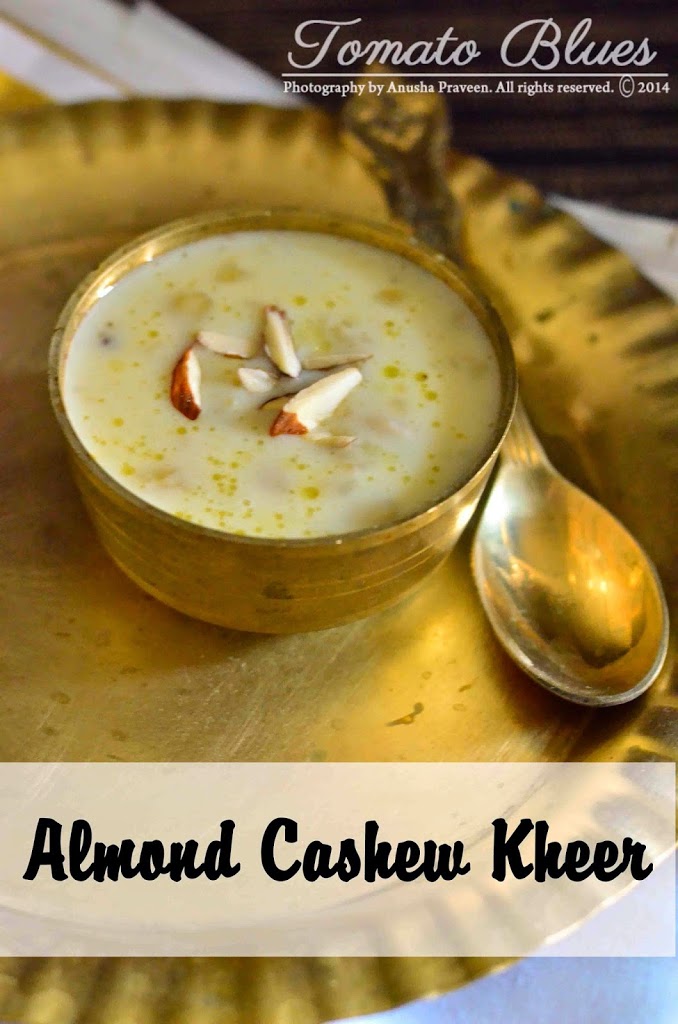 In case you decide that you will still be vegan after reading this recipe, then use coconut milk in place of regular milk and skip the clarified butter entirely in this recipe. But, i m warning you, it will not taste the same. Yeah, this recipe s not vegan friendly but hey! i just realised that it is gluten free. You can make this ahead for a party or Thanksgiving for that matter and leave it in the fridge. It will keep well for 2 days. Lets get the stove cracking, shall we?
Recipe For Almond Cashew Kheer
( Learn how to make Almond Cashew Kheer, a simple dessert with almonds, cashews and milk)
Prep Time: 20 mins
Cook Time: 15 mins
Serves 2 generously ( Easily doubled)
Allergy Info: Gluten free, Vegetarian, Soy free
Course: Dessert
Cuisine: Indian 

Ingredients
Almonds 1/2 c  Blanched and Peeled
Cashews 1/2 c
Raisins 1/4 c
Cardamom powder 1/2 tsp
Ghee ( clarified butter) 1/4 c
Full fat milk 2.5 c
Condensed milk 1/4 c
Sugar 1/2 c
Note:
1. For instructions on how to blanch and peel almonds quickly, click  here
2. Using full fat milk gives a creamy texture to the kheer and its strongly recommended.
Directions
Grind together the almonds and cashews coarsely adding about 1/4 c of milk. We just dont want a smooth paste. A few bits lurking here and there will add a nice crunch while eating.
Once done, heat a thick bottomed pan with the ghee.
Now, add the raisins and fry till fluffed up and golden.
Drain.
To the same pan, add cardamom powder and saute for 10 secs.
Turn off the flame.
Immediately tip in the ground paste and stir well.
Turn on the flame to a medium and constantly stir the mixture until it absorbs all the ghee. Takes about 7 mins
At this stage, add the sugar and condensed milk and mix well.
Turn down the flame to the lowest and let simmer for about 5 to 6 mins.
Now add the milk and mix well.
Simmer further for 5 mins on medium flame.
Add the raisins at the end and mix well.
Serve hot or cold.
And that s it. The kheer is done.