How To Make Achari Bhindi, A No Onion No Garlic Okra Gravy Cooked In Pickling Spices?
Side Dishes For Roti, Paratha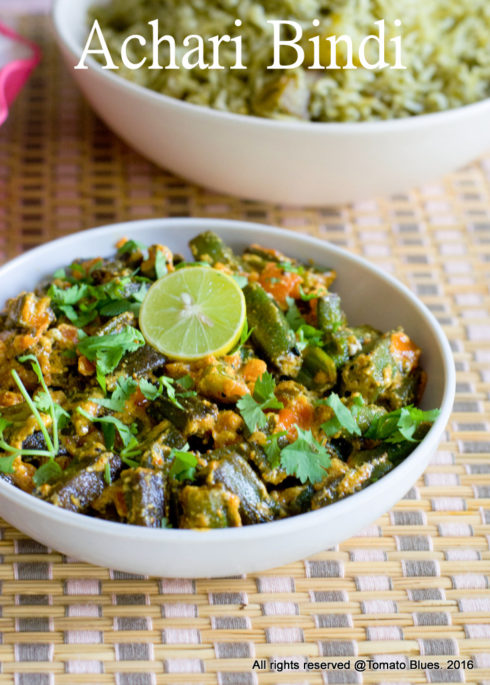 Achari Bhindi is an easy recipe that has okra cooked in Indian pickling spices and yogurt. This no onion no garlic Achari Bhindi is a great side dish for rotis, chapatis and pulao on fasting days including Navratri. The okra lover that i am, i try and cook okra in all possible ways. Even though okra mor kuzhambu is my favorite way to eat this great vegetable, i make this achari bhindi quite often as an accompaniment to parathas.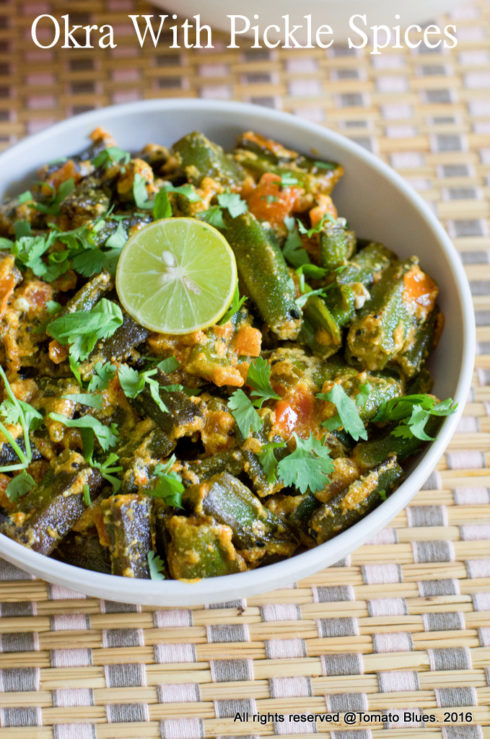 Many people find cooking with okra challenging because of its slimy texture. Especially Indians find it difficult to cook okra without the slime. There are a few ways in which you can avoid this. Never cook okra covered. If you cover okra, it will generate steam and moisture is not okra s best pal. Do not add salt to any okra dish while cooking it. Add salt only towards the end because salt makes the veggies to let out water which in turn makes okra slimier. Add a souring agent like lemon juice, yogurt or tamarind while cooking okra to get rid of the slime. And finally if you are making dishes that involve frying okra or sauteeing okra along with other veggies like onions or tomatoes, then follow this method that i have used in making achari bhindi. Now let us check out how to make Achari Bhindi step by step.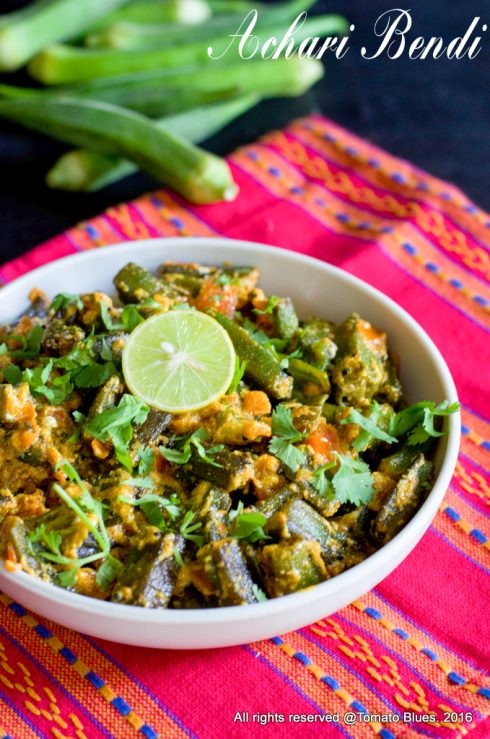 How To Make Achari Bhindi- Step by Step
Mix spice powders with yogurt and mix well. Chop tomatoes and okra and keep ready. Peel and julienne the ginger and set aside the tempering spices.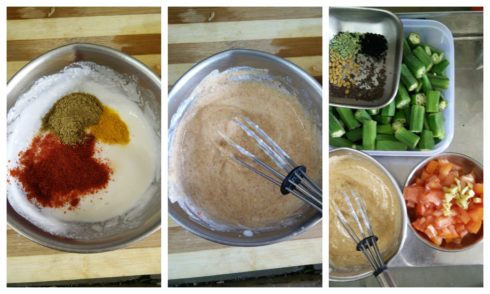 Now, heat a pan with 2 tbsp oil. Add the chopped okra and fry till they turn a light brown. Just when they begin to brown , remove and drain the okra on a kitchen towel. This step is important. This is what will prevent your okra from becoming slimy when cooked with the tomatoes.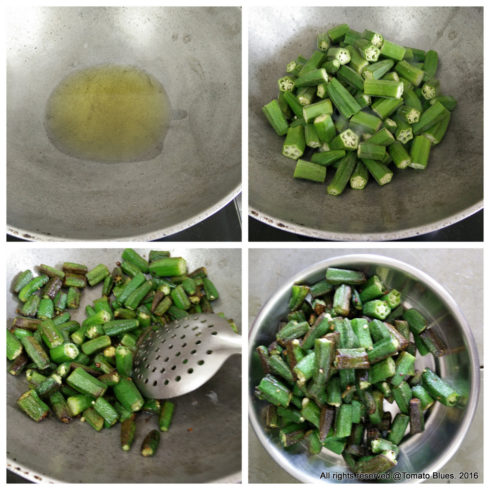 In the same pan add about 2 tsp of oil. Add the mustard and once it pops, add the fennel seeds along with the nigella, fenugreek and hing. Now add the chopped ginger and fry on medium flame for 30 secs. Now tip in the tomatoes and fry till they turn mushy. This should take 3 to 4 mins on medium flame.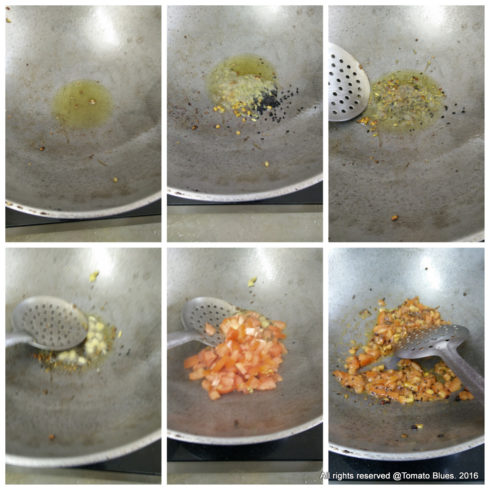 Once the tomatoes are done, turn down the flame to the lowest and add the whisked yogurt along with salt. Now give this mixture a good toss. Next add the okra and mix well. Cook on medium flame for 2 to 3 mins. Garnish with coriander leaves.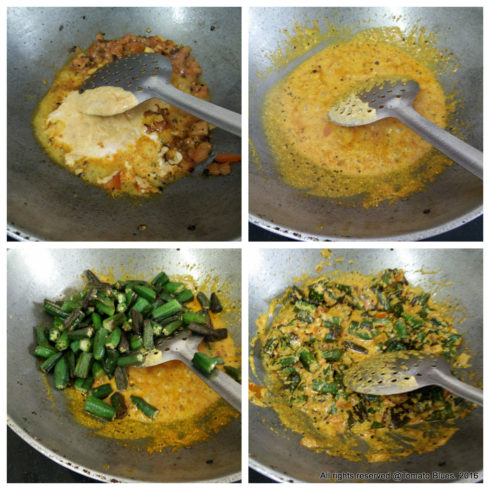 Your Achari Bhindi is ready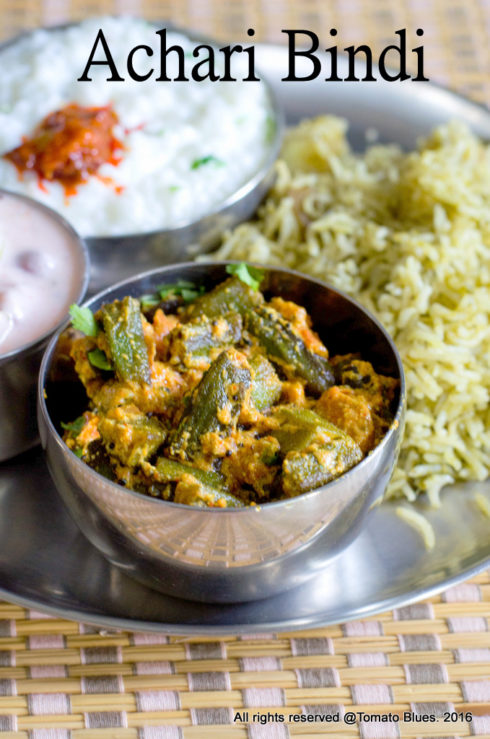 Recipe For Achari Bhindi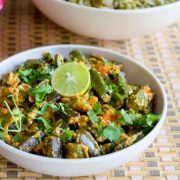 Print Recipe
Achari Bhindi Recipe With Step By Step Pictures
Achari Bhindi is a delicious gravy in which okra is cooked along with pickling spices in yogurt. This tastes great with roti, naan bread, kulcha and pulao
Ingredients
Okra 20 chopped into 3" long pieces

Tomato 1 medium chopped finely

Ginger 1/2 " cut into julienne

Yogurt 2 tbsp

Red chili powder 1 tsp

Turmeric powder 1/2 tsp

Coriander cumin powder 1 tsp

Salt to taste

Oil 2 tbsp plus 2 tsp

Mustard seeds 1 tsp

Fennel seeds 1 tsp

Fenugreek seeds 3/4 tsp

Nigella seeds

Kalonji 1 tsp

Hing a small pinch

Coriander leaves 2 tbsp chopped finely

Lemon wedges to serve
Instructions
Whisk the yogurt along with the red chili powder, coriander cumin powder and turmeric powder until smooth. Set aside.

Heat a pan with 2 tbsp oil.

Add the chopped okra and fry till light brown. Drain on a kitchen towel.

In the same pan, add 2 tsp oil.

Pop the mustard and quickly tip in the hing, fenugreek, fennel and nigella seeds.

To this add the ginger and fry for 30 secs on medium flame.

Now add the chopped tomatoes and cook till mushy.

Next turn down the flame to the lowest and add the whisked yogurt along with the salt and mix well.

Now, add the fried okra, mix well and cook on medium flame for 3 to 4 mins.

Garnish with coriander leaves.

Serve hot with lemon wedges.
Notes
Make sure you fry the okra separately to avoid slimy okra.
The yogurt must be added on low flame only or the mixture may curdle.
For Instant Pot & Air Fryer Recipes
Instant Pot timings may vary based on your geographic location. Air fryer settings and timings may vary based on the capacity and the model of the Air fryer.
Disclaimer
Nutrition values are provided here as a courtesy and are only a rough guide. Please consult a health care provider if you have any concerns.