Koki is a traditional sindhi flatbread that is usually made with wheat flour and veggies.It s one such dish that can be eaten as breakfast, lunch or dinner. I however, tweaked the traditional recipe and made it at home. And it was such a winner.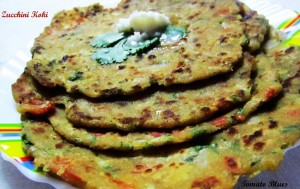 I ve been meaning to make something out of zucchini for quite sometime now because i m very fond of the vegetable. It makes an excellent stuffing for sandwiches and quesadillas or so i have discovered but because of sheer laziness, i made kokis with zucchini. Find out how.
Prep Time: Under 20 mins
Cook Time: Under 10 mins
Source: Loosely adapted from Tarla Dalal s Parathas
Yields 6 kokis
What you need?
Whole wheat flour 1 and 1/2 cups
Tomato 1 medium size chopped finely
Onion 1 small chopped finely
Zucchini  peeled and grated 1/2 cup
Cumin seeds dry roasted and powdered 1 tsp
Cilantro chopped finely 3 tbsp
Salt 3/4 tsp
Water for kneading
Oil for cooking the parathas
Flour for dusting
How to make it?
In a large mixing bowl, place the wheat flour, cumin powder and salt  and combine well.
Next, add the veggies and combine well.
Now, start kneading the dough by adding water little by little lets say by the tbsp.
This is because zucchini and tomato have some water content already so if you add more water then you wont be able to bind the dough into a pliable solid mass.
Knead the dough until you get a solid mass that can be rolled out into parathas.
Divide the dough into six equal balls and roll out each ball into round discs.
Dust them with flour generously while rolling and roll them a little thick.
Heat a tawa and place one round on the tawa.
Drizzle oil on the sides and make holes on the surface of the koki with a fork as you cook.
Cook on both sides until golden brown.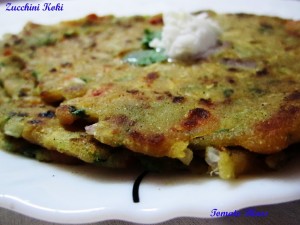 Serve hot with a dollop of butter, pickle and curd.
Note: If you dont have zucchini, then you can even use cucumber but make sure you keep an eye on the water cos cucumber is more watery.
This goes to Cooking For Kids- Zucchini by Kalyani and SYF&HWS Cumin Seeds by 
Anu