OK. Hold your breath. Because i m going to give you some
brownies
that you can munch on without any guilt. I mean all that butter guilt. These brownies are healthy in almost every which way you can think of. Almost because its got sugar but hey! a brownie has to be sweet or it wont be a brownie.  When i saw these 
zucchini brownies
 whilei was doing my regular recipe reading,i was impressed. Buti went on and made a few more changes to the recipe andi will tell you what. You can eat this brownie sans guilt!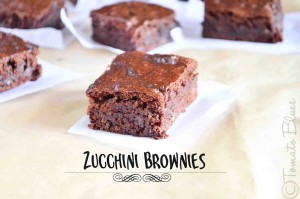 Recipe For Vegan Zucchini Brownies
( Learn how to make Vegan Zucchini Brownies, a guilt free brownie recipe with no oil, no butter and no eggs)

Prep Time: 10 mins
Cook Time: 30 mins
Yields 16 2″ squares
Allergy Info: Vegan

Ingredients
Whole wheat flour 1/2 c (64g)
All purpose flour 1/2c (64g)
Cocoa powder 1/4 c
Baking soda 3/4 tsp
Cocoa chips 1/2 c
Salt a pinch
Caster sugar 3/4 c ( you may need more if your bananas are not sweet)
Banana puree 1/2 c
Finely grated zucchini 1 c
Vanilla extract 1/2 tbsp
Directions
Preheat oven to 175 C (350 F) for 10 mins
In a mixing bowl, combine all the dry ingredients except sugar and combine thoroughly making sure that the flour coats the chocolate chips evenly.
In another bowl, place sugar, zucchini, banana puree and vanilla extract and mix well. You will notice that the zucchini turns the sugar liquid once they both are combined.
Add the dry ingredients to this wet mixture and whisk well. Dont worry about the brownie becoming too dense.
Grease an 8″x 8″ cake pan with some oil and line with parchment paper.
Pour the brownie batter into the pan and spread evenly with a spatula.
Drop the pan gently on the counter once to get rid of any air bubbles.
Bake in the preheated oven for 25 mins to 30 mins until a skewer inserted comes out clean.
Mine took 30 mins to get done but keep an eye from the 25th min onwards.
Once done, remove and let cool completely or for atleast an hour before you slice them into bars.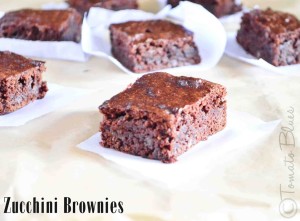 Keeps well for a week when refrigerated.