Watermelon Orange Tender Coconut Cooler. Vegan. GF. Sugar free.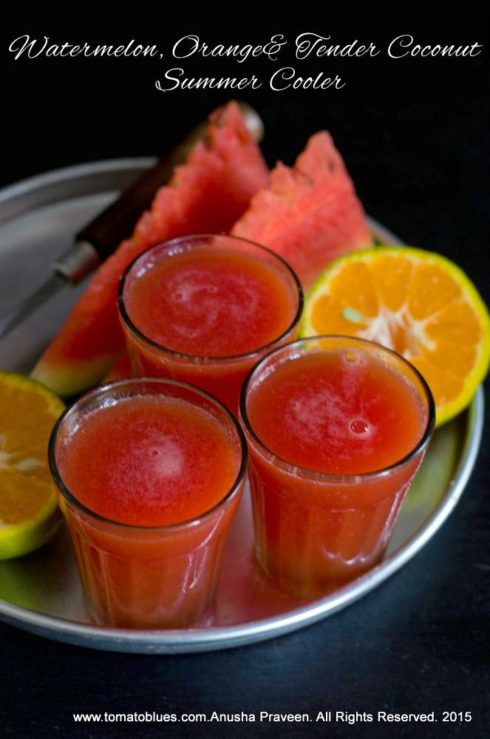 Watermelon, Orange and Tender Coconut Cooler is a great drink to enjoy during Summers. Summer in Baroda is not what Summers used to be in Coimbatore. And the same applies to monsoons too. While in Coimbatore, a slight drizzle will change the weather to a pleasant chill, the rains in Baroda simply make you hot and sticky, thanks to humidity. So, yes the monsoons have begun. But the heat is not gone yet. And i just wanted to make sure that we stay hydrated despite sweating like pigs.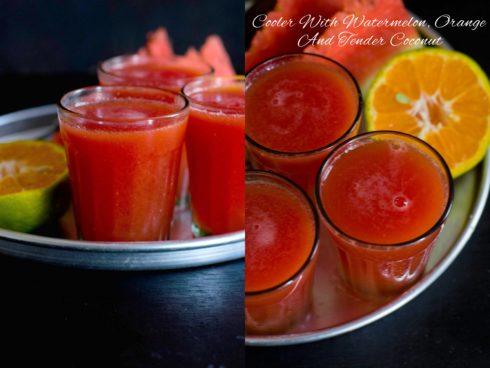 I made this Watermelon, orange and tender coconut cooler on a whim. I had no idea what i was doing. I just blitzed everything up and we had this gorgeous drink to make us feel fresh and light through out the day. This recipe uses fresh tender coconut water. I do not know if canned ones will work. But you can always give it a try.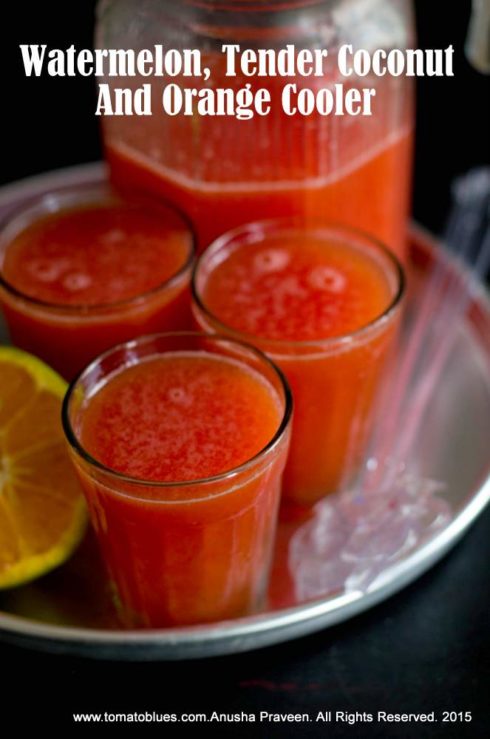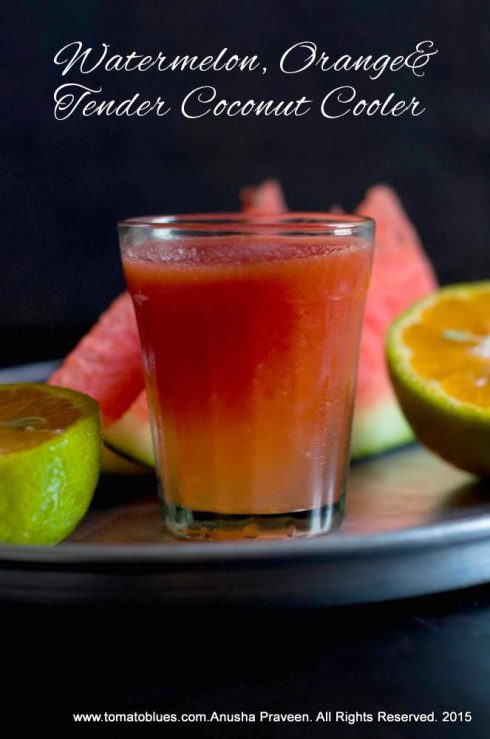 Recipe For Watermelon Orange Tender Coconut Cooler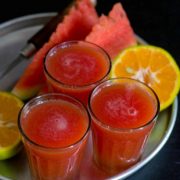 Print Recipe
Watermelon Orange Tender Coconut Cooler
A cooling summer delight with watermelon, orange and tender coconut water. Vegan. GF
Ingredients
Watermelon cubes 1 cup seeds removed

Freshly squeezed orange juice 1 cup

Tender coconut water 2 cups

Thai Basil leaves 3 to 4 chopped finely
Instructions
Place the watermelon and basil in a blender along with the orange juice and blitz to a juice.

Strain this juice completely.

To this add the tender coconut water and mix well.

Let sit in the fridge for 2 hours.

Serve cold over ice.
Notes
1. I used fresh tender coconut water for this recipe. I m not sure if canned tender coconut water will work.
2. Adding basil is optional but recommended.
3. I have not added any sugar to this because the tender coconut and watermelon were sweet enough. You may add some if desired.
For Instant Pot & Air Fryer Recipes
Instant Pot timings may vary based on your geographic location. Air fryer settings and timings may vary based on the capacity and the model of the Air fryer.
Disclaimer
Nutrition values are provided here as a courtesy and are only a rough guide. Please consult a health care provider if you have any concerns.