We are watermelon maniacs in this house. Had i a garden, i m sure i would have grown big gargantuan watermelons all through the year. We never tire of the fruit. Watermelons are rich in iron, high in water content and less in calories. So, come summer, we are either downing tall glasses of
watermelon coolers
or eating chunks of it as we open the fridge for a drink of water. I also experiment with the watermelon now and then. This
watermelon salsa
is a fabulous result of some of those experiments.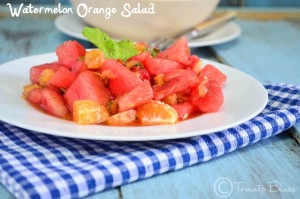 Today was one more such experiment. To be rather precise, i wanted a meal. And i wanted a quick one at that. And i wanted to eat fruits. I dint want anything that will put me off to sleep in a flat minute. Oh! and did i mention how horrid the weather is. I fret everytime i go into the kitchen to roll out some phulkas. So even they were a no no. And i opened the fridge to snoop around. I came up with 2 oranges, a big slice of watermelon and some herbs. I set to work immediately. I did what came to my mind. And i must say, it was mighty pleasing.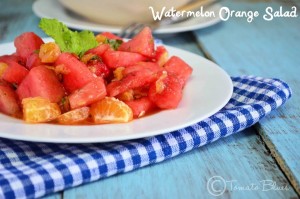 Recipe For Watermelon Orange Salad
( No cook salad with watermelon and orange chunks)

Prep Time: 15 mins
Cook Time: Nil
Serves 1
Level: easy

Ingredients

Watermelon 1 c cut into bite sized pieces
Orange 2 small ones pith and seeds removed
Basil leaves 5
Mint leaves 5
Freshly squeezed orange juice 3 tbsp
Sugar 1/2 tsp
Honey 1/2 tsp

Directions

In a bowl, combine the orange chunks along with watermelon, sugar and honey.Toss once and set aside.
Now, in a blender, blend orange juice, mint leaves and basil leaves to a puree. The puree need not be smooth. This step is to infuse flavors in to the fruit. So its ok if the leaves arent finely ground.
Now,add this blended puree to the fruit and toss well.
Chill for 10 mins before serving.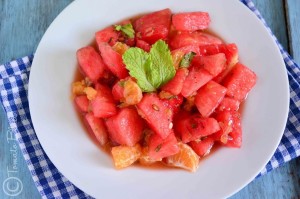 Garnish with some mint leaves before serving.