Everyone enjoys a crunchy snack once in a while. But somehow, i dont make many deep fried foods mainly because of health reasons. And even on those rare occasions when i do make up my mind to fry a
bonda
or two, its in the evening when the sun has already sunk in and i will have already lost the chance to click away.
But a few days back, i made these crunchy
pakodas
for lunch. I wanted something crunchy that day and i also wanted it to complement well with the menu which was
dal, rasam and rice.
So i picked this recipe from a Menu Rani Chellam s cookbook. I tweaked it a little to my taste and i must say, even though, i was a bit doubtful about it hitting off well with Mr.P, it was received very well. The empty plate bore testimony for that.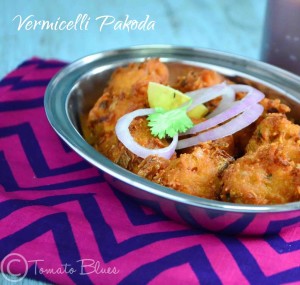 Recipe For Vermicelli Pakoda
( Vermicelli and other ingredients combined and deep fried as fritters)

Prep Time: 20 mins
Cook Time: 20 mins to cook Vermicelli and potato
30 mins to fry the fritters
Makes about 15 to 20 fritters
Allergy Info: Vegan, Nut free

Ingredients
Roasted vermicelli 1/2 c
Potato 1 large
Mint leaves 10 chopped finely
Onion 1 medium chopped finely
Red chili powder 1.5 tsp
Gram flour ( besan) 1/3 c
Rice flour 1 tbsp
Oil 1 tbsp
Salt to taste
Oil to deep fry
Directions
Pressure cook the potato for 2 whistles. Peel and set aside
In the meanwhile, bring a cup of water to a boil and cook the vermicelli until just done. Dont overcook it. We dont want a mush.
Drain the vermicelli and wash under running cold water. Let drain completely.
In a mixing bowl, combine potato, onions, rice flour, gram flour, red chili powder, mint, salt, oil and the cooked vermicelli.
Knead to a dough without adding any water.
You must have a shaggy and sticky lump after kneading.
Check for seasoning at this point and adjust.
Now, heat oil for deep frying.
Pinch off small portions of dough and deep fry 4 to 5 at a time on medium low flame until golden brown.
Repeat with the remaining dough.
Serve hot with ketchup.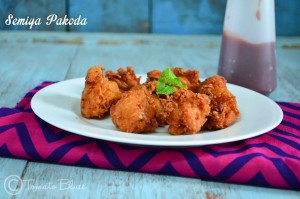 P.S I used roasted vermicelli. I always buy that. You can also use the regular vermicelli but make sure you roast it before you cook it.