I suddenly feel so guilty. I mean i ve not shared my love for thai cuisine on this blog. I am a thai food fanatic. I love the cuisine for its incorporation of a wide variety of aldent vegetables and tofu. Silken tofu s a hot favourite with me because of its ability to become a egg substitute. I once ate chocolate mousse made with tofu at a restaurant. Believe me,i ve never liked mousse anywhere else after that gratifying day of eating that sinful mousse. And thai pads are another story altogether. I love munching on those noodles with crunchy peanuts. Mr. P detests it though. He says that thai food is too bland. Duh!! Well, i love thai food. Sticky rice with mango, pad thai and some yummy tom yum soup can make my day a sunny one anytime. There were some beautiful days that i spent in Bangalore. I know i know. I ve talked too much on the city but old habits die hard. So please bear with me. I m sure you are going to love this. I had a friend who was a greater foodie than me. Who was always willing to try out new cuisines and new food. This thai fried rice was one such discovery we made together at a nearby self proclaimed thai restaurant. If you are in a hurry or if you are just back from work and you have to make that dinner, then go on and make this.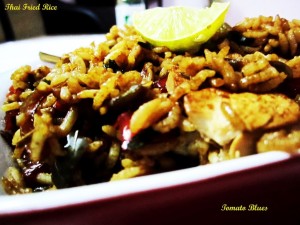 Prep Time: Under 20 mins


Cook Time: Under 20 mins


Serves 2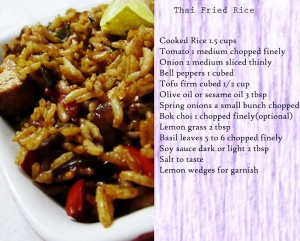 ( Leftover rice works best for this fried rice. If you dont have any at hand, then cook the rice and let it cool. Then use. You can make this into a fancy meal by adding bok choi, cabbage and even a few roasted peanuts. I did try that way and it turned out relish. I used dark soy, the reason for the dark colour of the rice. If you dont have basil leaves in stock, just use cilantro instead. Works great too. And no, you need to have tofu for this. Paneer just wont work. I did try and it was nothing short of a disaster.You can also add scrambled eggs to this rice. Soy sauce has some added salt in it so keep an eye on the salt.)


What you need?
Cooked Rice 1.5 cups
Onions 2 medium sliced thinly
Tomato 1 medium chopped finely
Bell peppers chopped finely 1/2 cup
Spring onion a small bunch chopped finely
Basil leaves 5 to 6
Bok choi 1 chopped finely
Lemon grass 1 tbsp
Soy sauce dark or light 2 tbsp
Tofu firm cubed 1/2 cup
Olive oil 2 tbsp
Salt to taste
Garnish:
Lemon wedges
How to make it?
Heat a kadai with olive oil.
Stir fry the tofu till light brown on both sides. Drain on a kitchen towel.
Now, in the same kadai, add the onions and saute till pink.
Add bell peppers and spring onions next and saute till the peppers wilt a little.
Add tomatoes and saute till oil separates.
Now, add the lemongrass and mix well.
Add the soy sauce next and combine well.
Add the cooked rice, tofu and basil leaves with salt to this mixture and mix gently but firmly.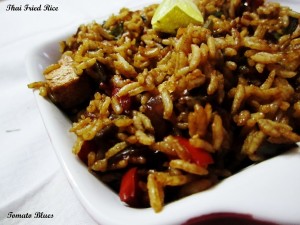 Serve hot with tomato ketchup and a lemon wedge.