I am like this. I have a predetermined menu that i always turn to when i feel that its time i impressed my man. And my man is not easy to please, mind ya! The perfectionist that he is, it s not a wonder that it took me 2 years to master his method of dosa making. He likes his dosas round and not so soft yet not so crispy. That alone took me 2 years. And then the taste et al is totally another story.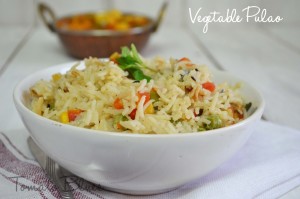 The same stands true for his pulao expectations. Having graduated from Warangal, the land of the biriyani ( according to Mr.P) he does not accept a mixture of cooked rice and veggies as pulao. Well, he knows that the likelihood of eating a pulao that s made like in Warangal is almost zero for i would never be able to make biriyani like the Warangal inhabitants but he expects some kind of consolation which is a big deal for me, considering the 2 years dosa experience. The pulao took lesser time surprisingly and this recipe is my man s favorite among the other pulaos that i make. I decided to win him over today.You see, this always almost means that i have a shopping list as long as the Nile. Anyway, the pulao is a winner. And is my go to recipe at all times. Wonder why i haven't shared it with y'all so far. But better late than never, right?
Recipe For Vegetable Pulao
( Cooked rice and vegetables mildly flavored with spices)
Prep Time: 1 hour to soak the rice
20 mins for the rest
Cook Time: 20 mins
Serves 2
Source: My kitchen notes
Ingredients
Basmati rice 1 cup soaked
Carrot 1 peeled and diced
Green peas 1/2 cup
Sweet corn kernels 1/4 cup
Green beans 10 chopped finely
Onion 1 large thinly sliced
Green chilies 2 slit lengthwise
Ginger garlic paste 1 tsp
Mint leaves 10
Bay leaf 1
Green Cardamom 1
Cinnamon 1 " piece
Cloves 2
Cumin seeds 1 tsp
Oil 1 tbsp
Ghee 1 tbsp
Salt to taste
Water 2 cups
Screw pine water 2 drops
Directions
Soaking the rice is mandatory when it comes to Basmati rice. So make sure you have soaked the rice for atleast an hour. I generally soak it for 2 hours. Call it the soaking obsession!
Wash the rice well and soak it with 2 cups of water.
In a pressure cooker, heat the oil and ghee.
Once hot, add the cumin seeds and once they crackle, add the bay leaf, cinnamon, cloves and cardamom.
Once the spices turn a light brown, add the green chilies and the onions and cook till light brown.
Next, add the ginger garlic paste.
Cook for about 30 secs, stirring continuously.
Now, add the chopped veggies and cook for 2 mins.You can pretty much add any vegetables that you want. Like cauliflower or capsicum. But i prefer my pulao with just this combination. In fact, i tend to even avoid adding green beans.
Next, add the mint leaves and cook for 30 secs.
Now, add the rice along with the water and salt to taste.
Add the screw pine water next and mix gently.
Close and pressure cook for 1 whistle. You may have to cook for 1 whistle more if you have soaked the rice for only an hour. But not more than 2 whistles in all.
After 1 whistle bring the flame to the lowest and continue to cook for 2 mins.
Once done, switch off the flame and wait for the pressure to drop completely.Fluff the rice with a fork gently.
Alternatively, you may do the sauteeing part in a frying pan and transfer the contents to an electric rice cooker to make your pulao.
Open the cooker and transfer the rice to a bowl to avoid the rice becoming mushy.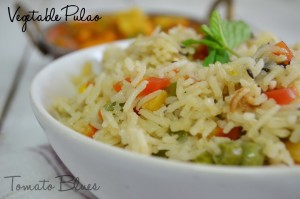 Serve hot with raitha or any curry of your choice.
P.S The amount of water mentioned here is for Kohinoor Basmathi rice. The quantity may vary depending on the quality of the rice and the age of the rice.