We are finishing blog hop version 1 and its been a wonderful joy ride hopping into friends' blogs and cooking from them. I look forward to alternate wednesdays with child like enthusiasm. My hubby asks why do you get so worked up on wednesdays? And i tell him " you wont understand until you love cooking" And i hope all of us bloggers are in agreement on that. 🙂
I was paired with Hobby Chef Neethu this week. Ladies, trust me. This "hobby chef" title is very deceiving cos Neetu is nothing less than an awesome cook who happens to love her starters and snacks loaded with veggies. I simply loved her Kachri And Garlic chutney and Sugar Dotted Chocolate Chip Cake. After that post, i was only telling myself, wow!! just look at that cake. Because i dint know where we get kachri and my stock of unsalted butter got exhausted, i settled on making Vegetable Nuggets. I slightly modified the recipe but it was a great hit with my husband and i m no less. Me gobbled 4 of those nuggets. I ll leave the consequences to your imagination and share the recipe with y'all.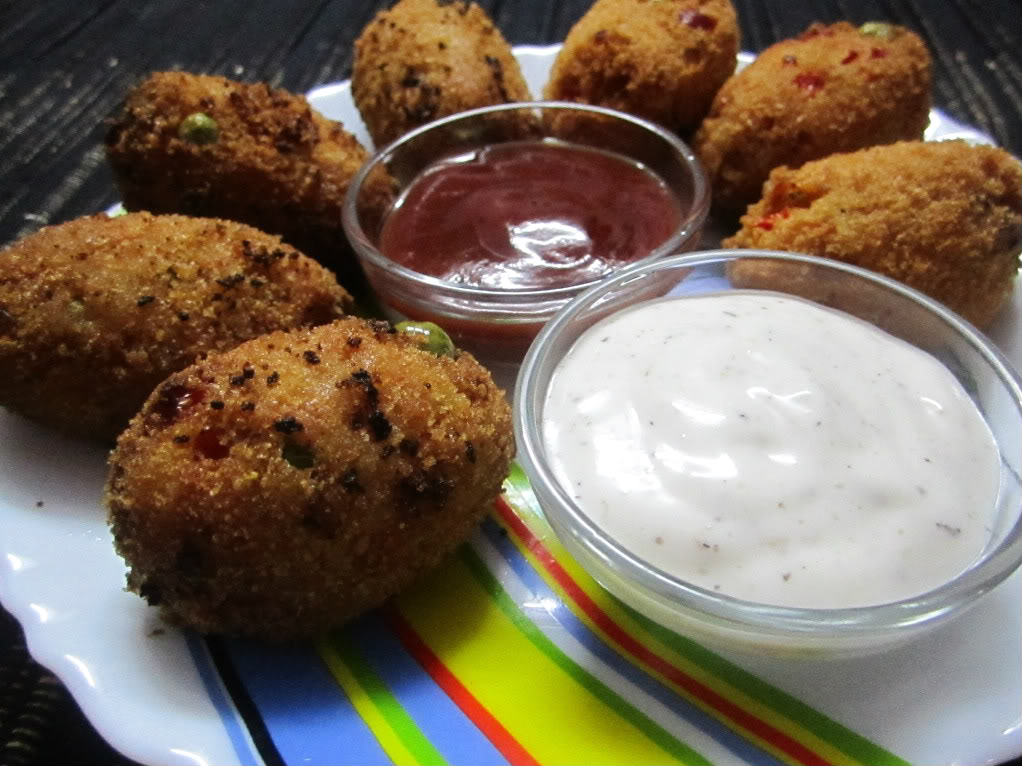 Prep Time: Under 20 mins
Cook Time: Under 30 mins
Source: Neethu S Vegetarian Nuggets
Makes 10 nuggets easily


What you need?
Potatoes 2 medium boiled and peeled
Carrot 1 grated
Red Bell Pepper 1 medium chopped finely
Onion 1 medium chopped finely
Green peas 1/4 cup boiled if using fresh or use just like that if frozen
Semolina or sooji 1/4 cup
Milk 1/2 cup
Butter 1 tbsp
Lemon juice from half a lemon
Red chilly powder 1/2 tsp
Garam masala 1/2 tsp
Chaat Masala 1/2 tsp
Salt to taste
Sugar 1/4 tsp( i added sugar cos i thought the recipe would be too sharp you can do without it too)
Bread crumbs from 3 slices divided in 2:1 ratio
Oil to deep fry
For Coating :
Corn flour 1 tbsp
Water 3 tbsp
Bread crumbs for rolling ( use the lesser part of the divided bread crumbs)
How to make it?
Place all veggies, butter, spice powders,salt, bread crumbs from 2 slices, sugar in a mixing bowl.
Dry roast sooji and add milk to it when the sooji becomes aromatic. Keep stirring until you get a solid mass.
Add this to the veggies. Add lemon juice.
Mash all the veggies together to form a big lump. You should be able to make balls out of the mixture.
At this stage, check for seasoning. Continue to knead the lump till you get a good lump out of which you are able to make nuggets easily.
Now, mix cornflour and water to form a thin batter.
Heat oil in a pan for deep frying the nuggets.
Make nuggets from the mixture, dip in the batter and roll over bread crumbs until well coated.
Repeat till the mixture gets used up.
Deep fry till golden brown.
Serve with tomato ketchup and some dip. I served mine with mayonnaise flavoured with italian seasoning.
Off to Radhika S Blog Hop Wednesdays 🙂, Kids Deceptively Delicious hosted by Pavani forValli, Sinful Delights by Vardhini, Midweek Fiesta, Snack Mela By Valli and Radhika s Winter Carnival and Kavi s Jingle All The Way