Now, noodles. What can i say except that most of us have lived on the ubiquitous life saving Maggi for a while now. I m an odd man in this respect though. Oh, i like my bowl of maggi alright but
Hakka Noodles
is what makes go weak in the knees. I love love
hakka noodles
and i order it every time we go to a chinese restaurant here. Of course, i dont get hakka there but we get Singapore noodles and that s enough to sate my craving.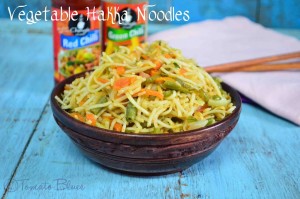 But making hakka noodles at home proved quite a challenge to me for a while. You see, the drama of making hakka noodles in my house usually unfolds in this way- i spot a packet of noodles at my grocers' and almost do a war dance ( Mr.P raises two eyebrows in disgust, of course!) I come home, chop all the veggies. Bring a really really large pot of water to boil. ( apparently to cook the noodles in). And then when the water starts boiling, i dunk the noodles in. Now begins the theatrical. Somehow, almost no noodle company has ever managed to convince me that three or four minutes is enough to cook a bundle of noodles. So, i begin testing the noodles, dunking my slotted spoon in and out. In and out. In and out. And so it goes on. And finally when i m actually convinced, ( i become convinced only when i lift a noodle out and it seems translucent to me. Dont ask why but that s the way it is or rather was, until recently), i switch off the stove.
Drain the water, rinse the noodles under cold water only to find that they have all turned to a mush. Of course, i overcooked it. Now, this has happened not once, not twice but more than ten times in my kitchen.
But folks, i did not lose heart. This time, i was determined to switch off the stove the third minute. Okay, i cheated a bit and switched it off the fourth minute, immediately washed it under cold water and smeared oil into them after spreading them on a plate. And my my, i really stood back and admired the fine noodle work that i had done. What beautiful non sticky perfectly cooked noodles i had in front of me. I almost whistled and set to work with my hakka noodles. So here s my recipe!
Recipe For Vegetable Hakka Noodles
( Chinese noodles cooked with veggies and sauces)

Prep Time: 20 mins
Cook Time: 20 mins
Serves 2 generously

Ingredients
Chinese noodles 200 g
Onion 2 med half moon sliced thinly
Carrot 1 med peeled and julienned
Beans 15 med ones chopped into bite size pieces
Cabbage 1/2 c chopped finely
Capsicum 2 med chopped finely
Spring onions 2 stalks chopped finely
White pepper 1.5 tsp
Red chili sauce 1 tbsp
Green chili sauce 2 tbsp
Soy sauce 1 tbsp
Tomato ketchup 2 tbsp
Salt to taste
Oil 2 to 3 tbsp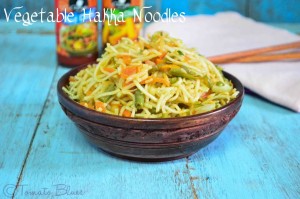 Directions
Cook noodles according to package instructions. Please follow package instructions. Learn from my aforementioned mushy noodle experience. Once done, rinse under cold water, spread on a plate.Drizzle some oil over it and mix well. Set aside.
Bring a pot of water to a rolling boil.
Now drop the carrots and beans in and let sit for 3 mins.
After 3 mins, drain water completely and immediately dunk into ice cold water. This will help retain color and crunch.
Heat a pan with oil.
Add the onions and fry till transparent.
Follow with all the veggies except the spring onions.
Saute for 1 min.
Now, add all the sauces, pepper and salt and mix well. Go easy on the salt as all the sauces have some in them.
Now, add the cooked noodles and combine well.
Cook on the lowest flame possible for 2 to 3 mins to make sure all the flavors get incorporated well.
Now, add the spring onions and mix well.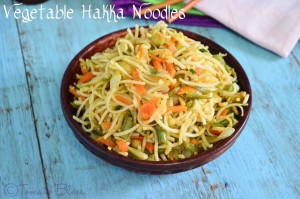 Serve hot with ketchup or mixed vegetable manchurian
Stay tuned for one more exciting recipe featuring noodles!