Did you think i got over my chinese frenzy with yesterday s recipe? Oh boy you are wrong. Dont you want to know what we ate the manchurian sauce with? Vegetable fried rice of course. If there s something like the easiest dish, then i m sure veg fried rice will figure in this list. You have the rice. You chop the veggies and your fried rice is 80% done. And what s more, it s a fabulous way to use up leftover rice.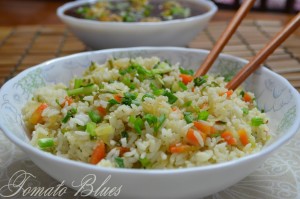 Prep Time: Under 20 mins
Cook Time: Under 15 mins
Serves 2
( Short grain rice already cooked and cooled works best for fried rice. There are many people who add cauliflower too. So be my guest if you are fond of them florets.If you want a nice brown looking fried rice, add dark soy sauce. I prefer mine white so i just went along with the light one.)

What You Need?
Cooked rice 2 cups
Carrot 1 cubed
French beans chopped finely 1/4 cup
Capsicum 1 chopped finely
Cabbage shredded 1/3 cup
Onions 2 medium chopped finely
Celery chopped finely 1 tbsp
Spring onion whites chopped finely 2 tbsp
White pepper powder 1 tsp
Soy sauce 2 tsp
Oil 1 tbsp
Salt to taste
For Garnish:
Spring onion greens 2 tbsp
How To Make It?
In a wok, heat the oil.
Add chopped onions and saute till pink.
Now, add the chopped veggies and the celery and saute for about 4 to 5 mins.
Add the soy sauce and the white pepper next and saute for a minute.
Next, add salt and combine well.
Add cooked rice to this and combine gently.
Garnish with spring onion greens.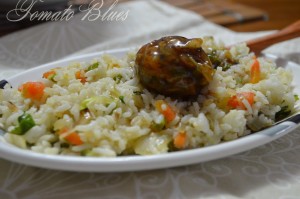 Serve hot with tomato sauce, chilies in vinegar and soy sauce.