There was a time i used to loathe Upma. Now upma lovers, please dont be daggers with me. I just couldnt tolerate it at those times. But it was something that i ate while i grew up. After i got married, i silently vowed to myself that i ll make anything but upma. And true to my word, i dint make it for a year and a half. Then, there was a time when i started missing UPMA. I asked myself, How can you of all people miss it?? But yes, i started missing it and so i made it. The first time was a disaster.I dint want to make it anytime after that. After all, me thinks, whats the big deal?? Its only upma!!. My husband is also an ally in the war against upma but i was still missing upma. I had to make it sometime. I mean i had seen this on so many blogs and i am blog hopping into 
Chaitanya s blog
 this week and i saw upma there too. 
Chaitanya s blog
 is all about chutneys, pickles and sweets. I simply loved the spread and am so glad to blog hop her space. And thanks to her for inspiring me to make upma. And when i made upma, i found that my husband s changed too. He too relished it when i made it for dinner.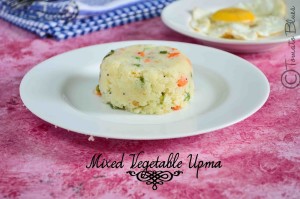 Prep Time: 10 mins
Cook Time: 20 mins
Source:Chaitanya s Blog and Dad ( He makes the best Upma in the whole universe but no, this is not his version.Its slightly modified from chaitanya s version)
Serves: 2 to 3
What you need?
Sooji 2 cups
Mixed veggies ( potato, carrots, beans, peas) chopped into cubes 3/4 cup
Onion 1 big chopped finely
Green chillies 6 to 7
Ginger 1/2 " chopped fine
Curry leaves a sprig
Mustard seeds 1 tsp
Urad dal 2 tsp
Channa dal 2 tsp
Water 4 cups ( Bring to a boil while you saute the sooji and keep aside)
Oil 3 tbsp
How to make it?
Saute the rava in a little ghee until light brown. This is done to avoid forming lumps in the upma. Simultaneously, boil the water in a vessel until bubbling and keep aside.( I can hear my dad s voice inside my head, Chella, When you make upma, boil the water first)
In a kadai, heat the oil. Add mustard seeds and wait for them to splutter. Now add urad dal, channa dal, green chillies, ginger and curry leaves. Saute for a minute. Take care not to burn the dals.
Add the onion and saute till light brown. Now, add the veggies and saute for 5 mins.
Next, add the boiled water to this mixture and the salt. The water will bubble up.
Next, add the sooji and stir simultaneously. Mix the water and sooji well and stir to avoid lumps.
Now, it will start to bubble slightly. At this time, lower the flame and cook the upma closed for 5 mins.
Serve hot with curd or coconut chutney or a lemon wedge.
You may also add cashews or peanuts for a rich taste.I just added the veggies in addition to Chaitanya s recipe.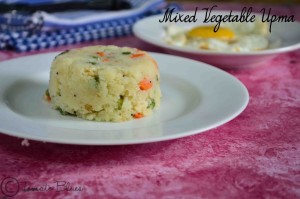 This is my entry for this week s blog hop at Radhika s space