HOW TO MAKE VEG SALNA OR PAROTTA SALNA?
VEG SALNA(PAROTTA SALNA)- A MIXED VEGETABLE CURRY MADE AS AN ACCOMPANIMENT FOR PAROTTA AKA MALABAR PAROTTA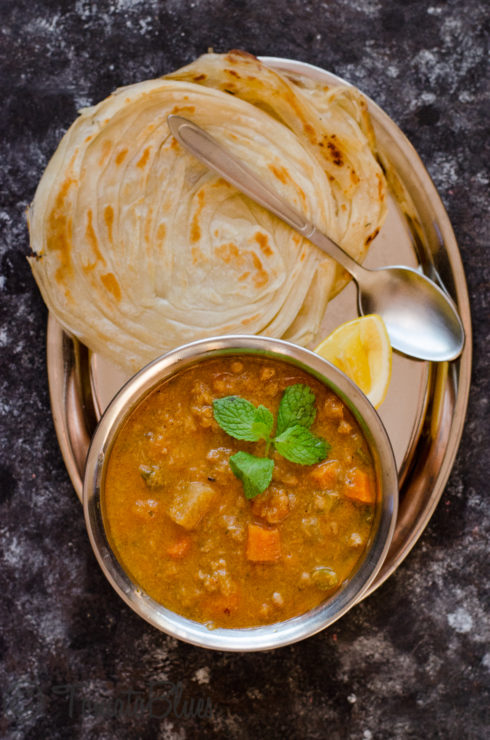 Veg salna or Parotta salna needs no introduction. It is basically a vegetarian version of the popular Salna curry that is made with meat.
The veg salna is usually served with Parotta, also known as Malabar Parotta.
There are many things that i love about Salna inspite of the fact that the ingredients list is quite long.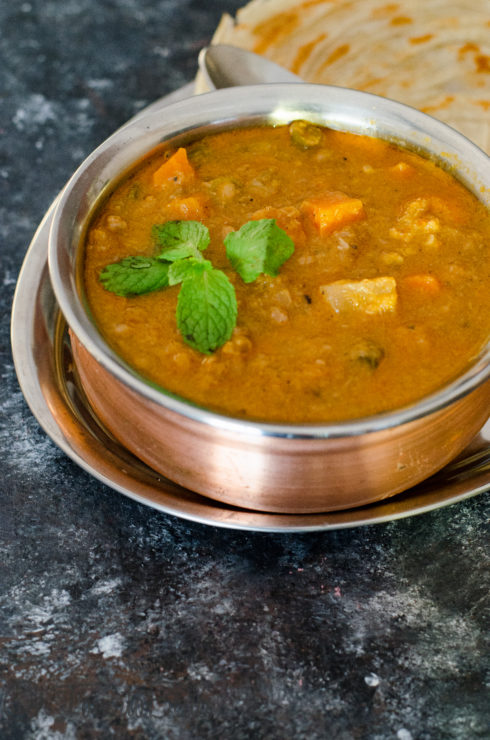 There is a chock full of veggies. That covers the nutrition part.
Then there is the meal maker or TVP (textured vegetable protein) in a good veg Salna. And that checks the protein requirements too.
The flavor is all kinds of yummy. This pairs well with plain rice, chapati or even puri. So, what's not to love, eh?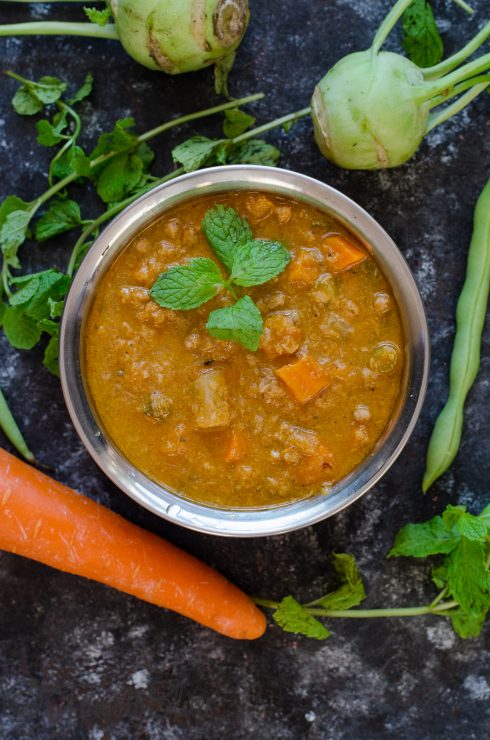 Vegetables Used
This Salna is a typical mixed vegetable curry that is made in Tamil Nadu style.
You can use a combination of veggies like carrots, peas, beans, potatoes, kohlrabi and even turnips to make this curry.
Or you can just use the textured vegetable protein aka soya chunks, also known as meal maker, to make this delicious curry.
Parotta vs Paratha
If you are wondering what is the difference between the south Indian Parotta and the ubiquitous Paratha, let me answer that.
Parotta is a flaky layered unleavened flatbread made with Maida, which is similar to All Purpose Flour.
Paratha, on the other hand, is popular in the Northern regions of India. Its an unleavened flatbread that uses whole wheat flour.
It s mostly made with a vegetable or some kind of protein as a stuffing.
Meat Based Salna
The crowd pleaser Parotta is always enjoyed by gently banging on the bread using your hands. Then you add some Salna over it, let it absorb all the gravy.
Once the parotta absorbs all of the gravy, you dig in. That is the ideal South Indian Parotta eating experience for you.
Usually, this curry served with Parotta or Malabar Parotta is a meat based dish. But why should vegetarians not have their share of Parotta too?
Chunks veggies with body are great replacements in any meat based Indian curry. And that s exactly what i have done in this recipe.
If you like mixed vegetable curries like me, then do try Navratna Korma and Vegetable Kuruma
Recipe For Veg Salna aka Parotta Salna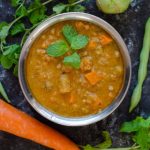 Print Recipe
Veg Salna Recipe| Parotta Salna Recipe
Veg Salna or Parotta Salna is a delicious mixed vegetable curry that is served with Malabar Parotta or Parotta. This also goes well with chapati and puri.
Ingredients
Mixed vegetables 1c

I used carrot, beans and noolkhol

Soy chunks 1/2 c cooked according to packet instructions.

Onion 1 chopped finely

Tomato 1/2 chopped finely

Curry leaves a few

Mint leaves a few

Fennel seeds 1 tsp

Oil 1.5 tbsp

Salt to taste

To fry and grind along with 2 tbsp freshly grated coconut and 4 cashews :

Onion 2 medium chopped finely

Tomato chopped 3/4 c

Cardamom 1

Cloves

2

Cinnamon 1/2 inch piece

Mace flower 1 small

Red chili powder 1.5 tsp

Coriander powder 1.5 tsp

Fennel seeds 1 tsp

Garlic cloves 2

Ginger 1 tsp chopped finely

Oil 1 tbsp
Instructions
Heat a pan with oil.

Add whole spices listed under to grind list and allow them to become light brown and aromatic. Add garlic, ginger and onions.

Fry till onions become light brown.

Add the tomatoes and the spice powders along with a pinch of salt. Mix well. Cook till mushy.

Let cool and grind to smooth paste along with 2 tbsp grated coconut and 5 cashews presoaked in water for 20 mins.

Heat a pressure pan.

Add oil. Now add fennel seeds, onion, curry leaves and mint leaves.

Fry till onions become pink.

Add the 1/2 chopped tomato. Cook for 2 mins.

Add all veggies along with soy chunks if using.

Add the ground paste along with 1 c water and salt. Mix well. Simmer for 3-4 mins.

Then close the cooker with the weight on and let it cook for 2 whistles on low flame.

Let pressure release of its own.

Once done, open and mix well. Garnish with coriander leaves and serve hot.
For Instant Pot & Air Fryer Recipes
Instant Pot timings may vary based on your geographic location. Air fryer settings and timings may vary based on the capacity and the model of the Air fryer.
Disclaimer
Nutrition values are provided here as a courtesy and are only a rough guide. Please consult a health care provider if you have any concerns.