HOW TO MAKE VAZHAKKAI CHILI?
Update- This post was originally published in 2013. This has now been updated with new pictures and recipe cards.
Vazhakkai or Vazhakai Chili – A delicious Raw plantain dish with notes of Chettinad flavors. Pairs well with anything South Indian. But your best bet is Rasam!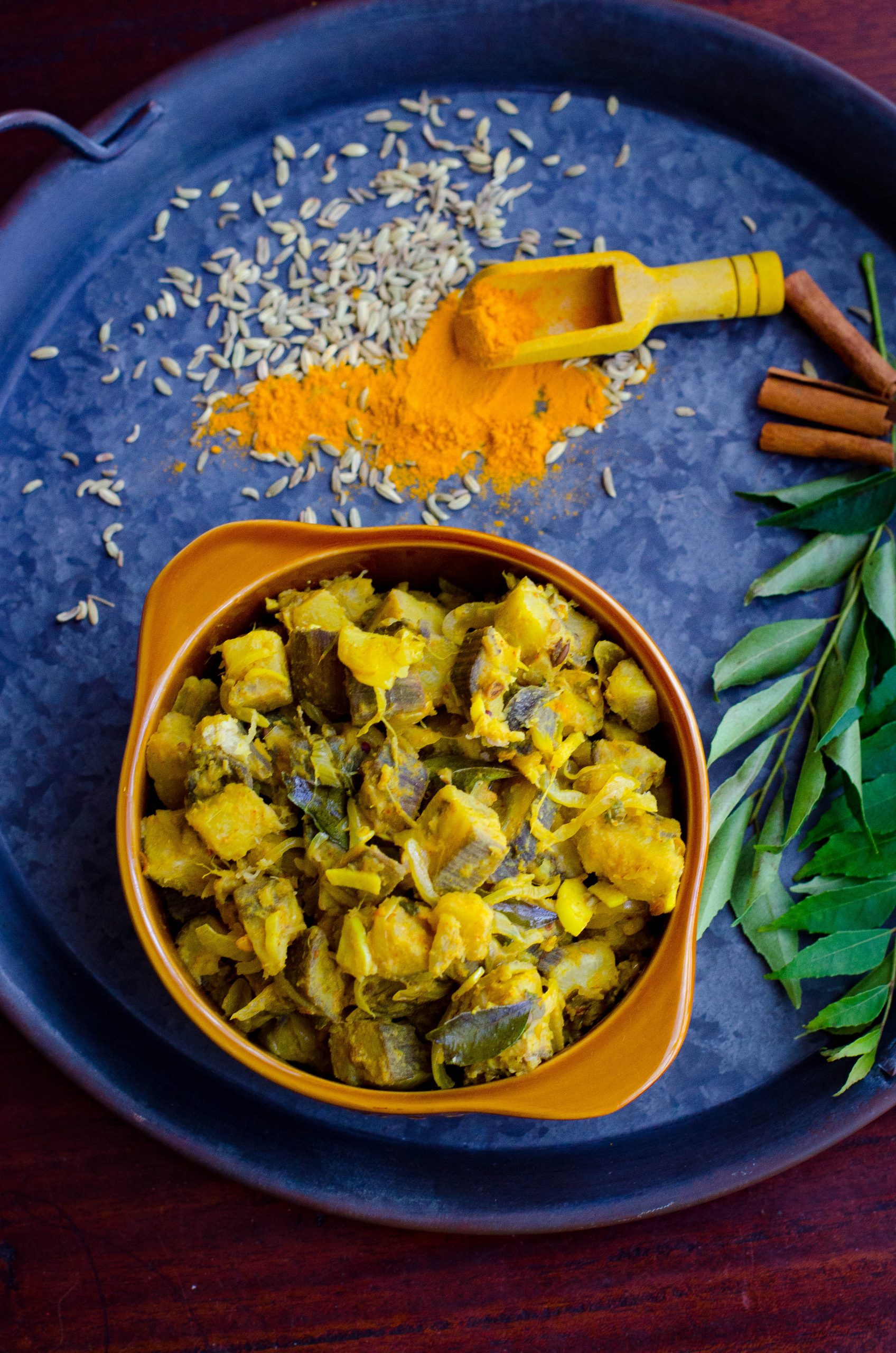 If you have read the title and that has left you a wee bit stymied ( you know that south indian and chili part?), then no i have not lost my mind. This is a Chettinad style dry curry made with raw plantains.
Another recipe that i have tried from Mrs. Menu Rani Chellam s book. It always works wonders when i m hosting a lunch. Makes a very good accompaniment for rasam or sambar or even some lemon rice. I usually make it on those days when we crave for some spicy food. This is perfect for cold winter nights too.
When i was going through the contents part of the cookbook, i actually thought this would be some indo chinese style recipe. But when i read the recipe, i was surprised to see a melange of flavors. I was instantly sure that this recipe would work like a charm with Mr.P and a couple other friends.
Cooking The Plantains Perfectly
The secret to getting this fabulous is cooking the raw plantain just right. If you overcook it, you will have a mush. So do take care while you cook the plantains.  The original recipe uses mushrooms. But since we dont eat much mushrooms at home, i subbed them with raw plantains.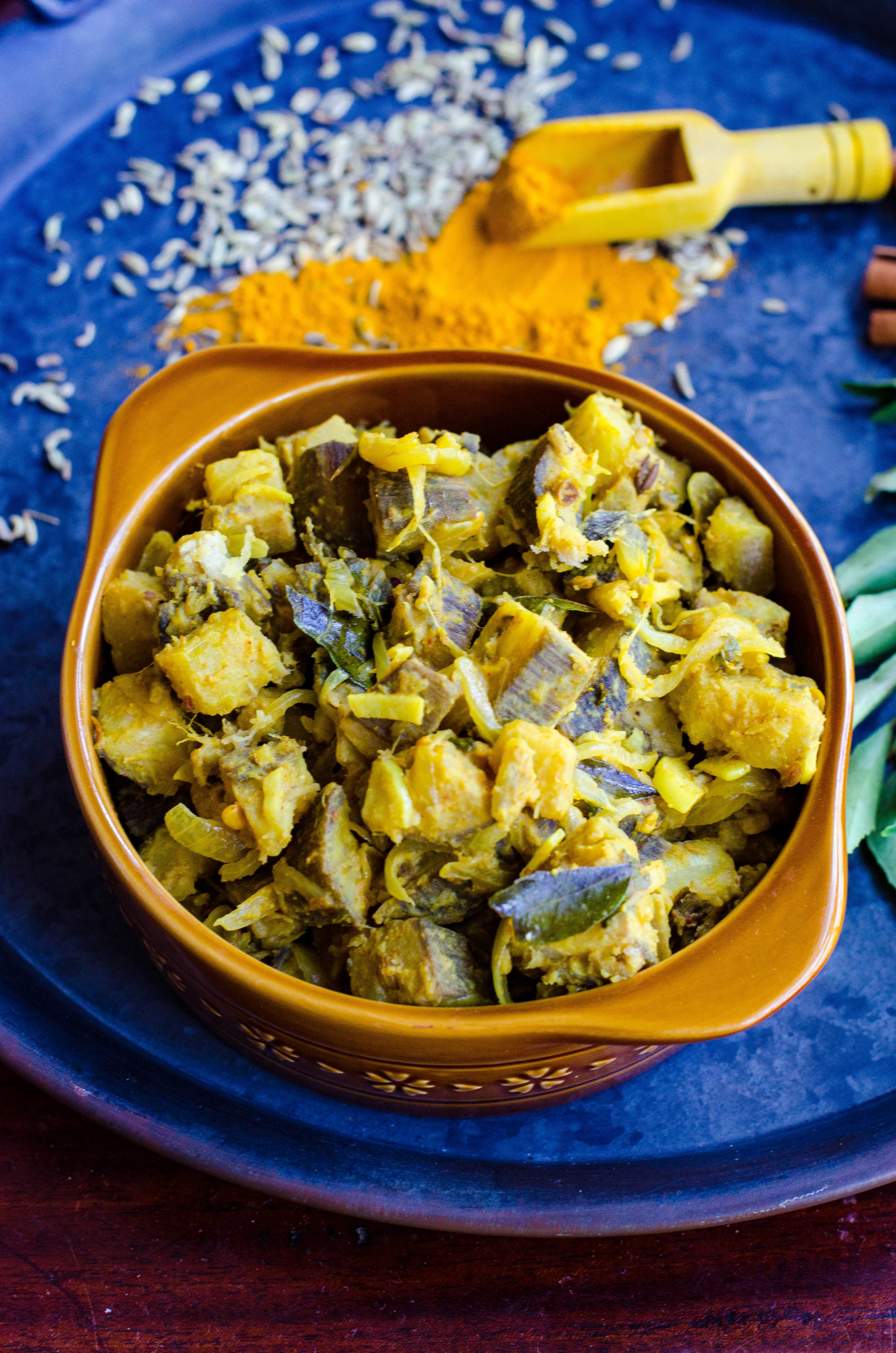 Chettinad Spices
This recipe uses some of the spices that are synonymous with the Chettinad Cuisine- Fennel, Cloves and Cinnamon. The addition of fennel seeds adds a beautiful earthy flavor to this stir fry.
Garlic And Ginger In Vazhakkai Recipes
We use ginger and garlic in this Vazhakkai Chili because of raw plantain's tendency to increase flatulence and bloating.
Generally, using garlic and ginger in recipes that have plantains or such starchy veggies is a good way to help digestion too.
More Vazhakkai Recipes On Tomato Blues
If you are a fan of raw plantains, then don't forget to check out these recipes too-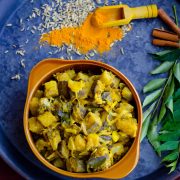 Print Recipe
Vazhakkai Chili 
Vazhakkai Chili- Chettinad style stir fry with Raw Plantain
Ingredients
150

g

Peeled and cubed Raw plantains

3/4

c

Finely chopped onion

1/2

tsp

Turmeric powder

1

tsp

Coriander seeds

5

cloves

Garlic peeled

1

tsp

Grated Ginger

7

Dry red chilies

1

Cardamom

1

Clove

1/4

inch

Cinnamon stick

1/2

tsp

Fennel seeds

3

tbsp

Thick curd

1

tbsp

Lemon juice

Salt to taste

2

tbsp

Oil

2

tbsp

Finely chopped Coriander leaves
Instructions
Immerse the sliced plantains in 2.5 c water and cook till just tender. Takes about 8 mins.

Drain completely.

Heat a pan with oil.

Crush the coriander seeds coarsely.

Add fennel seeds, clove, cinnamon and cardamom to the heated oil.

Now add dry red chilies and coriander seeds.

Tip in the garlic and ginger.

Saute till garlic is lightly browned

Add onions and fry till transparent.

Now, add turmeric powder and the cooked sliced plantains and mix gently.

Add salt to taste.

Whisk the curd well and add to the mixture.

Cook till the mixture thickens. Takes 3 mins on medium flame.

Once done, garnish with coriander leaves.

Add lemon juice just before serving.

Serve hot with tomato rasam and hot rice.
Notes
The number of chilies may seem a bit too much but it s perfect because of the addition of curd and lemon juice.
Add lemon juice only after taking off the flame.
You can try this recipe with mushrooms too. But you need not precook them like we do for plantains.
For Instant Pot & Air Fryer Recipes
Instant Pot timings may vary based on your geographic location. Air fryer settings and timings may vary based on the capacity and the model of the Air fryer.
Disclaimer
Nutrition values are provided here as a courtesy and are only a rough guide. Please consult a health care provider if you have any concerns.
Reader Interactions