How To make Turia Nu Shaak, A Simple Gujarati Recipe With Loofah or Ridge Gourd?
Turia Nu Shaak Or Turai Nu Shaak is a simple recipe cooked the Gujarati way. Side Dish For Roti. Vegan. Gluten Free.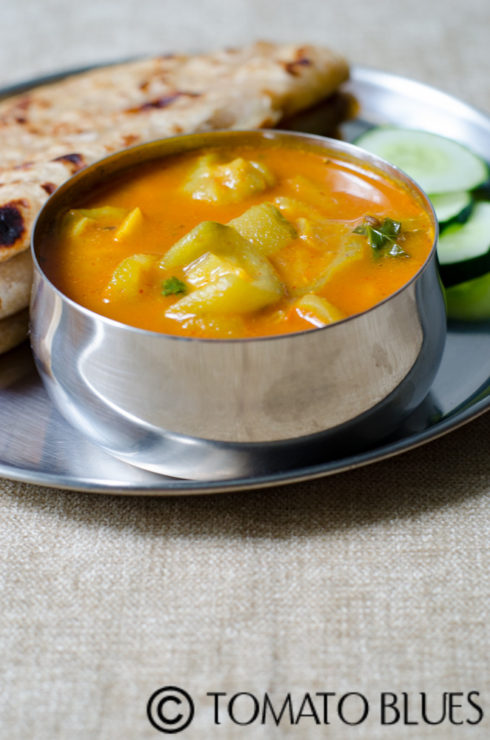 Turia Nu Shaak or Turai nu Shaak is a gourd lover's delight. It is a simple yet flavorsome subzi that complements the everyday roti very well. Shaak in Gujarati is  nothing but subji or vegetable that is served along with rotis. Having lived in Vadodara for over 5 years, i must admit that i have developed a liking towards their food that is always laced with a hint of sweetness just like the people living there too. If you happen to visit a Gujarati household during lunch time, you can see that the platter is quite extensive and it always has two subzis and one dal. One subzi they serve is always a shaak of some type.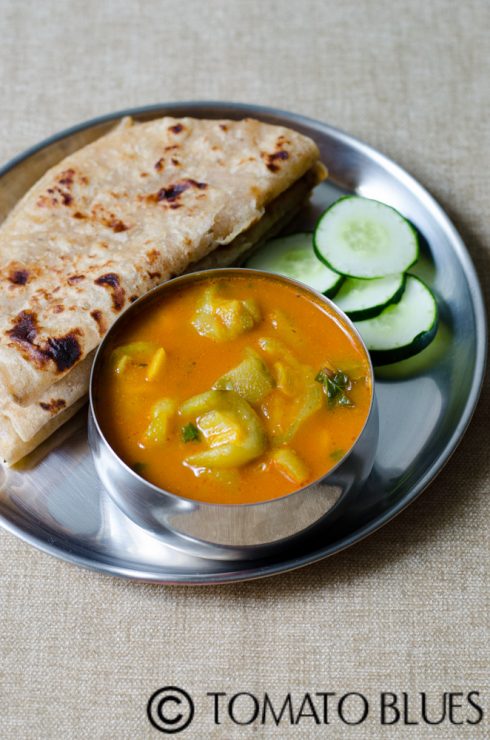 We used to visit a restaurant called Mandap in Vadodara. It was a fine dining restaurant that served an all you can eat buffet every single day. The menu had about 12 dishes and a choice of 3 desserts. The best part of the platter was their farsaan which in Gujarati means dry food like samosa, kachori or khaman. On one such occasion , i happened to eat this Turia nu shaak as a part of the meal there. It was my husband who actually tried it first. I was as usual munching my way through the Farsaan. After having tasted the turia nu shaak, he was really impressed with the taste because it had very minimal spices and yet packed a punch in terms of flavor. So, he nudged me to taste the turia nu shaak just to get an idea about how it is made. Surprisingly, i also loved the simple sweetish mildly spicy shaak and the turai provided a nice texture to the curry. I immediately asked a couple of my Gujarati friends for the recipe and even made a note. But then, we had to shift base and the turia nu shaak was completely forgotten. It is only after coming to Singapore that i remembered the recipe for this turia nu shaak when i saw that the Chinese Okra or the Ridge Gourd was available in abundance here. The traditional recipe for this turia nu shaak uses the smooth gourd which is called Turai or Turia. But i have used the ridge gourd in place of this because i have seen many Gujaratis make the curry this way too. The addition of sugar to this curry is optional but highly recommended.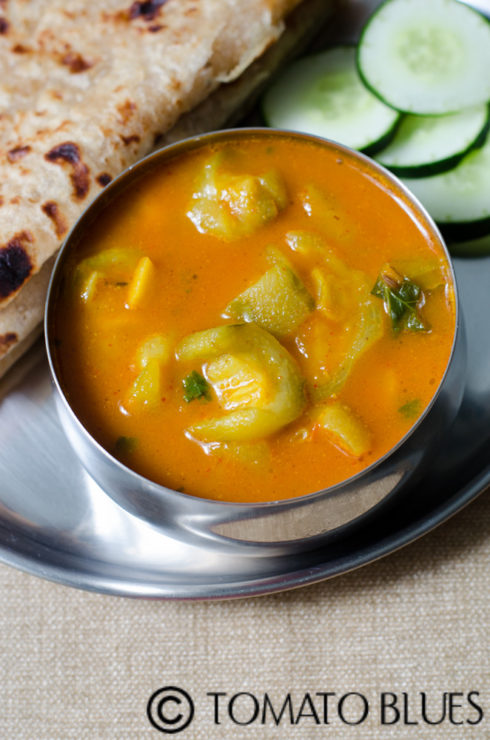 Recipe For Turia Nu Shaak or Turai Nu Shaak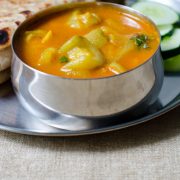 Print Recipe
Turia Nu Shaak- Gujarati Recipe
Turia Nu Shaak or Turai Nu Shaak is a simple no fuss curry made using ridge gourd. This curry is vegan and gluten free. Tastes great with rotis and parathas
Ingredients
Ridge gourd 1 largish peeled and cubed

Tomatoes 2 small chopped finely

Garlic cloves 2 crushed along with the peel

Cumin seeds 1 tsp

Coriander cumin powder 1 tsp

Red chili powder 1 tsp

Turmeric powder 1/2 tsp

Sugar a large pinch

Salt to taste

Oil 2 tsp

Coriander leaves for garnish.
Instructions
Heat oil in a pan and crackle the cumin.

Add garlic cloves and tomatoes.

At this stage, add coriander cumin powder, red chili powder and turmeric powder and mix well.

Cook till tomatoes turn mushy.

Once done, add chopped ridge gourd and saute till the ridge gourd begins to wilt.

Add salt, sugar if using and 3/4 cup of water and simmer for five mins on medium flame

Garnish with coriander leaves.

Serve hot with rotis.
Notes
1. You can also use smooth gourd in place of ridge gourd in this curry.
2. Addition of sugar is optional but highly recommended.
3. Frozen ridge gourd will also work well in this.
For Instant Pot & Air Fryer Recipes
Instant Pot timings may vary based on your geographic location. Air fryer settings and timings may vary based on the capacity and the model of the Air fryer.
Disclaimer
Nutrition values are provided here as a courtesy and are only a rough guide. Please consult a health care provider if you have any concerns.