I have a thing for things that are twisted or convoluted. And i also have a thing for citrus. We waited united as eager beavers the beginning of this month for
Aparna
to reveal the bread for this month. And she took us all by surprise by setting us to work on Torcettini Di St. Vincent. Before you all think my brains are addled, let me tell you that torcettini are cookies made with yeast dough. They are twisted into little twists and look as cute as a braid s bun. But the best thing about torcettini is that you wont believe it s actually a cookie!!
While i do make things ahead and schedule all my posts, somehow, the torcettini never happened beforehand this month. Lets hold a bunch of teenagers who come to study English with me guilty. They ve put me through such hair raising moments that i couldnt even contemplate baking, let lone torcettini. I also happen to be someone who likes meeting deadlines on time. I dont like procrastination and i hate people who are not on time. So, i worked up the energy to make the dough for these twisted beauties last night.
Needless to say, i was rewarded with crunchy chewy caramelly ( i m not sure if such a word exists, but hey! you get my feeling right?) torcettinis.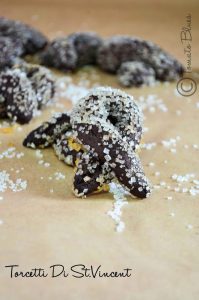 Recipe For Torcettini Di St.Vincent
Prep Time: 10 mins for the dough
1 hour for the first rise
Overnight rest in the fridge
30 mins for the second rise
Bake Time: 25 mins
Bake Temp: 160 C
Source: Aparna s Torcettini Di St. Vincent Recipe adapted from A Baker s Tour
Yields 24 cookies
Ingredients
All purpose flour 162 g
Cold Unsalted Butter 40 g cut into pieces
Instant yeast 1 tsp
Cocoa powder 30 g
Salt 1/4 tsp
Orange zest 1 tsp
Warm water 1/2 c
Granulated sugar 1/2 c for rolling the cookies
Directions
Dissolve yeast in 1/2 c of warm water and set aside.
In a bowl, place the flour, orange zest, salt and cocoa powder and whisk well.
Now, add the pieces of butte to this and rub it into the flour until you get a crumbly mixture that resembles bread crumbs.
Now, add the yeast water mixture to the flour mixture and mix until everything comes together into a ball. Dont over knead or over mix. Just mix until you can form a ball.
Transfer to a well oiled bowl, cover with cling wrap and let rise for an hour.
This dough will not double. It will only puff slightly. The dough is ready if you can make out a honey comb like texture when you pinch into it.
After an hour, punch down the dough and cover with cling wrap.
Let it rest in the fridge overnight.
In the morning, line a baking tray with parchment paper.
Remove the dough and turn onto a clean work surface.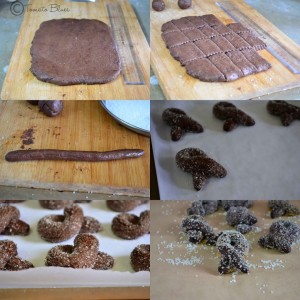 Roll the dough out into a 6″ long rectangle.
Now, using a pizza cutter, cut the dough along its width into 4 equal parts. The measurements really dont matter but you will have cute cookies if you do them neatly. I cut mine into 5, i think.
Now, cut the dough into 6 equal strips along the length,
Once done, take each piece and roll into a 5″ long strip that s as thick as a pencil.
Roll this in the sugar and make sure the dough is coated well with sugar.
Make a small loop by placing one end of the rope over the other.
Repeat for all the pieces.
Let rise on the lined baking sheet until slightly puffy. Takes about 30 mins.
Towards the end of 30 mins, preheat your oven to 160 C.
Bake the cookies for 25 mins.
Once done, remove immediately and let cool on a wire rack.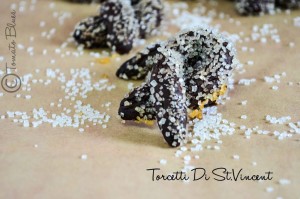 Start munching away, for they are irresistible.