My father in law calls this kind of stuff kadale pori which when translated means puffed rice and groundnuts.And my husband follows suit. He never says it but i know its running at the back of his head. In the sense, he doesnt consider this a meal but ends up licking his fingers anyway. I think i ve done enough damage to Mr.P s repute here. And God forbid he reads this post.
Now i know i ve really jumped the gun.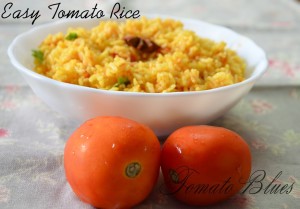 Coming down to the recipe, i love tomato rice. I love coconut rice. I love lemon rice. I love curd rice. Period. But no one else in my house does. Wondering who else? Of course Mr.P. All that jabber apart, this is a super easy one pot meal that can be put together in a jiffy. So make this when you are lazy or when you need a quick lunch recipe for your kids lunch box or when you are just lunching or dining alone at home.
Prep Time: Under 10 mins
Cook Time: Under 20 mins
Serves 2

( There are so many versions of tomato rice on the net. But this is my go to recipe cos its simple and more importantly, it has south indian written all over it. I hate rice recipes that use basmati rice. But this one s an exception. Make the whole thing in ghee to take the dish to another level.)

What You Need?
Cooked rice 2 cups
Tomatoes 4 large ripe ones
Cinnamon 1″ piece
Cloves 2
Bay leaf 1
Cumin seeds 1 tsp
Fennel seeds 3/4 tsp
Turmeric powder a large pinch
Garam masala 1/4 tsp
Red chili powder 1 tsp
Coriander powder 1 tsp
Ginger Garlic paste 1 tsp
Oil 2 tbsp
Salt to taste
Cilantro for garnish
How To Make It?
Bring water to a boil in a large pan.
Drop the tomatoes in the water for about a minute.
Remove and transfer to an ice bath.
Now, peel the tomatoes and mash the tomatoes coarsely.Set aside.
Heat a pan with oil.
Add cumin seeds. Once they crackle,add fennel seeds.
Now, add bay leaf, cinnamon and cloves.
Add the ginger garlic paste and saute for 30 secs.
Now, add the mashed tomatoes next and add all the spice powders.
Mix well and cook till oil separates from the mixture.
Add salt and mix well.
Now, add to the cooked rice and combine well.
Garnish with cilantro leaves.
Serve hot with any raitha of your choice.