I do not how to begin this post. I have been tongue tied ever since 

Kalyani

 asked me to do a guest post for her. Knowing that i m still at the bottom of the rung when it comes to blogging and cooking, someone asking you to do a guest post can leave you speechless. Kalyani and i share something of a sisters' chemistry. I adore the way she writes. Between myriad conversations about the lost charm of Bangalore and the wonder factor of Madhwa cuisine, we both have evolved from being co bloggers to great friends. I am so glad that i struck up the conversation with her that fateful afternoon.
                                      If you ask me how i happened to blog, i will tell point at Mr. P, my hubby. For the life of me, i cant imagine writing stuff for everyone to read . I was very happy cooking, cleaning and reading. Blogging or rather typing up stuff was not a penchant. It was P who gently coaxed me into writing. He even offered to write up posts for me. But once you begin writing or blogging, then there s no stopping i guess. You want to improve on your cooking, you want to explore new ways of cooking and you want to venture out into unfamiliar territories of cooking. That s just what happened to me. I transformed into a maniacal foodie once i began my blog. I threw quite a few people off balance when i became this maniac. Ever since i ve started writing, i ve changed as a person completely. I ve learnt to appreciate nuances of food and i ve also made some great friends. In short, i can tell blogging is therapy to me. I cant imagine a life without my blog. The eager beaver blogger in me has definitely scored some brownie points in my life.
                                 Baking and blogging go hand in hand for me. I began experimenting with baking and it is only this interest which perked up my courage to be more experimental in cooking. I started with a humble eggless chocolate cake. It was  a run of the mill attempt but that did not discourage me. Ever since that paltry cake that i baked, i ve read up so much on baking that i sometimes feel if you put me in the oven, i ll come out as one pretty nice cake. All that reading has rewarded me with some piece de resistance over these one and half years of cooking.
Whenever i buy a bunch of cilantro, i wonder how God made such beautiful flavors. It is complete bliss to stay in a kitchen surrounded by aromas like that of cilantro, cumin or freshly baked bread. Really. I love baking bread from the scratch. And i do it on days when i feel really old. When i say old, i mean very old. I even peep into the mirror to check if my hair has grayed. I got hooked on to baking when i began watching Nigella and Rachel on TV. I used to be so absorbed, my dad used to pretend that he s swatting flies away from my mouth. Somehow, watching Nigella and Rachel always left me open mouthed and tongue tied. I used to watch one recipe, admire her totally and then used to imagine myself making that recipe. But i couldnt have been so wrong. Cos, baking comes with some strings attached. You cant bake a perfect cake or a springy bread until you ve mastered some techniques. You need plenty of patience, a lot of research on baking and the ability to handle heartbreak. For me, if a bread or a cake fails, its as good as the end of a love affair. I ll weep, cry and throw a big tantrum. I can be quite difficult at times. Especially when a bread fails me. I ve made this delicious earthy bread twice now and it s not yet failed me. Tastes heavenly with some soup and pasta. Ha… what bliss it was to sift, combine, mix and knead. Kneading the dough is therapy for me. I love the way in which a totally disoriented mass of flour comes into shape beautifully under your hands. The experience is enchanting. And to wait for the dough to rise is like watching a thriller movie. Edge of the seat experience. But do try this bread and you wont be disappointed at all. The flavors are so homely and warm, you will only want to bake it again.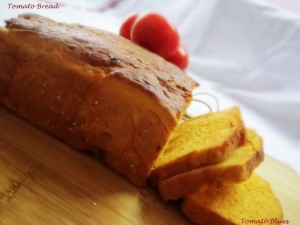 Prep Time: Under 20 mins to proof the yeast and knead the dough
                        45 mins to 1 hour for the first rise
                        40 mins to 50 mins for the second rise

Cook Time: 30 mins


Yields one 9 inch long loaf
Recipe adapted from allrecipes.com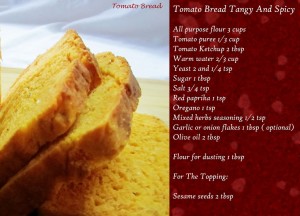 (It was such a titillating experience baking this bread for me. You can customise it according to your palates. Say you can add cheese, reduce the paprika or even use green chilies instead. I m yet to bake this with cheese though. You can use butter instead of olive oil. I just used olive oil as i wanted a vegan version but in the end, landed up glazing the loaf with butter. Keep an eye on the salt as the ketchup has salt added to it. You might want to add about 1/4 cup of gouda or parmesan cheese if you decide to go with it. In that case, you will require just about 1/2 tsp of salt. You can also roast fresh tomatoes and garlic in the oven, make paste and add it to the dough instead of adding pureed tomatoes. I used dabur home made tomato puree and it worked like a charm. I was being a mere lazy goose here. Feel free to make your own puree. Nothing like home made. Dont knead the dough for more than 6 mins the first time and 1 min after the second rise. The bread tends to become dense if you over knead the dough. And use a 9*5 inch loaf pan for this. Remember, the right size of loaf pan matters cos the loaf might tend to undercook if you use a smaller pan. Substitute sesame seeds with poppy seeds for another flavor totally. You can even add cumin seeds and cilantro to the dough if you want intense flavors. The rising of the dough totally depends on the weather. If its hot, then the rising will be quick. If its cold, it takes time. Alternatively, you can preheat your oven at 180 C for 5 mins. Then cover the dough with a sheet of tin foil and let it rise inside the oven. Dont forget to switch off the oven though.)


What you need?


All purpose flour 3 cups
Tomato puree 1/3 cup
Tomato Ketchup 2 tbsp
Warm water 2/3 cup
Yeast 2 and 1/4 tsp
Sugar 1 tbsp
Salt 3/4 tsp
Red paprika 1 tsp
Oregano 1 tsp
Mixed herbs seasoning 1/2 tsp
Garlic or onion flakes 1 tbsp ( optional)
Olive oil 2 tbsp
Flour for dusting 1 tbsp
For The Topping:
Sesame seeds 2 tbsp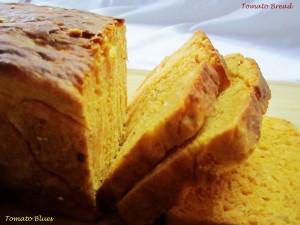 Milk at room temperature for glazing the dough about 1 tbsp


How to make it?
Mix the yeast, sugar and the warm water in a bowl and set aside for 10 mins.
In the meanwhile, place the flour, salt and the spices in a large mixing bowl and combine well.
Make a well in the center and add the pureed tomato, olive oil and tomato ketchup. By now, the yeast should have proofed with a nice frothy layer on the top. Add the yeast mixture in the center.
Start combining the dough slowly until it all comes together in one mass.
Now, transfer the dough to a floured surface and start kneading the dough with your hands for about 5 to 6 mins until you get a soft elastic dough just like that of chapathi dough. Do the whole process of kneading with the heel of your palm, alternating between folding the dough and kneading. (refer notes above).
Once you get a supple and soft dough, transfer this to a bowl greased with oil and cover with a kitchen towel.
Let it rest in a warm place till the dough doubles. Mine took exactly 45 mins.
Once the dough has doubled, knock it down and knead for another min.
Grease a loaf pan generously with oil.
Shape the dough into a loaf and place it in the loaf pan.
Set aside covering with a kitchen towel again in a warm place.
Wait till the dough doubles. Takes another 40 to 50 mins again.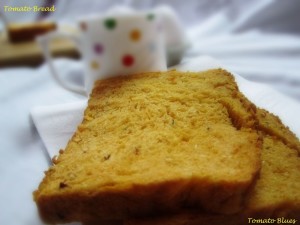 Towards the end of the second rise, preheat the oven to 190 C.
Once the dough doubles, glaze with milk, add the toppings that you desire and place in the oven and bake at 190 c for 20 mins.
After 20 mins, reduce the temperature to 160 C and bake for another 10 mins.
Remove from the oven and let the loaf stay in the pan for 10 mins.
Glaze the loaf with melted butter.
Now, invert onto a cooling rack and let it cool.
Once cooled, cut into slices with a serrated knife.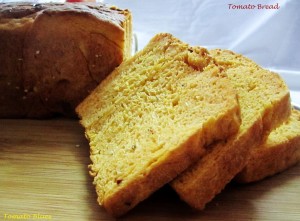 Enjoy with your favorite soup and a bowl of pasta.