Mr. P and i love
paneer.
And we also happen to be lovers of
tofu.
We dont get much good tofu near where i live. The store where i buy tofu is an hour s drive away. So, whenever i pass by, i pick up a good block of tofu and try something new with it. This time, i made tofu tikka that s an easy starter that you can make in large batches. It makes a great party recipe too. You can dunk the tofu in marinade a day ahead and grill it up the next day. I would say its a must do recipe for all
tandoori
lovers.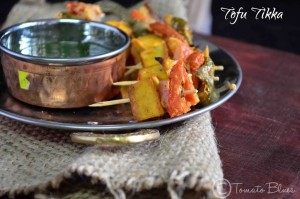 Recipe For Tofu Tikka
( Tofu marinated and grilled)

Prep Time: 20 mins
Standing Time: 6 hours to overnight
Cook Time: 10 to 20 mins
Serves 2 generously

Ingredients
Extra firm tofu 100 g cubed
Capsicum 2 medium chopped into bite sized pieces
Tomato 1 large chopped into bite sized pieces
Onion 1 large chopped into bite sized pieces
For The Marinade
Thick fresh curd 1/2 c
Red chili powder 1 tsp
Tandoori masala 1/2 tsp
Cumin powder 1 tsp
Garam masala a pinch
Turmeric powder 1/2 tsp
Kasuri methi 1 tsp crushed
Oil 1 tbsp
Salt to taste
Directions
In a big bowl, whisk the curd well.
Add all the other ingredients for marinade to the curd and whisk till smooth.
Now add the tofu, tomatoes, onion and capsicum to this.
Gently mix using a spatula making sure that the yogurt coats the tofu well.
Let it stand for six hours or overnight.
The next day, bring out the mixture just before you begin broiling.
Preheat your oven at 180 for 10 mins
Line a baking tray with tin foil and brush lightly with oil.
Now place all the pieces of tofu and veggies on the tray making sure that they are evenly spread.
Broil in the oven until veggies and tofu starts turning a little black at the sides.
This took about 12 mins for me.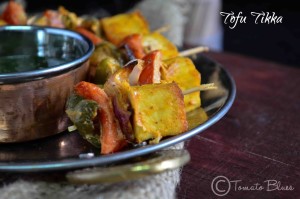 Serve hot with mint chutney
P.S The tofu may be replaced with paneer or any other veggies of your choice like cauliflowers.
You can also make this on a tawa. Place the veggies and tofu cubes on a heated tawa, drizzle a little oil around the sides and cook till they brown. Flip and repeat